How to Run an Auto Body Repair Business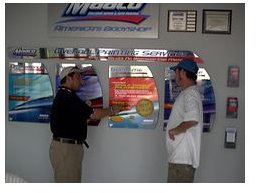 Independent or Franchise?
Because I have a Ford dealership with no room for an auto body and paint repair center, I chose the independent route. No matter what franchisors tell you, independent auto body shops can be just as profitable as franchised facilities. There are franchises available through BumperDoc and Maaco, however, if the franchise opportunity seems right for you.
The Independent Auto Body Repair Shop – Independent shops can be a corporate entity or a sole proprietorship. The largest challenge of the independent auto body and paint repair shop is obtaining a spot on insurance company's recommended repair facility lists. Franchised shops often, but not always, have the upper hand at this because of national recognition. One advantage to opening an independent repair shop is the start-up costs. There are no franchise fees to pay and no franchisor to report to. The second advantage of the independent is if you have a true love for the auto body and paint industry, as an independent, you have the time to excel at your work without harsh time schedules. Independent repair shops, unless they are very large, often do well in smaller cities and towns where loyal customers come back time and time again. A downside to independent shops is most likely you will have to search for a building to rent that is in a commercially zoned area or purchase a building on your own.
The Franchised Auto Body Repair Shop – Because franchised auto body shops are nationally recognized, insurance companies are more likely to designate them as recommended repair facilities. Franchisors will require you to sign agreements and give you guidelines to follow. Most likely, you will not only pay franchise fees at inception but depending on the franchisor, monthly, quarterly, or annual fees to the franchisor may be required. If you choose the franchise route, you do have the national name behind you as well as access to industry knowledge, training seminars, equipment leasing, and paint inventory access. You will also be connected to vendors and suppliers recommended by the franchisor and because the franchisor stands behind you, often, no credit reports are needed for you to obtain vendor supplies. Franchisors also help their franchise owners find a space to rent or purchase without the hassle of finding it on your own. Franchisors often require their franchises be a corporate entity.
In either case, the independent or franchise shop, most technicians, whether they are body or paint techs are required to have their own tools or at least a small collection of tools. Find good techs that have effective tools or ones that are willing to work with Snap On Tools, a supplier for technicians of all kinds.
Get the Legal Stuff Done First
Whether you choose to be independent or a franchise auto body and paint repair shop, you will need to follow a new business checklist to help get your enterprise started. Bright Hub offers a great new business checklist in our Media Gallery to aid you in obtaining necessary licenses, permits, and federal requirements. Use the checklist as a guide to help your business maintain a legal status, even if you are a sole proprietorship.
Please click on Page 2 to find out how to open and run an independent auto body repair business.
How to Run an Auto Body Repair Shop – The Independent Shop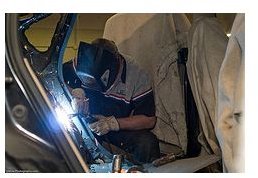 When I began my body shop, after I found a space to rent, I began searching for alignment machines, frame machines, paint booths, paint suppliers, and part vendors. Because I was independent, much of my original equipment was leased with a one-dollar buy-out option at the end of the lease. Paint suppliers will help you in two ways. If they find you credit worthy, they often will provide a paint booth if you sign a long-term contract along with discounted paint prices. As far as parts vendors, again, you will have to be approved by their credit department for both aftermarket and manufacturer parts.
You will also need to make connections with insurance adjusters and find out how you can be a member their recommended repair facility list. No matter what insurance reps may tell you, every person has the right to obtain three estimates to repair their vehicle and these estimates do not have to be from franchised auto body shops. If a customer chooses your shop, the insurance company will have to comply with their choice. This is the way to start gaining customers, but keep in mind; it's often your staff and your final product that will get you more business. Almost every auto insurance company has a website where you can apply to become one of their recommended shops. Some of the reasons you may be denied are:
Inadequate or antiquated equipment
No ASE certified paint or body technicians
Not enough business liability insurance
Your willingness to work with the insurance company and choose aftermarket parts per the estimate.
No formal estimating system
No formal accounting system
No lifetime/limited warranty
No free estimates
All of these can be remedied for the independent repair shop owner. Your paint or equipment suppliers are your best bet in getting you on board with top technicians, the right equipment, and even the right estimating system.
As far as an accounting system, while your estimating software company will tell you they offer the best one, they are often costly to the independent. As an owner of an independent shop, I searched and reviewed many demos until I found Combined Computer Technology or CCT. They provide everything you need along with software support at affordable prices. It was also a system my accountant found easy to work with.
While you are gaining a customer base and making insurance contacts, take the time to create a brochure that explains everything about your company including how you will work on any make or model, that you offer free estimates, that you are willing to work with all insurance companies, the paint system you utilize, and if you and your technicians are ASE certified in auto body and paint repair. A good brochure, which you can make on your own using a word processing system, should include an accident record guide with recommendations on what to do if a person is in an accident. These brochures are essential as your first advertising tool. Provide them to everyone you know, ask for referrals, and place them on windshields at shopping malls and grocery stores.
You will also need to run your business like a business. Be constant with your hours of operation and your employees are just those—employees so don't create close friendships. Often, if an employee is not performing, it's harder to fire a "friend."
Learn about how to manage your cash and use cash flow forecasting. Work with your bank to open a line of credit to utilize when times are slow. Make timely employer 941 tax deposits and file required quarterly reports where necessary.
Finally, your customer service must shine and you need to network with people and other businesses in your community. Consider joining your chamber of commerce for additional advertising. Owning and running an independent auto body and paint facility may give you the freedom you want and is less expensive to start, however, a franchised facility does offer national recognition and other benefits.
Please click on Page 3 to find out how to open and run a franchised auto body repair business.
How to Run an Auto Body Repair Shop – The Franchise Shop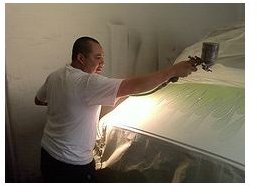 If you decide the franchise auto body shop is for you, explore all of the franchises available and find out which ones have the lowest startup fees and which franchisors offer the most aid in getting your shop up and running. Read tips right here on Bright Hub about what you need to know about franchises, including franchise agreements, and your legal commitment if you sign a franchise agreement. Because franchise agreements can be lengthy and full of legalese, it's best to ask an attorney to review before you sign.
Make sure you understand all the fees the franchisor requires as well as monthly or quarterly reporting. Work closely with your regional manager and ask questions when you need help. This is what these managers get paid for—to help their franchises.
Because you are under the umbrella of a franchise, you may be immediately offered by insurance companies to be part of their recommended repair facilities group. The performance and quality of repairs you produce will keep you on that list. Even franchised auto body and paint repair shops can be denied or taken off the list for poor customer service, inadequate requirements or equipment, or poor final product results. Stay on top of your game by using all the backing your franchisor provides.
Just because you have the backing of the franchisor, it doesn't mean you don't have to follow standard business rules to stay afloat. Franchised auto body shops should also use the business checklist provided here on Bright Hub to ensure they are legal and have all the licenses, permits, and insurance required.
Running a franchised auto body shop also requires you manage employees effectively, hire reliable employees, and know about cash flow forecasting and have good cash flow management skills. Unlike the independent shop, if your business constantly under performs, the franchisor may terminate your agreement leaving you out of business.
Even though you are a franchise you should also create brochures unique to your shop and include key points about your shop. If you aren't on a recommended repair facility list, find ways to get your business on some of them by visiting insurance company websites or asking your insurance broker to help you make contacts.
Be wary of what franchisors offer as far as equipment needs, paint systems, and vendors. Often, it will appear in your franchise agreement that you must utilize certain vendors approved by the franchisor. They may also ask you to enter into long-term equipment leases with no buy-out opportunity. An upside to the franchised body shop is the software estimating and accounting systems provided by the franchisor. You should receive training on how to work these systems, and have a place for support and industry updates. Franchisor software programs are more expensive than independent body shop software systems, so if you find yours too expensive, ask the franchisor if you can seek out an estimating and accounting system on your own.
Finally, if you decide the franchise is for you, try not to make your shop appear as an assembly line where your customers are just a number. Make an investment and hire a service writer who can stay in constant touch with your customers to keep them coming back.
Summing Up Auto Body and Repair Shops
When considering the question how to run an auto body repair shop, you do have some choices. You can be an independent or a franchise, but smart business skills are also needed. Find out how SCORE, a division of the Small Business Administration (SBA) can help you fund, run, and manage your business. Seek the advice of the SBA for an SBA loan or even help in how to run a profitable business.
Any business can be successful, including auto body repair shops, but you do need some business skills behind you to manage it effectively for top profits.