Learn How to Start a Hot Dog Cart Business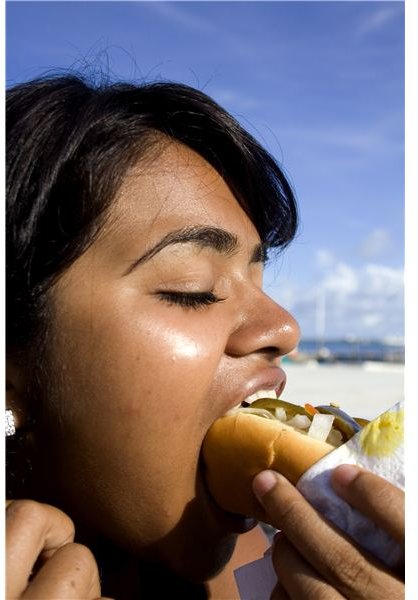 A Brief History of Hot Dogs
It's a little difficult to talk about the hot dog cart business without first addressing the origins of this seemingly all-American delicacy. Seemingly American? So where did the hot dog originate?
Thanks go out to the city of Frankfurt, Germany. Although controversial, it has been credited as being the birthplace of this popular sausage. In Frankfurt, hot dogs are called "little dog sausages" or "dachshund sausages". The name was most likely inherited from the peculiar elongated shape of the Dachshund dog breed.
The Hot Dog Cart Business
Entrepreneurs have sold food items from carts for as long as civilized man has populated the planet. The hot dog cart business is a relatively new entry in the food cart market.
Selling hot dogs from food carts has been a profitable for thousands of vendors since 1901. The term "hot dog" was conceived when salesmen for concessionaire Harry Stevens began shouting "Get your red hot dachshund sausages."
Entry to this business is easy and it can be operated on a full-time or part-time basis. Read on to see what it takes and learn how to start a hot dog cart business.
Starting Your Hot Dog Business
Before you do anything, contact your local city, county or town business licensing department. Request information about starting a cart vending business. They should be able to provide you with licensing information as well as health related guidelines to which you must adhere.
This first step will save you a lot of time and frustration because you will know in advance what to expect. Depending on where you live, there may be a waiting list for these type licenses.
You should also look into getting a "resellers certificate." This will allow you to purchase stock and supplies without paying sales tax. Plus, the fact that most wholesalers will require this before they sell to you.
Once you get a green light with regards to licensing, you will need start up capital of approximately $1,500 to $3,000. Your biggest investment will most likely go to purchasing a two or three wheel hot dog cart.
A good used hot dog cart can be purchased for under $600, while the median price of a new hot dog cart is around $1,700. These prices will vary depending on your location.
There are two additional options when it comes to procuring your vending cart. The first would be to build your own and the second would be to rent your food cart.
Competitive Research
Are there any hot dog cart businesses in your local area? If not, find out why before jumping into an untested market. If there are, visit a few and taste their products.
If the vendor isn't too busy, ask questions like "how is business?," or "how long have you been doing this?" Take note of their setups and signage. Watch their interaction with customers. This should give you a fairly good idea of what you will be doing once you get your own hot dog cart business established.
Location, Location, Location
After you have sourced out a good hot dog concession trailer, you will need to find and secure a good location. A high "foot traffic" location is of utmost importance. Your location may include streets, workplace parking lots, parks, amusement areas, etc. Use your imagination and test different locations.
If you don't want to serve customers on busy streets or endure outdoor weather conditions, take your cart inside a shopping mall or indoor flea market. Of course, permission must be obtained from the management and there will most likely be a space rental fee involved.
It is also a good idea to seek selling space at school festivals on major sporting event days. Most of these places charge a nominal fee. Just like real estate, this business also thrives on location. The busier the location, the higher the potential for profit. Also note that the less competition in the general location, the better.
Spending Your Investment Capital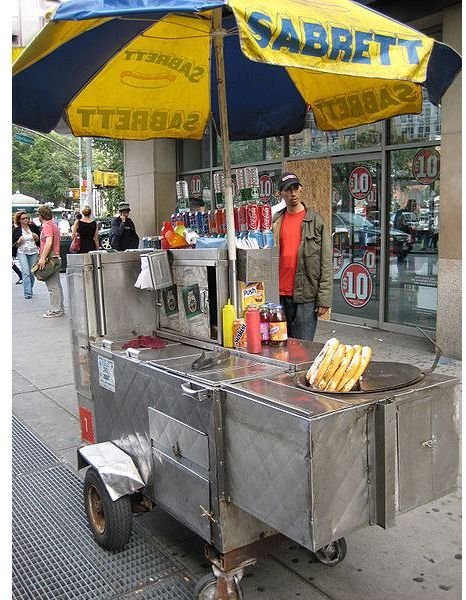 Now that you have all the important matters covered, it's time to start funding your hot dog cart venture. You will first need to pay for business licensing, general liability insurance and health certificate fees if applicable.
Based on your previous research on how to start a hot dog cart business, you will want to find the best deal on a hot dog vending cart. Take some time to learn about the use and maintenance of your new equipment. The results of good maintenance is very important should you later decide to sell your old cart and upgrade to a new one.
Now comes the cool part. Finding and/or developing hot dog recipes. You may want to start out with a conventional hot dog recipe and experiment with new recipes based on customer feedback.
Other expenditures will include inventory like hot dogs, hot dog buns, beverages, condiments, serving utensils, gloves and napkins or wrappers. You should look into purchasing an inexpensive electronic register or a simple cash box.
Producing Your Finished Product
At this point, I'm sure you have figured out that you will need some basic hot dog cooking skills. It is important that the taste and quality of your finished products be consistent. The first step to achieving this is to purchase good quality hot dogs and buns.
Your ultimate goal is to come up with a hot dog recipe with an "extra" twist. This will ultimately be your "signature" dog. Hit the right recipe combination and you will draw more customers to your cart and away from your competitors.
Many hot dog vendors are buying frozen pre-packaged meat products from wholesalers. These pre-cooked products only requires them to heat the dogs in their cart warmers. One of the fastest ways to differentiate yourself is to start out by purchasing fresh all-beef hot dog sausages and fully cooking them on-site.
Two Challenges for Hot Dog Vendors
There are two challenges you will face as a vendor. The first is bad weather. Whether you are indoors or outdoors, bad weather will generally cause a drop in sales.
The other challenge is health-conscious eaters. Because hot dogs are not perceived as the healthiest food available, people who closely watch their dietary intake will generally not become customers.
Don't let this discourage you. Every business has downsides and challenges. If there is a market for hot dogs in your area, and you have a real interest, take the leap and get started.
Now you know exactly what is required and what to expect once you start your hot dog cart business. Don't forget; good research and preparation on the front end will make things a lot simpler on the back.
Reference: Hot Dog Cart Secrets retrieved at https://www.hotdogcartsecrets.com/
Image Credits:
Eating a Hot Dog - stock.xchng/Kashfia
Hot Dog Cart - WikiMedia/rollingrck