Promoting Your Business on Radio: How to Use Radio to Promote Your Business and Grow Revenue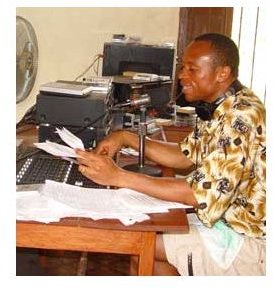 Reach Millions of Potential Customers and Grow Your Business
Corporation For Public Broadcasting (CPB) reports that there are about 700 local public radio stations in the United States. Radio programs are started by independent producers, National Public Radio (NPR), and local organizations. When one factors in the large number of Internet radio stations, it becomes clear how broad the opportunities are for entrepreneurs to advertise on the radio. Radio ads give the small business owner the capability of reaching hundreds, thousands or millions of people to inform them about the products or services they offer.
Having a product or service that benefits consumers can increase an entrepreneur's chances of landing radio interviews. For example, Denise Turney's book, Portia, offers people who are dealing with breast cancer inspiration.The book also includes support group and medical contact information.
To increase book sales, the author should focus on landing feature interviews with radio stations that deal with medical issues. The author could also schedule interviews during Breast Cancer Awareness Month.
Entrepreneurs who own web design companies can increase their chances of landing radio interviews by targeting radio programs that focus on Internet presence or Internet marketing. Not only will the "right" hosts be more receptive to doing the interviews, the program's listeners are looking for the products and services the business owner provides. This makes the listeners more likely to make a purchase.
When contacting radio stations, address emails or snail mail to the station's director or producer. Business owners who know the first and last name of the disc jockey (DJ) they want to interview with at the radio station, should address correspondence to that specific DJ. This sends the message that the entrepreneur has done their homework, studied the particular radio stations format, and is familiar with the station's audience.
Highlight Products and Services During Feature Radio Interviews
By including a short bio with their press kits that radio hosts can read during the show's introduction, business owners can mention the name of their key products or services at the start of the show. Entrepreneurs should also include their website URL at the top of their bio.
As it is with other forms of advertising and marketing, entrepreneurs will get more mileage out of their radio interviews if they highlight the benefits associated with using their products and services. This is also a good way to brand your business. For example, entrepreneurs who sell house shoes could list "lasting comfort, enduring cleanliness, ankle support" and "holds in body heat" as key benefits gained from wearing the house shoes. Listeners looking for these particular benefits will be intrigued.
Continue to talk about the benefits associated with using your products and services during the interview then watch sales and revenue rise. Consider running a contest or offering a free product tip sheet that accompanies the interview. The requests for contest guidelines and free tip sheets will begin to build a consumer database that can be referenced in the future and distributed in company newsletters and pertinent sales materials.
Mention where listeners can purchase or learn more about the products and services every five to seven minutes during the interview. This helps to build brand. It also creates product familiarity which leads to increased sales.
Building Relationships and Success with Radio Stations
Follow up with the radio station one to three days after the first interview airs. Ask to schedule another interview with the radio station. Be sure to build a database of radio stations, DJs, station directors, and producers to use for future reference.
A key benefit from adverting on the rado is that it builds a relationship between the entrepreneur and key media personnel. Over time, many of these radio personnel will be readily agreeable to featuring the entrepreneur whenever they release new products or services.
Gebbie Press, National Public Radio, Blog Talk Radio, and Voice America are excellent directories that list radio stations. The radio station's format, leading programs and hosts are included in the directories. Thanks to audio and electronic technology, many radio stations allow entrepreneurs to conduct interviews over the telephone or directly from their computer.
Promoting your business on the radio is a great way to reach a wide audience that can help your business grow.