How to Get an SBA Loan - Different Types of SBA Loans and Qualifications Needed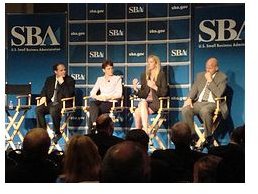 Types of SBA Loans
The SBA offers several types of loans. Some require the purchase of property for your business, some are for veterans only, and others focus on small businesses who require fast cash help to pay vendors.
There is a myth that circles around the SBA that they loan money. The SBA does not loan money; however, for all of their loan programs they guarantee a percentage portion of the loan meaning if the business owner is unable to pay, they will cover that percentage. SBA loans must be obtained through an SBA approved lender who works with the SBA to help fund small business owners in their community.
SBA Guaranteed Loans
Many business owners who attempt to get conventional funding from their bank and are turned down are now turning to the SBA. The loan programs the SBA offers are vast and include:
SBA ARC Loans - $35,000 for the small business owner who is experiencing financial trauma. Can be used to pay vendors, other expenses, and even payroll.
SBA Express Loans - Includes both the Express and Community Express in amounts up to $350,000. The SBA offers this loan to small business owners with a fast turn around time from application to funding. The Community Express loan is geared toward businesses located in distressed communities.
SBA Patriot Express Loan - For active military, veterans and families of veterans for startup or existing business in amounts up to $500,000.
SBA 504 Loans - For existing businesses in amounts between $1.5 million to $4 million. Is only utilized to purchase land, buildings, make building improvements or purchase equipment.
Researching SBA Loans
The SBA offers an informative loan chart, which is a good place for every small business owner seeking startup or existing business funding to review. Looking at the SBA loan chart can be confusing, especially when deciding which loan program will fit your business needs.
Many small business owners make the mistake of choosing a loan program that offers too many dollars or too few. Unfortunately, unless you have a great relationship with your lender, and they are an approved SBA lender, they won't give you much help on loan preparation paperwork and it's up to you to complete the loan package.
There is help for those who seek it. Every state has SBA satellite offices where SBA loan experts work with you to create your loan package. Because the SBA has some stringent requirements with each loan they offer, seeking the help of an SBA counselor is recommended, especially if you've never prepared a loan package before.
To find the closest SBA office in your area, visit the SBA's Resource Locator where you'll find a map of each state in the US along with many regional offices. Almost all states have more than one regional office so you're guaranteed to find a SBA office near you. Your local SBA office will also be able to provide you a list of approved SBA lenders in your area.
Once you've determined which loan is right for you and have sought the advice of an SBA loan counselor, where do you begin? Before we delve into each loan program available for small business startup or existing businesses, it's a good idea to find out exactly what the SBA is looking for.
The SBA website offers many free online training tools. The How to Prepare a Loan Package is a short 30 minute online seminar that will answer all your questions on how to prepare a SBA loan package, requirements, and even offers a certificate of completion you can print out and include in your loan package.
All of their online seminars are informative and useful to the small business owner, but keep in mind, when it comes to submitting the best SBA loan package, both the SBA and your lender will want to know one main thing: Your ability to pay the loan back. When preparing your loan package and business plan, keep this in mind and explain often how you can and will pay the loan back in full and what resources you will use to do so.
Loan applicants often ask what a lender looks for in a SBA candidate. The answer is two-fold, your creditworthiness and your ability to show that you will have enough cash to repay the loan in the specified time.
The loan candidates who have the most success acquiring any type of loan from the SBA are those who utilize free SBA services and services offered by the SBA sister company, SCORE.
Keep in mind that if you are turned down for any loan offered by the SBA, don't give up. Work with lenders and counselors to improve your loan package. Look at loan denial as a chance to educate yourself on how to prepare a business plan, financials, and be inventive about collateral and equity.
In this article series we will discuss each of the SBA loan programs designated for the small business owner, what they entail, qualifications, and how to apply.
Part Two of this series discusses SBA ARC Loans.
This post is part of the series: Small Business Funding: How to Get a SBA Loan
The Small Business Administration or SBA offers many guaranteed loan programs for the small business owner. This five-part series will discuss each one, the rules, and how to apply.