FMLA Rules for Small Businesses: Understanding the Family Medical Leave Act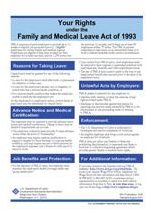 What Is the Family Medical Leave Act?
Passed into law in 1993, the Family Medical Leave Act or FMLA protects employees from losing their jobs for up to twelve weeks if they have a baby, are ill, or need to take care of a sick relative. FMLA does favor the employee and if you're required to follow FMLA rules, you need to make sure you do so correctly.
FMLA Rules and Regulations
The FMLA rules for small businesses is initially very clear; if you employ 50 employees or more, you are required to follow FMLA rules. If your business employs less than 50 people, you are exempt from FMLA rules. Employment law experts will tell you if that if you're on the underside of that 50, say 48 employees, you should still follow the rules of FMLA for your own protection.
Here's a quick breakdown of how to initiate the FMLA rules into your workplace:
Understand the Rules - If you employee 50 people or more, and they request family medical leave, you must grant that leave for up to 12 weeks if the employee has medical problems, is adopting or caring for a newborn child, or if they need to take care of an ill family member. Keep in mind that only full-time employees who have worked for you for at least 12 months and 1,250 hours and live within 75 miles of the workplace are eligible. Also, employees must have a desire to return to their job once their FMLA leave is complete. The FMLA law also states that you must continue to pay benefits for the employee, if you offer benefits, and have their job waiting for them upon their return.
Documentation - Employees are required to give you periodic updates and submit doctor statements or other statements throughout their leave that support the need for their leave to continue.
There are some rules that both the employer and employee must follow, however.
Granting FMLA Leave
While it is best to err on the side of caution when it comes to the FMLA, there are some rules both the employee and employer must follow:
Reason for Leave - If the reason for leave is to take care of a newborn, adopted child or foster child, it must be the employee's direct newborn, adopted or foster child. If the reason is to take care of a sick family member, it must be the employee's child, parent or spouse. If the leave is requested for personal illness, the employee must be able to document that illness through a physician.
Military Leave - Although you are required to implement a Military leave policy in your handbook, the FMLA also covers military leave. If your employee needs to reorganize their life due to military reasons, you are required to grant them up to 12 weeks of military leave. If your employee is in the military or reserves and is called to duty, their leave may continue from 12 weeks up to 26 weeks.
Foster and Adopted Children - The FMLA act does give you, as the employer, the right to deny or allow leave for foster and adopted children at your discretion but only if that is covered in writing as a company policy.
Eligibility - Along with the employee rules of working for you at least 12 months and for 1,250 hours in the year prior to the request for leave, the employee must live 75 miles or closer to the workplace.
Using Vacation, Personal or Sick Time - You can also include a written policy that states all employee who request FMLA, other than military personnel must utilize all of their accrued vacation, personal or sick time first as part or all of the requested leave time.
Health Benefits - Employers are allowed to ask for employees to be responsible for their portion of health care premiums to be paid by the employee during leave or have a chance to recoup those premium payments once the employee returns to work. Most courts have ruled that if an employee does not return to work and their insurance premiums have been paid, the employer can ask to be reimbursed for those premiums.
Employee Notice - Employees are asked to provide at least 30 days notice of their intent to participate in the FMLA, however, if a serious injury or illness is imminent, the employee may waive that 30 days notice.
Know Your Rights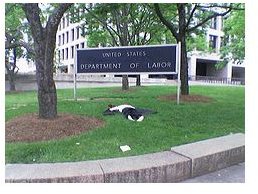 As a small business owner, the last thing you need is a lawsuit because you failed to follow the rules of the FMLA. Labor law attorneys can be expensive, however. Your best resource before you break the rules, is to make an appointment with your local Department of Labor and ask all the questions you can. Further, if you do have an employee who is requesting leave through the FMLA, call the US Department of Labor or browse their FMLA website for answers to your questions.
As stated earlier, FMLA law does favor the employee and not the employer, so it's best to understand your rights and understand what the small business owner needs to know about the FMLA.