Mary Kay Ash - Successful Female Entrepreneur and Founder of Mary Kay Cosmetics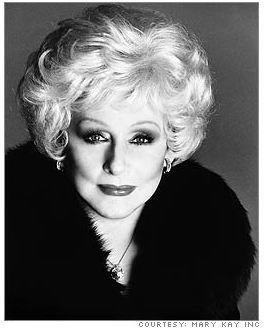 Background
Mary Kay Ash (born May 12, 1918) was a working woman at a time when women were not acknowledged in their own right. She struggled as she saw men promoted over her for better positions and much higher salaries despite very successfully selling products for 25 years for Stanley Home Products and then World Gift. Even though she had originally studied to be a doctor, direct selling appealed to her in a much bigger way.
The Beginnings and the Success
Encouraged by her mother's attitude of "You can do it", she quit working for others and decided to write a book. However, that book turned instead into a business plan that enabled her to fulfill her dream of creating a cosmetics company after buying a formula for a skin care cream.
Along with her son, Richard Rogers (then 20 years old) and just $5,000, on September 13, 1963, she began operating Beauty by Mary Kay (which later became Mary Kay Inc., one of the United States' largest direct sellers of skin care and color cosmetics) from a small storefront in Dallas. To this day, the Mary Kay World Headquarters is located in a suburb of Dallas. In 1987, Mary Kay retired from an active status but stayed as the Chairman Emeritus.
Recognition
Mary Kay herself was recognized numerous times over the years with honors and awards such as one of the 25 Most Influential Business Leaders of the Last 25 Years in 2004, the Greatest Female Entrepreneur in American History in 2003, and the Most Outstanding Woman in Business in the 20th Century in 1999. She well deserved all the recognition of her achievements as one of the first successful women entrepreneurs.
Today's Statistics
Due to Mary Kay's inspiring motivation methods, providing a company "with heart", and the ability given to make unlimited income (Mary Kay Inc. was named as one of The 100 Best Companies to Work For in America by Fortune magazine), there are approximately 500 women who have become Independent National Sales Directors worldwide. This is the highest status. More than 33,000 women worldwide (more than 14,000 in the United States) have become Independent Sales Directors, and there are more than 1.8 million Independent Beauty Consultants throughout the world. We all know that the top Mary Kay salespeople are rewarded with pink Cadillacs!
Testing
Millions of dollars are spent every year on tests to insure that the Mary Kay products are the highest in quality, performance, and safety. Animal testing is not supported and is only used in a small way when the law requires it. For more than two decades, Mary Kay has led the way in developing alternative testing for the safety of their products.
Charitable Work
Mary Kay also believed in doing for others, and her charitable foundation makes contributions to organizations that research cures for cancer and to facilities dedicated to preventing violence against women.
An Ongoing Success
It was extremely fortunate that her son Richard had taken part from the beginning because, when Mary Kay passed away on November 22, 2001, he was able to continue building the company into what resulted in wholesale sales of $2.4 billion by 2007. The company had gone public in 1968 but in 1985 went back to being private again.
We know Mary Kay would be extremely proud of her son and his lifelong dedication to helping her with her dream.