Sabeer Bhatia's Journey of Finding Hotmail Before Its Acquisition by Microsoft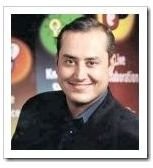 Overview
Back in the 1990s, Sabeer Bhatia and Jack Smith of FirePower System were finding it increasingly difficult to access their own personal email accounts. This frustration led to the invention of accessing email accounts through a web browser, and the two entrepreneurs launched a free web-based email service in 1996. Impressed by Hotmail's subscriber base, Microsoft bought Hotmail for $400 million in 1997.
Early Days
Early in his career, Sabeer Bhatia joined Apple and worked there as a hardware engineer. He met Jack Smith at Apple when working on the same project, "PowerBook Portables." When one of their peers joined FirePower Systems a startup, Sabeer and Jack decided to quit Apple and join him for better career prospects. As time went by, the company wasn't doing so well and Sabeer became motivated to come up with his own startup company based on the Internet. The main factor behind his motivation to become an entrepreneur and make his presence felt was the success of Yahoo, founded by his classmates from Stanford University.
The Idea
Sabee
r Bhatia came up with the idea to store multiple details of an individual or company through a database on the backend, which could be displayed in the front end through a web browser. He named this product JavaSoft. Jack Smith found Sabeer Bhatia's idea interesting and decided to partner with him in their startup venture. Still at FirePower Systems, Jack and Sabeer wanted to communicate through emails but found it difficult due to restrictions imposed by the company's firewall. The growing frustration of communicating through alternative means led Sabeer and Jack to come up with the idea of accessing and sharing emails through a web browser from anywhere in the world.
Image Credit: Hznet/Helmer
Funding
The next step for the two was to find a suitable venture capitalist who would buy into their idea of developing JavaSoft. The real plan behind finding a venture capitalist was to build a worldwide accessible email system in the pretext of building a product named JavaSoft. The reason for keeping the idea of the email system secret was due to the fear of the idea being stolen by a large corporation. Draper Fisher Juvertson (DFJ) Group agreed to fund the web based email system. The duo received $300,000 with an agreement in the clause which read that the DFG group would be the stakeholders and would gain 15% of HotMail's share.
Strategies
In February 1996, Hotmail was introduced to the public. Hotmail registered its first 100,000 users in just 3 months from its launch. There were two main marketing strategies used by Sabeer Bhatia to acquire Hotmail's potential consumers. Sabeer hired a public relations firm and used print media to spread, via word of mouth, information about Hotmail's free email service. The marketing campaign also focused on viral marketing. Each time a user would send an email to a recipient using Hotmail's email service, the recipient was offered the chance to sign up for Hotmail for free. Both marketing strategies ensured that the number of new subscriptions crossed at least 1000 every month. A big plus in their marketing campaign was the use of "@hotmail.com" beside every subscriber's user name.
Acquisition
Microsoft had already started its own email service during that time, and their user base touched 2.5 million. However, Microsoft lacked the technology of providing quality email service to its email subscribers. Hotmail's user base in its first 20 months had touched 7 million, and Microsoft showed interest in acquiring Hotmail after doing a detailed analysis of Hotmail's business plan. Sabeer Bhatia and his team were offered $160 million by Microsoft. After some negotiation, the deal was finally closed and Microsoft bought Hotmail for $400 million.