How to Get the Most Out of Trade Shows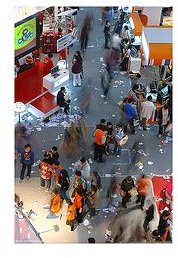 Trade Show Tips For Success
To get the most out of a trade show, make sure you choose the right trade show. EventsEye maintains a list of trade shows world wide including the US. If you're an interior decorator, you wouldn't want to attend a personal products trade show. Take the time to browse EventsEye and find the trade show that fits your company's needs.
Once you arrive, follow these tips to get the most out of the trade show:
Get a guide - Take time and review the trade show booth listing before you start your journey. Make notes on booths or vendors you want to visit.

Take business cards - Even if you have to spend the extra bucks, take as many business cards as you can. Offer good contact information including an email address.

Collect business cards - While you're handing your cards out, ask for cards from future contacts.

Attend seminars - Most trade shows, along with exhibits, offer seminars dedicated to the shows theme. Attend as many as you can.

Stay on track - Avoid spending too much time at one booth; especially if they aren't selling or offering anything you need.

Network - Introduce yourself and shake hands with people. A trade show is not the place to be timid. Trade shows are a great place to market your business.

Dress for success - While you don't necessarily need to wear a business suit, how you dress is important. You are representing your company so pay attention to your appearance.

Wear a badge - Your name badge should clearly list your name and company. It should also be easy to read and in a place not covered by clothing or jewelry.

Request information - If you find exhibitors you are interested in, take a brochure but ask that additional information be mailed to you. That way they'll have your address and you'll have theirs.

Look for discounts - If you're searching for items for your business, take advantage of trade show discounts. Ask about shipping discounts as well.

Promote - If you're promoting your business, make sure to bring brochures, information on your product or service, and a price list. Offer volume discounts.

Meals - Ask other trade show attendees or exhibitors to have lunch or dinner with you. Choose ones that can benefit your business.

Competition - Trade shows are a great place to evaluate your competition and get ideas. Find an exhibitor who isn't your direct competitor in your area and ask for advice and tips.

Be professional - Trade shows are not the place to consume too much alcohol. Be professional, alert, and sober.
Cut Your Expenses
Attending a trade show is a business expense but many businesses find it hard to shell out the bucks for traveling and other expenses associated with trade shows. Use these tips to help cut your expenses:
Airfare - Trade shows are announced well in advance so plan your air travel the same time you buy your trade show tickets. Advance airfares will save you money.
Hotels - Find colleagues or friends who are attending the same trade show and share hotel expenses.
Meals - Keep your meals inexpensive and don't feel obligated to buy dinner for people you dine with. Trade shows are a sharing and network experience; that includes meals as well.
Product - If you plan to purchase products for your business at the trade show, make a budget in advance and stick to it. Trying to figure out how you'll pay for an unexpected expense can be costly.
Promotion - You need to promote yourself, your product or service, and your business at trade shows. Find discount printers in advance to help you print brochures and business cards. Make your own brochures and business cards using a word processing program and stock paper. Most word processing programs have simple templates that are easy to follow.
Car Rental - If you must rent a car, try to share the expense with another attendee of the trade show.
Keep these tips in mind to get the most out of trade shows and make each one you attend a successful venture for yourself and your business.