Interview with Julia Stege, Graphic Artist, Web Designer, & Law of Attraction Marketer - Tips for Budding Graphic Artists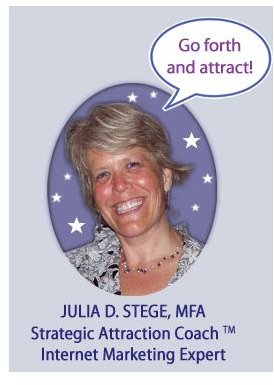 Julia Stege's Tips for Entrepreneurs
Julia Stege, the "Magical Marketing Maven", received her BFA in Visual Communications and her MFA in Multi-Media. In 1995 she founded Graphic Girlz Creative Marketing Solutions, specializing in branding, product, and website design for people who are "up to big things". Her client list includes Cafe Gratitude, Julia Butterfly Hill, Berkenstock, and Andronicos Market. In 2006 she became a certified Strategic Attraction CoachTM, and now teaches others how to integrate the Law of Attraction into their marketing.
How did you become an entrepreneur?
Pretty much resisting the whole way! I had always wanted to be a graphic designer, I knew that since I was a young teenager. I thought I'd work for other designers my whole career. My father said I should run my own business, but I had no interest in it at all. I kept getting fired from my jobs, not from performing poorly, but because I didn't take orders well. I had a rogue attitude: I'd go right to the client and my bosses would feel threatened, even though the client praised me for my work.
I went to school and became a revolutionary, a rebel artist, more interested in transforming society than in becoming rich. For a good 14 years of my adult life, starting at 25 when I left Manhattan, I was trying to put all of my design and communication skills toward transforming society for humanism and the environment. Eventually, because I was so not into society in the standard sense, I became certifiably unemployable.
My boyfriend got me involved selling t-shirts at Grateful Dead concerts. When you have $12,000 cash in hand, it does something to that anti-money attitude. I started thinking, "Money's not so bad, I'd like to make more."
I started looking at my skills and thought I could do branding and design, not just sell t-shirts. In fact when Jerry Garcia died that opportunity disappeared; no other bands liked us hanging out at their shows selling t-shirts that aren't approved. I learned how to interact and sell when selling t-shirts, and I learned how to sell to stores and people and catalogs.
What kind(s) of business do you own?
My forté is graphic design and I'm highly trained at it. I started my t-shirt business, but basically I was a designer. So when I started Graphic Girlz in 1996 it was partially t-shirts, but it segued into branding and websites. I've always been about marketing. I've been doing computer graphics since '87 and websites since '97.
I've done other side businesses like Amazon Herbs, but for the most part I'm learning about different kinds of marketing by engaging in them. About ten years ago one of my clients was totally new age. They had a lot of work for me and I was fascinated by what they were doing. They were talking to angels, and then things would happen that were miraculous. They'd get a national distribution on a new magazine before even one issue had even been printed. So I got more interested in metaphysical stuff, and I saw that people were doing that in their business, not just as a side thing but as the main thing they were focusing their business on.
Then I met Jan Stringer, who started Attracting Perfect Customers. I became certified as a strategic attraction coach, and that was a real turnaround point. I created some original programs using Law of Attraction (LOA) and authentic marketing styles to attract perfect customers. And recently with the advent of social networks, it seemed that social networks were designed for LOA marketing.
That's my big thing right now. I recommend anyone in business do a branding website and social networking program to clarify their purpose online in a compelling beautiful and consistent way, and to use the social networks to build a following and build buzz.
What are the major factors that have contributed to your success?
Good coaching is the number one thing. When I was just starting my t-shirt business I was going to a women's entrepreneur support group. I was going on a monthly basis, and saw other people that I didn't think were smarter than me or more talented than me succeeding at it. The woman who was running it was really good as a support person. I struggled a lot the first seven or eight years and then I took the Landmark Forum and that really started turning things around. I started getting a lot of coaching and taking Landmark courses. I had business coaches, workout coaches, and diet coaches. It was just having somebody there saying thinks like, "Go for it," or "You're actually quite great," or "Charge double what you thought you should, yeah go do that."
Probably the most important thing to succeed is confidence. Being around people who help build your confidence is the number one thing. I think people like a confident person to be around, like our President is so confident and calm, and that breeds confidence. That's the attitude I want to have in my life, I want to have people like that coach me.
What major obstacles and pitfalls have you had to overcome?
I used to hate to sell. It took me a long time to get over myself about it. I used to make my partners do the selling. And I also had to overcome my fear of networking, of going out and telling people what I have to offer. There were times I was brashly brazenly brave about it, but that wasn't always the case. I used to hide out at networking events by the food, partly because I hadn't found my niche or my people. I had to get over myself. I had to realize I could go to networking events and find people to help. I could help them feel comfortable, I could give what I wanted to receive.
Another obstacle I haven't overcome yet is doing everything myself. I keep working too hard and letting things fall by the wayside and riding it out at my current state of success when everyone knows I could totally blow this thing out. It's a matter of trusting other people to be able to handle some of my workload, and trusting that by focusing on what I'm best at I'll be even more successful.
I'm still looking for other things I do in my subconscious that hold me back. I keep going to transformational workshops, and listening to stuff. My husband teases me because every time he gets in the car it's some type of self-help thing on audio. I'm just totally consuming that stuff.
What advice do you have for new entrepreneurs or those considering becoming an entrepreneur?
Get involved in some type of ongoing group. Right now I'm in a mastermind group with a business coach and other women entrepreneurs. We meet every month to get examples of success, and get advice from peers and our coach. There are free or practically free things you can do with your local Small Business Administration. You can get involved with a group of people in the same boat so you can share inspiration, and make sure there's someone who leads it. Entrepreneurs need to be guided and supported a lot. A huge number of new businesses fail, probably from not enough support and just giving up.
From my own tool kit, conscious use of the Law of Attraction. Notice when negative gremlins are coming at you. They're coming out through the airwaves, you can barely turn on the TV without seeing it, there's a lot of fear. None of that needs to be the main focus of our everyday lives, especially as entrepreneurs. Successful entrepreneurs stay focused on what we want and the positive aspects, not spend too much time thinking about things that could go wrong.
And keep building your consistent marketing methods. If you're sharing your purpose, your marketing is more fulfilling and sustainable.
What advice do you have for entrepreneurs who are struggling to achieve success?
Look at things in smaller parts of the day. When do you feel like you're struggling? What are you thinking about? Look at your thoughts with a magnifying glass. I do this too. Whenever I've wanted business, if I went out to get it I would get it. I saw this one young woman with photos, she's selling them outside a store for $1.50, they look just like postcards. It takes guts and determination to get out there and just put your stuff out there. Be upbeat and positive and be of service to people.
For more inspiring stories, check out the other profiles in Bright Hub's Collection of Interviews and Biographies of Successful Entrepreneurs.