How to Start a Network Marketing Business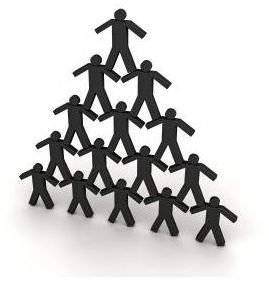 Business Model
Companies using a traditional business model employ personnel to perform and manage every aspect of their business operations, including product production, marketing, sales and customer support. Individual sales people typically receive commission for their sales, either in addition to or in lieu of a base salary. Sales managers and supervisors are typically compensated based on the perfromance of the people under their direction. Products may be shipped to retail locations, stored in regional warehouses, or both.
In MLM companies, employees handle the high-level central tasks, such as product design, inventory and order fulfillment. But individual distributors, operating as independent contractors, market and sell the products or services and handle most customer interaction. The companies usually store products at a central warehouse and drop-ship to customers, rather than distributing through multiple retail outlets.
Distributors, often referred to as associates or affiliates, receive commissions for their sales. As in the conventional model, they may also get bonuses for reaching a certain level of sales or maintaining it for an extended period. In addition, distributors are encouraged to recruit other individuals to become business builders. They then receive commissions from the sales of their recruits, either on an individual sale basis or as a function of the overal sales volume of their group. When the people that a distributor has recruited then go on to recruit others, the first distributor receives commissions based on those second-level recruits' sales activities as well, hence the name "multi-level marketing". Companies differ in the number of levels for which they pay commissions.
Is it a Pyramid Scheme?
Often the multi-level model reminds people of the Ponzi scheme or "pyramid scheme". This is an illegal operation where people receive compensation solely for recruiting others, without providing any real service or product. MLM is a legitimate business model, and commissions and bonuses are based on the volume of sales by an individual's downline, not by the number of people recruited. It is analogous to rewarding sales managers for the sales volume of their team.
Residual Income
An attractive feature of MLM is the residual income that distributors can receive. Even if an established affiliate does not spend any time "working the business" in a specific month, he or she likely earns some income based on the sales of downline distributors. So business builders can ultimately create a steady stream of income for the future without having to keep up the same pace consistently or long term.
MLM Companies
Well-known companies using the MLM business model include Amway, Avon, Mary Kay, and Tupperware. The model is employed in a wide variety of industries, including companies such as Amazon Herb Company (rainforest botanicals), Arbonne (beauty products), Discovery Toys (children's toys), Healthy Pet Net (pet products), Nikken (mainly magnetic products), Pampered Chef, Pre-Paid Legal Services Inc. (legal plans), and Xango (functional beverage).
The listing at MLM.com includes hundreds of companies; most are based in the US but some are in other countries such as New Zealand, Germany, the UK, and Russia.
Techniques
Many people are familiar with the party model used by companies such as Tupperware and Discovery Toys, and the door-to-door method used by Avon and Amway. But these are not the only methods available to distributors. With the increased popularity and availability of the internet, many MLM associates are using online marketing techniques to reach potential customers and business builders. Distributors for services such as Pre-Paid Legal may rely more on one-to-one networking opportunities than on group events, and affiliates with companies such as Amazon Herb Company and Xango may choose to focus on sampling products in informal settings.
Because of the flexibility in methods, schedule and income potential, network marketing appeals to entrepreneurs, people who want to start a home business. They can work part-time or full-time, and can choose when they work, which techniques they use, and which products or services they promote.
In the other articles in this series, we will explore how to choose a multi-level marketing company to work with and how to start a network marketing business.
This post is part of the series: About Network Marketing aka Multi-Level Marketing (MLM)
Learn what MLM is, what makes it different from illegal pyramid schemes, how to choose a company to work with, and how to succeed as a network marketer in this 3-part series.