How Does Workman's Compensation Work? Understanding Workman's Compensation and Why You Need It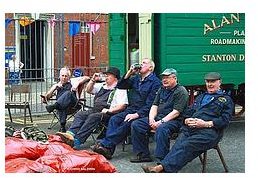 What is Workman's Compensation Insurance?
Workman's compensation insurance is required for every type of business that employs workers. It is not just for the construction or technical industry. By law, if you own a business, part of business management is to know your workman's compensation rights. You'll need to know where to get it, how much coverage you'll need and learn to understand what the insurance industry calls experience mods and classification codes.
In 1925, the National Council on Compensation Insurance or NCCI was formed to create job classification codes for each type of worker. Generally, office workers, the largest group classification is 8810 and will be applicable to most small businesses unless they have workers who travel in company vehicles or perform some sort of technical work. An experience mod or modification code was also created by NCCI with the help of the insurance industry. The experience mod compares your worker's compensation claims experience to companies similar to your business and the same type of business; but only if you have a new business.
Almost all states require that if you employ one person, you are required to obtain workman's compensation insurance. Some states, such as New Mexico, require you obtain this insurance if you employ three or more workers. To find out your state's guidelines on workman's compensation, visit or call your State Insurance Board.
Workman's compensation insurance is a type of insurance that if an employee is hurt on the job, he or she will be able to obtain medical care as well as compensated pay if they are unable to work for a certain period of time. Business owners can obtain workman's compensation insurance through any insurance agent licensed to sell workman's compensation insurance.
How Much Does It Cost?
If you are a new business, your insurance broker will contact NCCI with the following information:
Number of employees you have with job description for each employee to assign classification codes.
Total estimated annual payroll to assign your premium.
Again, if your business is new or your are taking over an existing business, the NCCi will base your premium on two factors, your total estimated annual payroll and your experience or claims history mod. If your business is a new business, say a gift store, the NCCI will find a similar business to yours, with the same general amount of employees, and assign your company an experience mod. Experience mods are increased or decreased every three years and are determined by how many workman's compensation claims your business submits to your insurance carrier.
The first amount of your premium is based on your estimated payroll and classification code. If you have all office workers for instance you would only have one classification (8810). If you had industrial workers, drivers, or any other type of worker, you can obtain the NCCI classification code from your insurance broker. Next, your insurance agent will ask you to estimate annual payroll by classification. For example:
Office workers - three - total estimated payroll - $60,000 - Depending upon the classification code assigned, a experience mod will be assigned per $100 dollars of payroll. For example $60,000 x .08 (experience mod) = $4,800
Driver - One - total estimated payroll - $35,000 - This classification code and experience mod may be higher due to the possibility of an accident. For example $35,000 x .010 (experience mod) = $3,500
Mechanic or Janitorial - Two - total estimated payroll - $50,000 - Again different classification code and experience mod. $50,000 x .10 = $5,000.
In this example, your total premium for twelve months of workman's compensation coverage would be the $4,800 plus $3,500 plus $5,000 or $13,300. Every workman's compensation insurance carrier will break your annual premium into twelve monthly payments or in this example a monthly amount due of $1,108.
Can Your Premium Go Up?
The answer here is yes. Each year, your business will be audited by your workman's compensation insurance carrier. They audit two things: 1) Total payroll; 2) Injuries.
To ensure your premium doesn't rise due to dollars paid to employees, be honest about your annual estimated payroll. If you pay more than what you estimated, you will have an additional amount due for the prior year's coverage.
If there were injuries at work that were paid for by your workman's compensation, depending upon what the extent of the injuries were, your experience mod can go up. Once that experience mod rises, you have to live with it for three years before it can be modified. Injuries that require medical attention and paid time off from the workplace are higher than medical treatment only injuries.
Another helpful tool in keeping your experience mod where you want it is to enlist the help of your workman's compensation carrier. All of them offer safety videos and brochures on teaching your employees how to be safe at the workplace. You'll also score points if you have a safety manual and quarterly safety meetings that you can document.
Lastly, small business owners should take the time to ask questions about workman's compensation costs, why you need it and your rights as an employer. To protect yourself, you must also post in a conspicuous place, workman's compensation posters so your employees know what to do if they have an injury at work.