Entrepreneurship vs. Partnership: Limited Liability Partnership Advantages for Your Business Structure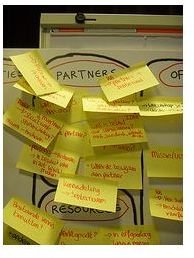 What is a Partnership?
A business partnership is formed when two or more people develop a business together. Each partner in the business holds liability for the business profits and business debts, and the specifics of their roles in the business are developed with a business partnership agreement which should be drawn up by a lawyer to protect all the parties involved.
How to Start a Partnership
Starting a business partnership will vary depending on the locality where the business will operate. Check with your local small business administration to ensure you are in compliance with all local, state, and federal guidelines.
There are different types of partnerships, each with their own benefits and drawbacks to be considered when forming a partnership.
**General Partnership:**This form of partnership is not used as often as the others because all partners are liable for all aspects of the business. This means that if one partner is sued, all of them are sued. Each business partner plays a role in the day-to-day tasks associated with the business.
Limited Partnership: This form of partnership includes general partners and limited partners. Limited partners are those who do not play a role in the day-to-day business functions and are usually investors who are contacted in emergency situations or included in major business decisions.
Limited Liability Partnership: This is the most common form of partnership as it releases partners from most liabilities found in sole proprietorships and in general partnerships. It closely resembles a limited liability corporation.
After you and your partners have decided which form of partnership to develop, you'll need to create a partnership agreement to outline the responsibilities, both in terms of running the business and the financial aspect, of each partner. The best way to do this is with the help of a lawyer, to ensure that all parties are legally protected regardless of what happens over the course of the partnership.
Limited Liability Partnership Advantages
More than one person. With more than one person on the drawing board, it can be easier to come up with new ideas to help the success of the business. Each partner will bring something valuable to the business and having different backgrounds and expertise will help the overall success of the business.
More capital. When more people come together, there is higher potential for better starting capital as compared to a sole proprietorship.
More personal protection. With sole proprietorships and other forms of partnerships, there is a great personal liability for taxes and other legal issues that may arise with a business. The limited liability does more to resemble a corporation and therefore removes a portion of the personal liability.
Disadvantages of a Partnership
More than one person. With more than one person on the team, it can be harder to reach an agreement when developing new business strategies. Though having a diverse team is a good thing, it is a double edge sword because it can destroy friendships and the business if people get out of control.
Partners may focus on relationships rather than the business. In an effort to prevent the friendship from going bad, partners may spend more time focusing on their relationships than the business, which can cause the business to falter.
What happens when something happens with or to a partner? What is the business going to do if a partner quits the business? What is going to happen if a partner decides to steal from the business? What happens if one of the partners dies? This is why it is very important to have a legally sound partnership agreement.
Photo Credit: Flickr Creative Commons
This post is part of the series: Forming Your Business Structure
When starting a new business choosing your business structure is a very important function. This series at Bright Hub will help you learn why is a sole proprietorship a Good Business Structure and help you learn about forming an LLC or forming an S Corp. Read on to find out more about the basics of