5 Free Small Business Advertising Opportunities Online

No-Cost Online Advertising Options for Your Small Business
When starting a business, entrepreneurs may not have much money to devote to an advertising budget. Promoting your new venture, however, is vital to its success. Because consumers and businesses do most of their research of products and services online, advertising on the Internet is a great option. Surprisingly, there are many no-cost marketing opportunities available online. Here are five places you can advertise your small business online for free without actually placing an ad.
**
1. Blogs
A company blog can help you provide customers with up-to-the-minute information about new products and services. In fact, a 2011 eMarketer report found that over 57 percent of small businesses surveyed said they used a blog to find new customers. Since most blogging formats include an RSS feature, users can subscribe and receive your new content right in their email accounts. Several free blogging services like Wordpress or Blogger are available with rich features and extensive how-to support.
If you don't want to invest the time required to write your own blog, you can still take advantage of blog promotional opportunities by commenting on industry-related blogs. Blog comments will normally include your website address and will give you the opportunity to share your expertise.
2. Industry-specific Professional Websites
If you are a member of a professional organization, licensing institute or chamber of commerce, you can often create a free listing on the organizational websites that will offer users your contact information and a link to your site or company blog. In addition, many product manufacturers offer their dealers a free listing in online dealer locaters used by consumers to locate products.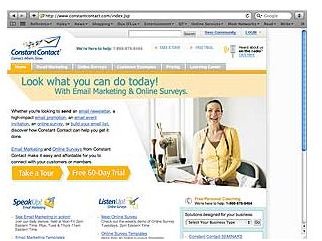 3. Email Campaigns
Creating email campaigns can be a very effective way to provide ongoing small business marketing to existing customers. You can take advantage of the customer email addresses you've accumulated and create your own bulk emails through Microsoft Outlook or other email programs. Online services such as Constant Contact or Mail Chimp offer very user-friendly creation of campaigns, mailing, and database management. Although the services have very economical fees based on the number of subscribers in your mailing list, you can also take advantage of their no-cost options for free small business advertising.
4. Social Media
Social media websites like Twitter and Facebook are continually growing in popularity and are a great way to connect with potential customers. Joining is free and you can link your profile to your website. Facebook's "Page" option is targeted specifically for businesses and offers great analytics on user interaction as well as many application add-ons that can aid your marketing efforts. Posting consistent messages related to your business activities or expertise offers free marketing potential.
5. Requested Link Exchanges The old school word-of-mouth approach often offers the best advertising potential. Requesting link exchanges between your small business website and other related sites can have the same online effect. Website owners are usually happy to provide links to quality websites that can offer users needed information. Often the only incentive required is a reciprocal link on your website.
There is no question the benefits of online marketing for small businesses are constantly growing. The Internet offers unique ways to engage with existing customers as well as entice new ones, and it provides the needed top-of-mind exposure in a medium where consumers already spend so much time. With these free small business advertising opportunities, even business start-ups and entrepreneurs can afford the investment!
References
"For Small Business Marketer, Are Fewer Channels Better?" EMarketer Digital Intelligence. https://www.emarketer.com/Article.aspx?R=1008399 Retrieved May 23, 2011.
Image credits:
This post is part of the series: Free Internet Advertising for Small Businesses
Although marketing is essential to the success of a small business, many start-ups simply don't have the budget for traditional advertising options. This 2 part series offers online options for free small business advertising.