Sourcing Products to Make Money on Amazon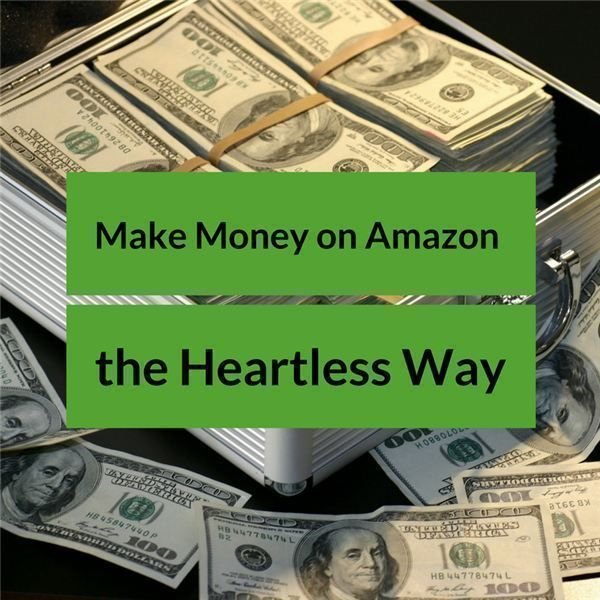 Why Amazon?
For most small businesses, getting traffic is the biggest issue. Having great products and warm customer service doesn't matter if no one notices you. Online or on the street, a store needs customers.
According to Statista.com, in the fourth quarter of 2015 Amazon had 304 million active customer accounts. Every month, 186 million unique visitors browse its products. It sold $107 billion in 2015. Since 2004, the company's sales have shown steady exponential growth.
In short, Amazon is the big boy. Don't hate it because it's huge. Benefit from its mass. For hundreds of millions of people, Amazon is the first place the look to buy things.
One out of every three transactions in North America takes place on Amazon.
What Should I Sell?
Do you have a product you truly believe in? Will putting them in the hands of strangers make you and them happier? Will they all thank you?
Forget about that. Let's do this to make money and set all emotional concerns aside.
What should you sell? Something lots of people want that is profitable.
Here are the top five product categories according to 360pi:
Cell Phones and Accessories (82,039,731 products)
Home and Kitchen (64,274,875)
Clothing, Shoes and Jewelry (33,422,437)
Electronics (31,604,887)
Sports and Outdoors (23,997,293)
Don't swim upstream. Pick something from one of the top five categories, but find something under-represented.
Where Should I Source my Products?
Should you visit possible suppliers, tour the factories, talk with the manager and shake hands on a deal?
No way. It would take up too much of your time and money. Unless you're an industry expert, you wouldn't know what you're looking for anyway.
What you need is a quality product from a reliable supplier at great price. So do what millions of people already do: shop Alibaba.com.
Alibaba is to wholesale in Asia what Amazon is to retail in North America. A few indicators will help you choose a trustworthy business partner:
The "Trade Assurance" badge is Alibaba's guarantee you'll get what you pay for and can return it if you don't.
The "Gold Supplier" medal indicates how many years the seller has been a verified premium retailer.
"Transaction Level" measures the volume of sales for each seller.
Transactions over the last six months are shown clearly in US Dollars.
Once you find the product you want to sell, you'll have choices of who to buy it from. Choose a supplier with the Trade Assurance badge that has been a Gold Supplier for multiple years and has a high level of transactions.
Click the "Contact Supplier" button. You should get a swift response. Like any business communication, if you don't experience clear and easy interaction, go with your instinct and choose another partner.
You're buying bulk, but you shouldn't have to shell out more than a few hundred bucks for enough inventory to get started. But don't spend your money until you have your online store in place.
Launching Your Brand
Once you've picked a product and a supplier, success isn't as easy as falling out of bed. How to win at the Amazon game is a long story for another article, but here a few basics.
You need a business name and a logo. Not every Amazon retailer has this. It will set you apart and make you trustworthy.
The idea of branding your product began as a way for a manufacturer to put its stamp of approval on its merchandise. Because it has your name on it, it must be good.
Provide your logo to your supplier. They should be able to put your mark on your new merchandise. You didn't build it, but it sure looks like you did.
A Crisp Product Page
Having a page that is sharp and professional is huge. Again, not every retailer will take the time. You need big images that are at least 1500 pixels square. Give Amazon multiple good photos and they will make a user-friendly zoomable interface.
Think Apple when designing your look. That brand is world famous for its polished, minimalist appearance from its products to its advertisements to its stores.
Follow Up is Huge
Once you get to selling, feedback and reviews are essential. You need many positive ratings early. Amazon protects its customers. They trust that Amazon has great products and retailers. Sellers are replaceable. If you don't appear to be making people happy, you'll get the ax.
Most people only make noise when they have a problem, so it's easy to get bad reviews and hard to get good ones. To get a good review, you need to ask.
However, don't ask for five Stars until you've earned it. Make a friend first.
Email your customer when the product ships and get them excited about it. Email again when it arrives and confirm the shipment was accurate. Contact them a couple days later to see if it's working right and making them happy.
Then when you ask for a review, they'll gladly give a good one.
When you're small, you can do this in person. Hopefully your volume will be soon too big to keep up with. Don't worry. Several good services exist to automate your follow up without sounding like a robot.
Good Luck
Going big on Amazon is a huge topic, but deciding to sell there is simple. It's huge. It has built in traffic. It wants you to succeed, so prove you have a good product and Amazon will help sell you.
Do your research, form a plan and go for it. You may create a solid business machine you barely have to touch.
Don't get emotional about your product. They're all just widgets and sprockets. Do it for the money.