Planning for Risk While Avoiding Extremes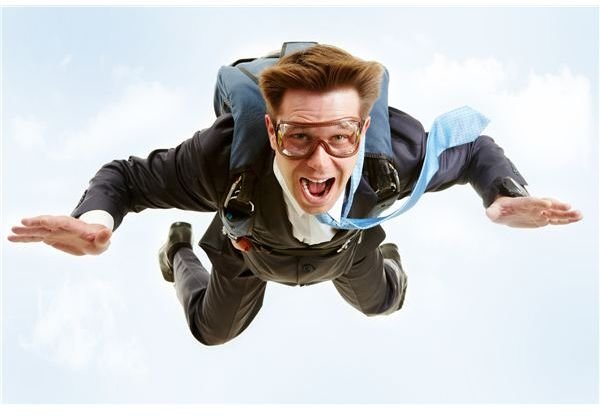 There are some who seek out the adrenaline rush that comes with risk. They're the ones who don't hesitate at the chance to jump off a cliff with only a thin rope harnessing them. They enjoy the uncertain and uncharted.
Then, there are those of us who are more cautious. While adventure isn't out of our wheelhouse, we tend to move forward slowly and weigh decisions more carefully.
If you want to be successful in business, risk is inherent and must be faced — even by those of us who would rather avoid it. If you don't know how to assess or manage risk, then your business might begin to take an unrecoverable deep dive in performance. Facing risk and addressing it head-on is a key factor in long-term success.
Bad Approaches to Risk
The nature of business is to take calculated risks to create value. Companies risk their human potential, capital, and resources to develop and sell products, services, and solutions customers are willing to pay for. The problem is that many businesses approach risk at one of two extremes.
Extreme #1: The Cavalier Approach
Some companies see potential in the market around them and seek to take advantage of every opportunity, regardless of the risk involved. They often commit more than they should and become overextended.
Both startups and long-term market leaders often fall into this category. Startups are constantly surrounded by risk, making them too comfortable and thoughtless in their decisions. Established leaders are too confident in their status and don't respect real risks when they confront them. Think of how Blockbuster had cornered the market on video rentals until Netflix and video-on-demand obliterated it.
For both startups and market leaders, the inability to devote resources to scanning their current and future markets can wreak havoc on their viability.
Extreme #2: The Fearful Approach
Rather than being oblivious to risks, firms that are too risk-averse become paralyzed and unable to respond to changing market conditions. They rely on data from past successes to inform their current choices and fail to innovate. These organizations possess a signal-to-noise problem: They cannot effectively sift vital information from background clutter. Prime examples are Research In Motion and Kodak — they were both market leaders in their day, but were unable to recognize the risk in their positions of apparent strength.
An off-balance approach to risk can cause a number of problems. Businesses are left with no way to identify risk as a precursor to managing it, and they often suffer dire consequences from inaction. Across the enterprise, there may be patterns of risky practice, but because there's no method for voicing risks, they continue until they cause harm.
Reframing Your Approach
Businesses must face risk head-on — they can't fear or ignore it. By developing strategies for managing risk, a business can be prepared to avoid, change, or embrace the risk.
Avoiding Risk
Choosing not to take a risk based on research and calculations is not the same as shying away in fear. This kind of strategic assessment is a constant part of the life of an enduring enterprise. Businesses should assess their various lines of business and functions and evaluate the viability and sustainability of each venture. While there are some risks you should take, there are also some you should avoid.
Sharing Risk
One way to share risk is to purchase sufficient insurance coverage to minimize losses. However, more often it means involving other organizations in a project through joint ventures. This is a common practice among the world's major airlines as they enter into code-sharing arrangements to ensure route coverage for their passengers. Alaska Airlines and American Airlines, for example, have made one such deal, enabling them to expand their destination offerings and reduce traveler inconveniences.
Modifying Risk
A company can modify risk by changing the way a certain activity is performed, such as taking preventative actions. This kind of risk modification is prevalent in the recall process for the automobile industry. When performed effectively, it can yield significant positive benefits, such as the recall by Toyota in 2012 of more than 2.5 million vehicles with no significant loss of sales or impact to the parent brand.
Retaining Risk
Sometimes, you evaluate the risk of an activity and choose to retain a portion or all of it. You decide that the benefits outweigh the possible downsides and move forward with a project or activity. When you take this route, evaluate every step of the process for possible problems or additional risks.
Implementing Effective Strategies
Risk should be built into your business model. Expect it, and have a plan for it. You need to:
Monitor Risks: Articulate a set of known triggers, consistently test assumptions (both internal and external to the enterprise), and design and implement preventive actions.
Identify and Prioritize Risks: Use methods such as the SWOT analysis (strengths, weaknesses, opportunities, threats) and supplement them with a process for scanning the strategic environment using data mapping tools. The results should be assessed for probability and seriousness of impact so you can prioritize your actions.
Analyze Risks: Categorize risks by type (financial, human resources, assets, etc.) and perform qualitative and quantitative analyses to determine the appropriate contingency responses, timing, and costs.
Risk is a tricky thing. It's hard to know when and how to act on risky opportunities without putting everything on the line. Building risk awareness into your organization will help you approach risks in a healthy way while also minimizing what's at stake. You can move forward confidently and even recover when risk becomes reality.
About the Author: Andrew (Drew) C. Marshall is the Principal of Primed Associates, an innovation consultancy. He lives in central New Jersey and works with clients across the U.S. and around the world. He is a co-host of a weekly innovation-focused Twitter chat, #innochat; the founder, host, and producer of Ignite Princeton; and a contributor to the Innovation Excellence blog. He is also providing support for the implementation of the Design Thinking for Scholars model with the Network of Leadership Scholars (a network within the Academy of Management).
References