Your Klout Score Can Reveal All: How Much Online Influence Do You Have?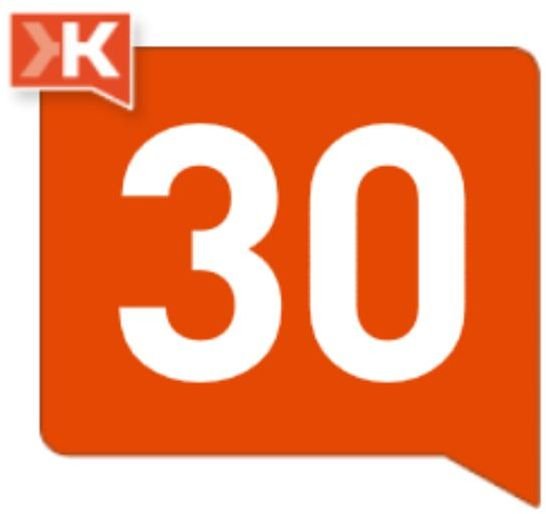 Give It a Klout!
Whatever your situation, if you want your voice to be heard in the vastness of the online world it can be difficult. Whether you are a writer, blogger, photographer or just someone with a passion or a product to share we are constantly being bombarded with ways that social media can help to increase our reach.
Klout is a system that measures online influence to see just how effectively you are getting your message across. How many people do you really influence and how can you improve? Your Klout score can reveal all. It's still in beta, but is well worth giving it a try as it takes a short amount of time, and the feedback you get is pretty darn useful.
How Does Klout Work?
To begin with, you just need to give Klout some pretty basic info so it can see not only how active you are in social media circles but how effective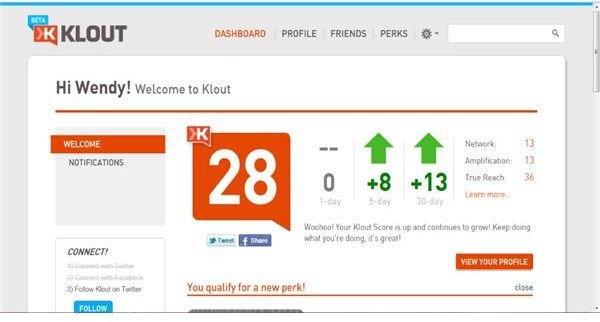 you are at doing it. I just signed in with my Twitter and Facebook details which was enough to get me started. You can also add other accounts such as LinkedIn and FourSquare.
Klout's Megan Berry was keen to point out to me though that adding in more accounts won't necessarily bump up your score, so there's no benefit in signing up for all those accounts thinking it will help.
"We're measuring how many people you influence, how much you influence them and how influential they are. We look at influence happening on any network as being equal so you don't get an automatic bump simply for adding a network."
So once you've added your accounts, your data is analyzed and results are returned pretty quickly. I got a Klout score of a disappointing 16 on my first results (the maximum being 100), but luckily you also get feedback on ways to improve.
The more you improve your score on Klout you get access to "Perks." Some of these can be product freebies like care packages and drinks, whereas others allow you to try out new stuff to help your web life, such as their upcoming initiative on topic pages. This will allow you to dig deeper into topics that interest you, find out who the top influencers are in that area and so on, which could be useful if you are aiming your reach at a particular niche.
How Influential Are You?
As well as being presented with your Klout score, you also get given a Klout name to get an idea of what kind of a person you are in regard to influence. These aren't related to your scores, more an indication of your style of behavior and level of influence.
Observer

Dabbler

Explorer

Conversationalist

Socializer

Networker

Specialist

Broadcaster

Thought leader

Taste Maker
You also get presented with some graphical data to further analyze the results:
Network Influence - This is the way you engage with others, so it looks at if you are more active in connecting with friends, or if you connect with others who have influence. Examines how often others respond or share your content.
Amplification probability - How much you influence people, so if you are more likely to be heard than the average person. Even if you have a small group, if they are influential and share your content, then they are amplifying your voice.
True Reach - This is the number of people you influence, also looking at how engaged they are in what you say. For example my score was 37 which is comparatively low but showed that I had a high influence over this close group. Is particularly useful as it eliminates the spam followers, focusing just on the people who are acting on your content.
In addition to all this, Klout isolates what subjects you are influential on, which is another great indicator if you are showing up to be the specialist in the area that you strive to be.
How Klout Helped Me
So, all this is very interesting but how can it help you to improve your influence? One of the best things about Klout is that you don't just get given a score, a name and some graphs to look at, but you get feedback and advice to help you improve. Each time you visit the site you get updates on your score – has it gone up or down – and yet more feedback on improving it. Although sometimes it will just be more encouraging than giving practical tips if you are making a nice improvement – Woo Hoo! Your Klout score is up and continues to grow, keep doing what you're doing, it's great!

To begin with though, the feedback is a lot more comprehensive. It showed me that I was concentrating too much on friends and needed to engage with other influences. Although I had an engaged following it was small. But my amplification score was above average so I had an idea that whatever content I was sharing was being shared and "amplified" by others. So really I just needed to get more people listening.
I did small things like tweeting about new articles I had published manually rather than using an automated system. This meant I could add a more personal touch to get people interested other than just a title and URL, as well as adding relevant hashtags. I found using hashtags to be hugely helpful in reaching more people as it made it more searchable.
I added some big influencers to my Twitter network and got rid of those who I don't interact with anymore. Replying and retweeting other people's posts, and adding other people's articles to my Facebook page that I found interesting (and that were in my field) also seemed to help. My Klout score improved from 16 to 30 in about 10 days.
Top Tips From Klout
It won't be the same for everyone though, so here are a few great tips I've got directly from Klout, or that I've gleaned from my feedback.
Adopt good conversation skills and be witty doing it – people are more likely to listen to what you have to say.

Don't be afraid to retweet or share other stuff that isn't yours if you think it will help your followers.

Be quick to let people know what's happening – share an inside scoop and that will help further.
Megan Berry gives us the best tip though:
"The best way to increase your score is to consistently create great content that people want to share and discuss."
So create great stuff and interact with others and you'll be well on your way. I think Klout is an amazing free service though, and the individual feedback and analysis you get is amazingly helpful.
Now go and see what your Klout score is!
References
Special thanks to Megan Berry, Marketing Manager at Klout for answering my questions.
Screenshots taken by author.
Source: Author's experience of using Klout.