Tips for Using Twitter Hashtags for Business Promotion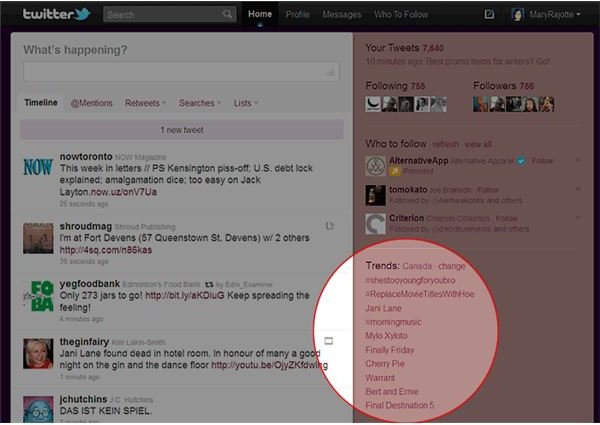 Since it exploded onto the social media scene in 2006, micro-blogging website Twitter has become a popular social networking tool.
Staying updated on trends and topics on Twitter can be a daunting task, but by using special hashtags, you can easily take part in discussions, track trending topics and utilize the quick-paced conversation to your company's advantage.
Learn how using Twitter hashtags can keep you engaged with your customers and how this useful resource can become a powerful tool in your social media branding toolkit.
What is a Hashtag?
The hashtag, or '#' symbol, is an easy way to identify topics and discussions on Twitter.
Users attach the symbol to the beginning of a word or phrase, allowing others to identify, track, use, and organize discussions of interest. For example, as a small business owner, you could use hashtags such as #marketing to find tips or discussions on marketing techniques, or attach the hashtag #sale to your own tweets to make your discounts stand out to your followers.
Using Hashtags
Using Twitter hashtags for business can be both for fun and for profit. Make every tweet count by tagging specific types of tweets in your day-to-day use. Choose different topics to discuss daily or weekly and use tags so your Twitter followers can easily track your discussions and rely upon your periodic updates.
Some key topics to highlight using hashtags in your tweets could be:
Marketing
Customer service
New products or services
Solutions or tips
Links to articles, blog posts or interviews
Discount codes or free samples
Piggybacking on current Twitter trending topics can help you to gain followers, display your expertise and create instant connections.
Some popular weekly hashtag chats to get involved in include:
#followfriday (every Friday): where you can suggest which of your own followers that other Twitter users should also follow
#writingwednesday, #ww (every Wednesday): a tag used to specifically suggest writers who you think others should follow
#seochat (every Thursday): weekly discussion about online marketing, including SEO, viral marketing, social media and a variety of other topics
While using hashtags can be a fun way to engage with other Twitter users, there are a few unwritten rules of using hashtags
Don't overuse the tag: making every other word or phrase a hashtag in your tweets quickly dilutes the usefulness of the tool. Make sure you target your tweets and attach your hashtag to a useful or meaningful topic or idea so other Twitter users will not simply tune you out
Make sense of it: when making up your own hashtags, be sure to let other users know the meaning behind your usage. Give some context so others can jump into your discussion
KISS (Keep It Simple Silly): short & simple hashtags allow other users to use the tag and add their own messages while still staying within Twitter's 140-character limit
Keeping Updated
Finding Twitter Trending Topics
When you log into Twitter's website, you will find a Trending Topics area in your right-hand sidebar. This allows you to see what the most popular topics of discussion are in your area, allowing you to quickly jump into conversation with others.
Hashtags.org is a searchable directory that allows you to track the most popular hashtag chats on Twitter, and search to see if your desired topic is being discussed by anyone else.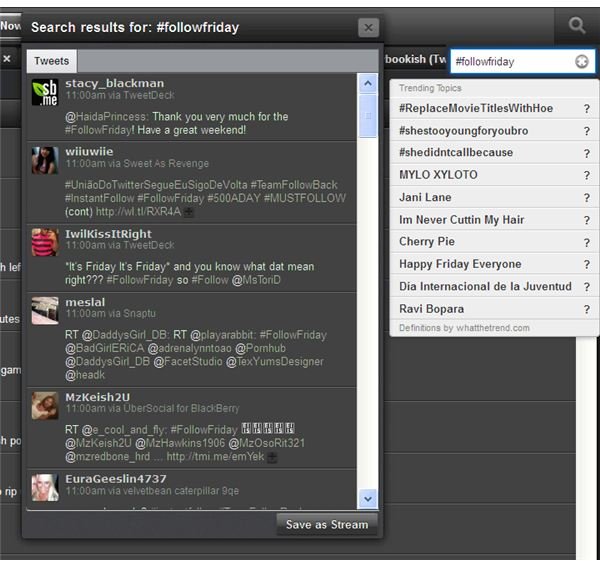 Third-party applications such as HootSuite allow you to perform a search of specific hashtags and save the searches so you can receive notification anytime anyone discusses the topic in question.
Scheduling your tweets
Keeping a consistent tweeting schedule can take up a lot of time. Luckily, there are many websites and tools you can use to pre-schedule your tweets.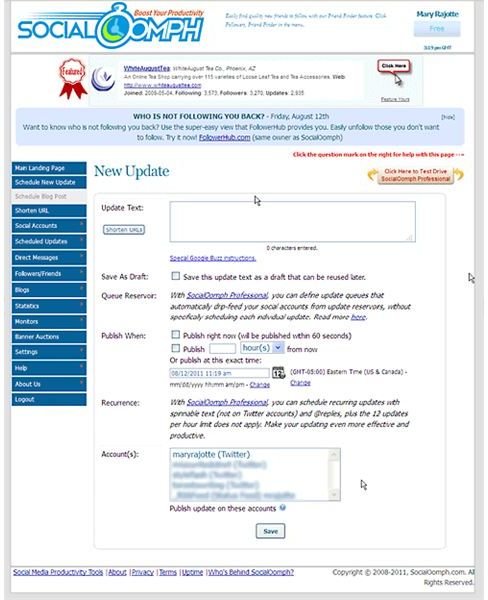 SocialOomph: offers an entire suite of social networking tools, but it also allows you to add multiple Twitter accounts and preschedule tweets to appear within a few hours, days or even months in advance. With SocialOomph Professional, you can schedule recurring updates, direct messages and replies, or create recurring tweets with alternate text so your updates are each new, fresh and inviting while still focusing on the topic you choose
Hootsuite Publisher also allows Pro and Enterprise users to preschedule tweets on specific days and hours and through your various Twitter accounts. Their easy drag-and-drop calendar view makes it easy to change the dates your pre-scheduled tweets will appear to your followers.
Putting the Social in Media
Social media has become a powerful tool in the marketing arsenal of small business owners and entrepreneurs.
The key to success on websites such as Twitter, Facebook, LinkedIn and Google+ is to remember the social part of networking when you are branding your business. No one wants to follow someone who simply pre-schedules every message and does not engage or respond to others.
Prescheduling the use of your Twitter hashtags for business purposes is fine, but don't forget to check in and respond to others who interact with you on Twitter. Otherwise, your branding is anything but social and you will find yourself losing followers, your audience dwindling and your marketing messages falling on deaf ears. Be engaging but also engage others and you will see your social status soar.
References