Using an Independent Customer Feedback Site to Track the Satisfaction of Your Clients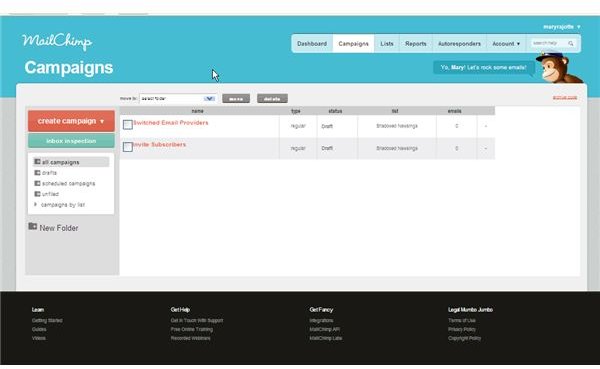 One of the greatest assets you have as a small business owner is your customers. Gathering their feedback provides a unique opportunity for you to discover their satisfaction levels with your product or service. Find out how sending periodic feedback surveys can demonstrate your dedication to your clients and, in turn, provide you with the information you need to so you can continue to improve and grow your business.
MailChimp
MailChimp is a marketing service geared toward both business owners as well as entrepreneurs managing mailing lists for their clients. With a variety of templates, features and add-ons as well as a way to integrate your marketing efforts with social networking sites, MailChimp is a robust service that makes it easy to manage your customer feedback.
Pricing
MailChimp offers a variety of plans to suit businesses of every size. With their Forever Free Plan, that has a limit of 12,000 emails/month, to their credit-based system that ranges from $10 to $20, as well as a Pay As You Go plan for infrequent senders, MailChimp has a package that will suit businesses of all sizes.
Standout Features:
Comments: The addition of comments to email newsletters directly opens the line of communication between you and your customers
Social Pro: to see more about your clients, how they use social networking so you can send targeted campaigns
Social Stats: quick & easy way to see who's liking and tweeting your emails can give you insight into who to target with future updates
SurveyMonkey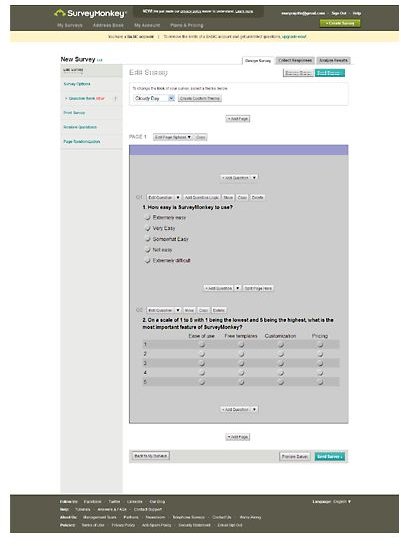 SurveyMonkey is a web-based survey solution that allows companies to gather the insight needed to make adjustments and improvements to their business.
With an easy-to-use interface and the adition of advanced features that are easy to implement, SurveyMonkey is a great option for users looking for a no-frills site to gather customer feedback.
Pricing
With less options than some of the other websites, SurveyMonkey does offer four packages to select from.
Their Basic (free), Select ($19/month), Gold($29/month) & Platinum($69/month) packages range from 10 questions & 100 responses per survey to unlimited questions and responses, additional customization features, and in-depth analysis features with their other three packages, companies looking for a
Stand-out Features
Over 15 question types that are already configured & ready to go, including multiple choice, matrix of choices, rating scales, text boxes and demographics
Pre-made survey templates make it fast and easy to get your feedback questionnaire up and running
Printable PDF of your survey for in-person studies and meetings
Drawbacks:
Users might need a hand when setting up their customer experience surveys. However, many of the pre-made survey templates are for PRO users only.
For example, in the Customer Feedback category, the Website Feedback and Market Research Templates are both for Pro users, with the only free one being the Net Promoter Score Template.
While it isn't a necessity to start with a pre-made template, users who sign up for that reason alone may be disappointed.
UserVoice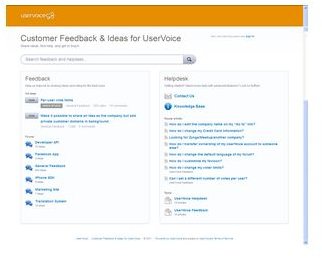 UserVoice Feedback is the service dedicated to Collecting, managing and responding to feedback and ideas from your customers. With a fee 30-day trial for all packages, you can give UserVoice Feedback a try before you decide whether or not you want to buy.
Pricing:
With Free, $15, $45, and $95 packages, pricing is reasonable for small business owners. However, one thing to keep in mind - pricing is per admin, so if there is more than one person in your company or you plan on having multiple people logging in to maintain your campaigns, costs can add up.
Utilizes a simple feedback form to gather customer responses.
Easy for people to share the ideas they're passionate about with their friends.
Threaded comments allow you to update the status of an idea
Daily update emails send you feedback so you don't have to spend time logging into the system
Standout Features
Feedback is prioritized by respondent votes so you can quickly see which issues are most important to your customers
Allows you to gather feedback, implement user suggestions and keep them informed when their opinions are integrated into your business.
Tangible way to show customers they matter, and that you are not only listening but also taking their suggestions to heart
GetSatisfaction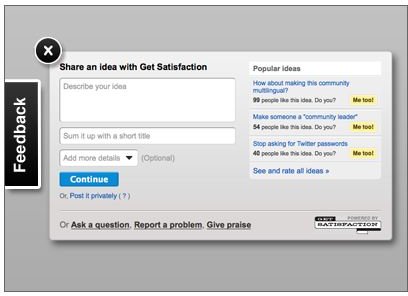 GetSatisfaction is presented as an online community between companies and their customers.
Similar to UserVoice, GetSatisfaction makes interaction between businesses and their clients a two-way street.
Using a simple, 4-question base for all discussions, companies can gather the targeted information they need while staying socially interactive.
Pricing
Free 15-day trial for all packages,
Free, Start ($19/.mo.), Grow ($49/mo.), Connect ($99/mo0, Integrate ($249/mo.) packages
Standout Features
Outcome-oriented topics (Ask A Question, Share an Idea, Report a Problem, Give Praise)
Social web integration creates better relationships with customers, which can translate into increased sales
Options for Everyone
Businesses of all sizes can benefit from gauging the satisfaction of their customers. Today's independent customer feedback sites offer a variety of options to survey your clients for everyone from independent entrepreneurs to large corporations.
Whether you need a simple feedback system or require more in-depth analysis of your customers and their opinions, there is an option for you.
Resources
Images: Screenshots provided by the author