Sample Restaurant Floor Plans to Keep Hungry Customers Satisfied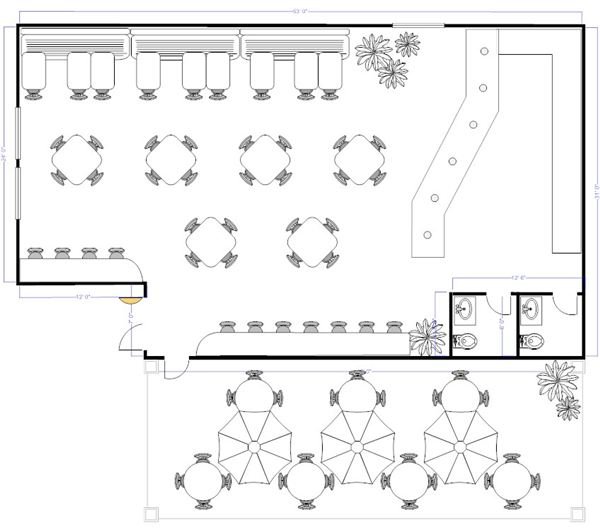 Restaurant layouts need to be both efficient to your staff and inviting to your guests. Factors such as the type of food you will be serving are just as important to your layout as behind-the-scenes areas such as the kitchen and staff quarters. These useful tips will help you to design your restaurant and keep hungry patrons happy so they will come back for more.
Restaurant Essentials
Kitchen Area
The most important area of any food service restaurant, your kitchen area should include space for all the equipment you need to cook your meals, as well as accommodate the chefs needed to prepare the food.
Dining Area
Laying out your dining area is a fine line between having enough room to accommodate as many patrons as possible, while allowing enough room so people can eat comfortably.
Restrooms
Having restrooms for both your customers and your staff is a necessity. It needn't be large, but keeping it clean and streamlined is a must.
Bar Area
If patrons are made to wait for their tables, having a bar area is a great way to sell appetizers and drinks before the meal, and to keep guests' minds occupied while they wait.
Staff Quarters
Your staff works hard and having a space for them to relax on their breaks is a no-brainer if you want to keep them happy and enthusiastic about their job.
Payment
You need to get paid for your hard work. Smaller restaurants may have a cashier at the front of the restaurant, but be sure to provide enough room to accommodate both incoming and outgoing customers. You don't want to miss out on new guests if your foyer or entrance is too busy with patrons paying for their meals.
Traffic Flow
Having all the required areas for your restaurant means nothing if you do not take traffic into consideration.
The flow of your wait staff is vital to the satisfaction of your customers. No one wants to wait an hour for their meal, and the colliding of servers can be disastrous.
Take into consideration the flow of waiters and waitresses from the kitchen to their tables, as well as hosts and hostesses who must seat customers at their tables.
As you can see in the Tap House floor plan below, arrows are used in the sample floor plan to show how employees should move throughout the restaurant for an efficient flow of traffic within the establishment.
Tools to Plan Your Restaurant
Knowing what equipment you will have is the first step toward successfully planning your restaurant layout. Entrepreneur.com's Restaurant Center provides checklists for full-service restaurants, coffee shops, sandwich shops and a pizzeria that can help you to plan what you will require.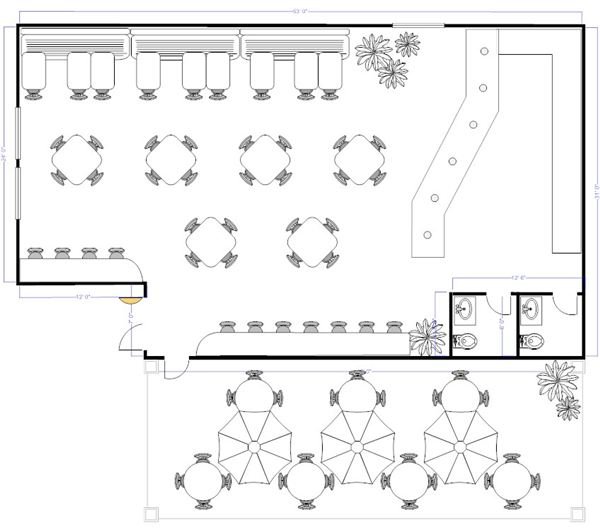 SmartDraw Software offers a free trial download of their product which you can use to create layouts for your business.
Billed as a visual processor, the application makes creating visuals as easy as creating written documents.
The software includes sample restaurant floor plans, menus, schedules, and flyers. The Symbol Library provides images for a variety of objects including furniture, kitchen and bathroom fixtures, lighting fixtures, and cabinets that can help you to visualize your restaurant.
The free Coffee Shop sample floorplan gives you a general idea of how you might lay out your restaurant. Tables, booths, and bar areas are clearly shown, while the kitchen area is not detailed, so a little imagination is required to create something more detailed.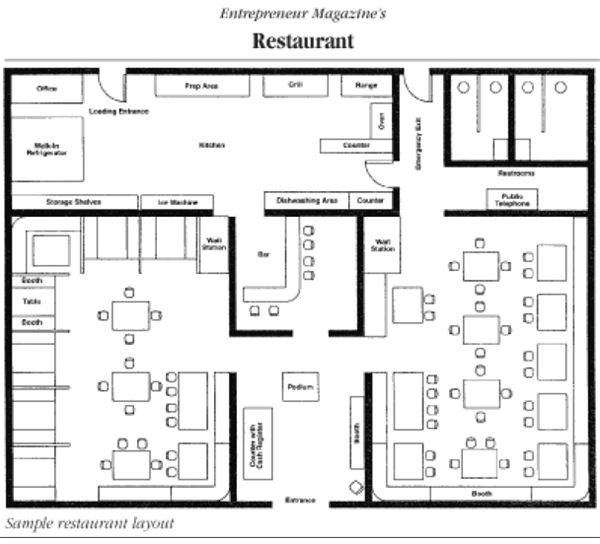 The free full-service restaurant template from Entrepreneur.com shows how one might lay out their business with separate dining areas, a central receiving area for guests, and an extensive kitchen area for food preparation.
FloorPlanner.com is an online tool you can use to create to-scale floor plans. Although it is focused toward houses, there are options for kitchens and dining rooms that you can use to design your restaurant layout.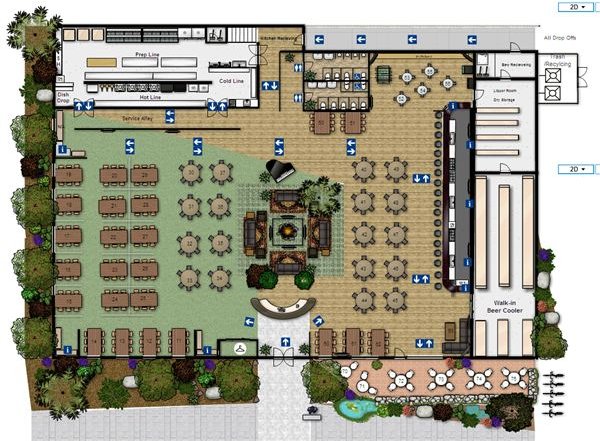 This sample Tap House floor plan shows a sample floor plan with ample space for customers and kitchen staff, while providing attractive touches that create an ambience that makes the design completely customized.
With a free interactive demo that allows you to click, drag and drop objects, as well as a free basic package that you can sign up for, Floor Planner is a great option for people who want to try their hand at designing a restaurant quickly and easily.
Every restaurant needs thoughtful planning to achieve success. From the behind-the-scenes aspects such as the kitchen area and restroom, to the overall ambience and layout, everything is focused towards providing the best experience for your customers.
Using free floor plan software and templates to simulate your design, you can visualize your restaurant before you break ground. A strategic design can be the secret ingredient to your restaurant's success. These sample restaurant floor plans can help you to analyze your restaurant's needs before you jump into the design process and can help make you the toast of the town.
Resources
Images: screenshots provided by author