Learn About Trade Show and Exhibition Management: Becoming a Trade Show Entrepreneur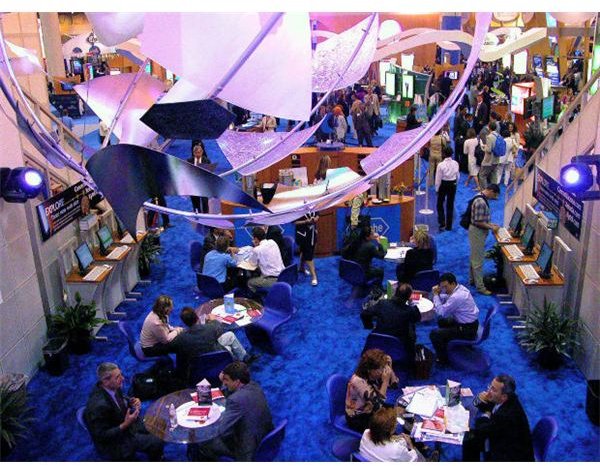 Behind the Scenes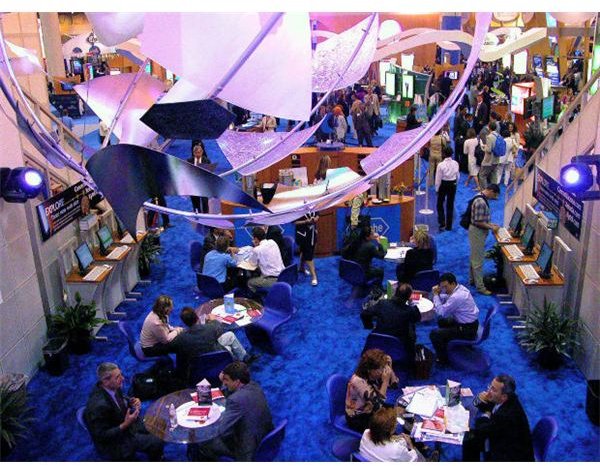 Trade shows and exhibition events are organized so that companies in a specific industry can showcase and demonstrate their latest products and services, study competitors and examine recent market trends and opportunities for growth. Currently over 2,500 trade shows are held in the United States each year, making it one of the largest niche business opportunities for events managers and trade show entrepreneurs.
Events Management
Trade show and exhibition management is the cornerstone of developing conferences and exhibitions as it involves a special type of branding, marketing and project management skills. It is the premier method of strategic marketing and communications for companies to promote new and innovative products and services. The goal of managing such large scale events is to gain customers and clients, plus in the current market, increasing a media presence are key. To achieve this goal, event managers must focus on the following elements:
Client needs assessment - To discuss the specific focus of the event.
Venue Acquisition - Contact venues to negotiate scheduling, cost and logistics.
Secure the vendor(s) - Discuss venue logistics, cost and scheduling (as needed).
Coordinate exhibit layout - Meet with venue to discuss space optimization.
Booth or Display Acquisition - Renting and assembly of booths (as required).
Event marketing and promotion - To customer, clients and competitors.
Where to Begin
The most logical first step is to write a business plan that serves as a road map for the future. Defining who will run the company, what products and services will be provided, where it will operate and the goals of the organization are essential for success. Outlining marketing, promotions and company identity, e.g. whether the company will be run as a:
A limited liability partnership (LLP)
A limited liability company (LLC)
An incorporated entity, or
A corporation with special tax incentives (S Corp)
These are key elements to explore. For assistance in this area, research competitors in the marketplace to learn about their clients and target market. It is imperative to make sure financial aspects of the business plan are discussed with a financial planner or trusted advisor. Start-up costs, supplies and location are just a few details that must not be overlooked.
The start-up phase of the company offers a unique position for specialization. In today's media and technology driven environment, event management companies have several options as a "marketing partner" for clients. In addition to trade shows, there are corporate events, mobile marketing, kiosks, and celebrations such as seasonal or holiday months in which to specialize. Each of these areas requires different logistical strategies for organization and utilizes different contacts for completion.
To learn more about the events management industry, consider interning or seeking part-time work for a trade show and exhibition management company. If time permits, inquire about volunteer opportunities that offer interactions with company managers and established event planners.
Established Firms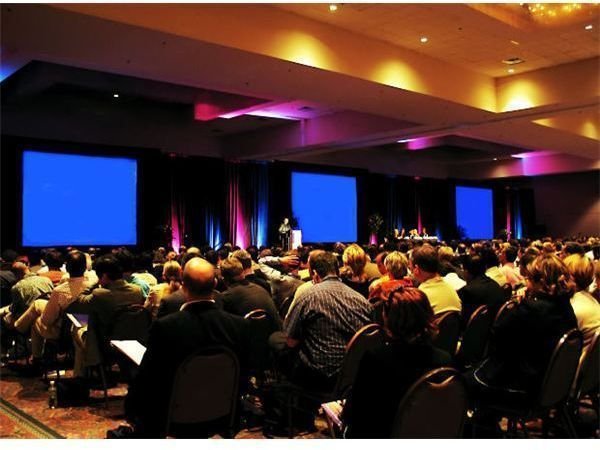 The Center for Exhibition Industry Research (CEIR) reports companies in the U.S. spend close to twenty-four billion dollars a year on exhibiting at industry trade shows. SmithBucklin is one of the most successful trade show management companies in the industry. Their goal is to "provide trade show management expertise worldwide, including resources and purchasing power that help organizations reduce costs and generate efficiencies." The organization uses the marketing and communications approach to fit the needs of clients, providing the opportunity for a strong image at the event and subsequently to customers and competitors. Another premier exhibition management company is GES or Global Experience Specialists, which is a large scale company that employs logistics management with methods of increasing event attendance and engaging attendees in the exhibit. Specializing in full-service promotional tours, branded environments even holiday décor and retail solutions in addition to exhibitions; GES is an example of a global events company an entrepreneur can study for ideas and guidelines on services for company growth and development.
Becoming a trade show entrepreneur is a large scale endeavor that with skill, time and patience will bring value to the entrepreneur. By creating a strong business plan, learning from established organizations and possibly partnering with experts in the industry, the exhibit entrepreneur is in the penultimate position to capitalize on a growing market. Consider reviewing the following resources to jump start the business process.
Resources to Explore
Associations
Convention Industry Council, (CIC)
Professional Convention Management Association, (PCMA)
Magazines and Publications
Meetings and Conventions
Special Events Magazine
Tradeshow Week
Educational Opportunities
Convention Industry Council, (CIC)
George Washington University Event Management Program
International Special Events Society
Directories
Several online directories have been established to help organizers, attendees, and marketers identify appropriate events.
Bvents, www.bvents.com: business events database.
Events in America,www.eventsinamerica.com: American trade show and conference directory.
Trade show news network, www.tsnn.com: trade show news, information and database.
References
Computer Event Marketing Association (CEMA), www.cemaonline.com
Convention Industry Council (CIC), www.conventionindustry.org
Exhibition Services and Contractors Association (ESCA), www.esca.org
GES Exposition Services, https://ges.com
International Association for Exhibition Management (IAEM), www.iaee.com
Professional Convention Management Association (PCMA), www.pcma.org
SmithBucklin, www.smithbucklin.com
The Trade Show Exhibitors Association (TSEA), www.tsea.org
Image Credits:
Audience – MorgueFile/clarita
Conference – MorguelFile/clarita