The History of Trade Shows and Exhibitions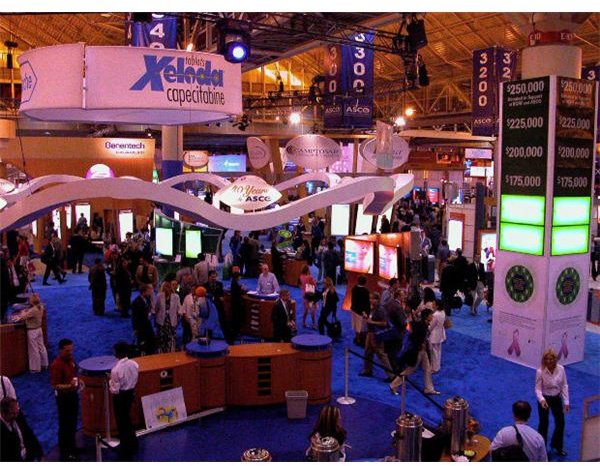 What is a Trade Show and Exhibition?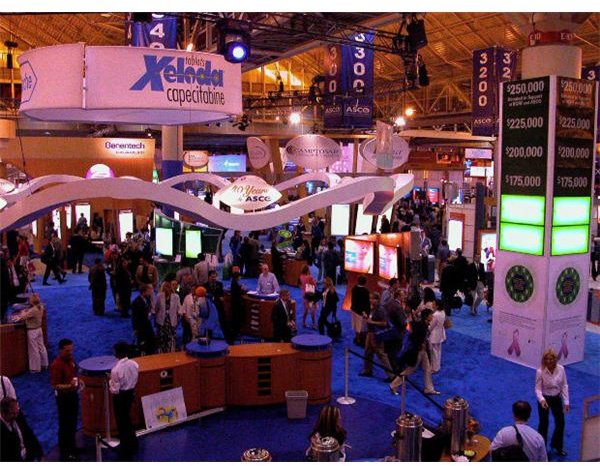 A trade show is a type of convention where professionals from the same, or similar industries, showcase new or existing products and take advantage of opportunities to network within the industry. Often sales representatives from various companies attend trade shows and exhibitions in order to find products to sell to clients and consumers. Business executives utilize these exhibitions to spot new and innovative trends, while seeking ways to improve on already existing services and merchandise. At the same time, new business prospects are identified, causing potential growth and development for the company as a whole.
Meetings and Conventions Magazine reported that the total number of meetings held in the United States is close to one million, according to a Meetings Market Report conducted by Market Probe International Inc. Additionally, the magazine reported that organizations spend more than $40.8 billion on meetings a year. The cost and scale of business meetings has increased due to increased marketing efforts to establish global products. As a result, trade shows and conventions have bloomed internationally.
The Difference Between Trade Shows and Exhibitions
The exhibitors who are showcasing products and services, rent space at the convention hall, therefore making up the exhibition aspect of the convention. Exhibitions include display booths and are the most complex portion of trade show events. It involves companies buying space at the trade show convention to set up a showcase for their products or service. Once this is accomplished, the exhibitor sets up the booth or table, plus other signage that markets the company. Marketing materials and samples are put on display as well as sections for demonstrations, one-on-one consultations and in some cases a place to purchase items for sale. Many companies have their marketing departments create the booths and marketing materials specifically for the exhibition portion of the trade show. This makes it easier to attend events and connect annually with new or established customers on an annual basis.
For this reason, the size of these events vary in size. The events can be small, less than fifty to under 500 people, or large, 500 or more attendees, depending on the industry and whether it is open to the general public and covered by mainstream media outlets.
Trade Show History
Trade shows began as small company meetings that grew into industry events which showcased companies and their products and services. Small areas on company property gave way to large scale rooms at hotels or conference halls, eventually becoming too large and being held at convention centers. Conventions centers are specialized locations that hold large amounts of people and are found across the U.S. Depending on the industry and size of the trade show, the exhibition will run anywhere from three to five days or more and usually take place in large cities and metropolitan areas. Attendees are drawn to special features such as keynote speakers, special guests and promotions for free products and services.
Popular Trade Show Conventions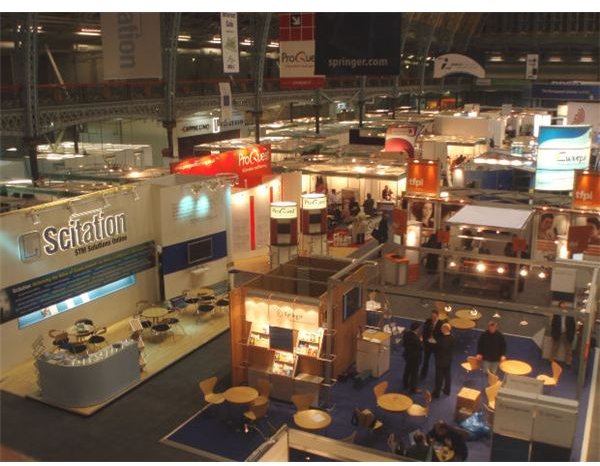 The most popular trade shows are those in the technology and consumer electronics industries. For example, the Consumer Electronics Show (CES), the PC Expo, COMDEX and Internet World attract hundreds of thousands of attendees every year and help attendees keep abreast of the latest industry trends and gadgets to hit the market. Attendees also make networking contacts for marketing, advertising and employment. The major benefit for these companies is that new products are introduced to eager businesses and consumers, several months or years before they are available commercially. Exhibitors make sure their products are in top form functionally, to make a strong first impression and create a buzz within the industry.
Another popular example are trade shows and exhibitions in the arts and entertainment industry. San Diego Comic-con International is the largest comic books and popular arts convention in the world that is held in San Diego, California every year. First held in 1970, millions of comic book, movie, television and arts fans travel to Comic-con to meet artists and participate in panel discussions, demonstrations and special screenings. WonderCon and Alternative Press Expo (APE) are conventions that are produced by Comic-con International. Held in San Francisco, California these conventions focus on self and independent publishers of comic book arts, motion pictures and science fiction.
The Value of Trade Shows
The purpose and utilization of trade shows and exhibitions comes from the opportunity to network. The exchange of information is a priceless interaction between the attendees and exhibitors. As one of the most valuable assets of attending trade shows, information sharing allows for changes in business marketing, company growth and long term job creation. Trade shows provide attendees the chance to meet entrepreneurs and professionals in the same business, or those who have valuable insight into competitors. This is an integral aspect of business growth for the entrepreneur because it involves having several people from one industry in a single setting, discussing issues pertinent to the business.
Understanding the history of trade shows and exhibitions provides confidence in initiating these one-on-one interactions that facilitate the creation of relationships, which is the seed of all business ventures.
References
COMDEX, www.comdex.com
Comic-con, www.comic-con.org
International Consumer Electronics Show, www.cesweb.org
PC Expo, www.pcmag.com
Trade Show Exhibitors Association, www.tsea.org
Tradeshow Week Magazine
Image Credits:
Medical Convention – morguefile/clarita
Technology Trade Show – morguefile/mantasmagorical