Trade Show Set Ups: How to Display Items at a Trade Show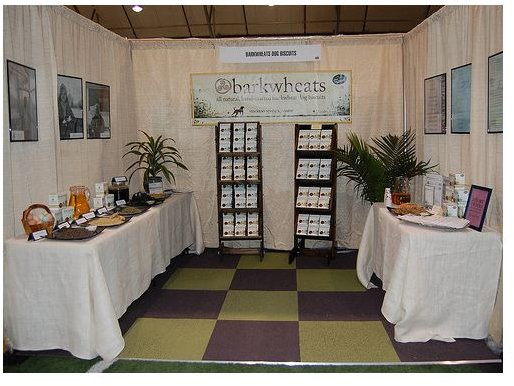 When it comes to how to display items at a trade show, there are some tricks you can use to show off your products. This will get people to stop at your booth and talk to you. From there, you can tell them the benefits of your product and will hopefully make a sale.
Make your Space Attractive
The first thing to consider is how to get people to stop at your booth. You want the table to look attractive and show off your products, but you also want it to be inviting. One thing you can do to make it more inviting is to push the table to the back of your space. This way there is not a wall between you and the customer, giving them room to browse while you stand out in front to answer questions. This is more inviting to a potential customer. Depending on the length of show and your booth, set up a small table at the side where someone can sit down and look at your catalogs–this is also a great place for you to sit down and explain the product to potential customers.
Using Banners and other Decorative Touches
Many companies have a banner they put on display either on the wall behind the booth or hang off the front of their table. Coupling this with a cloth that has your company logo on it will help prevent everyone from asking what your company is or does, unless that is part of your strategy. If you don't have either of these, then purchasing a plain cloth to cover your table is a good option. You can choose to buy something with color or stick to something light or white that will work year round and not clash with your product.
Another method when it comes to how to display items at a trade show is to make sure they look attractive. One method is to create risers on your table to put your items on. Height ads interest to your display. A simple method to create risers or height is to take the boxes your product comes packaged in and put them under the cloth. This gives height without having to carry extra supplies with you.
If you have some seasonal items that you want to highlight, try displaying these in a basket. The basket could go on the riser or directly on the table. Make the basket interesting by using some Easter grass or ribbons. You will need something that draws people in and ask questions. This is a great place to dress up your table with some colors that pop out and will draw attention to customers walking by your booth.
Depending on the type of show and the products you are selling, you may want to add some extra decorative touches on your table. For instance, if it is a spring show, you may want to add a vase of flowers (silk or real) to your table or if its fall, you might add some orange/brownish leaves to the table. This is a great way to easily dress up your table and add some color.
Offer a Treat
Another touch is adding a bowl of candy on your table–most people after walking around the trade show all day, will find candy inviting. While they are tasting your sweet treats this is a great opportunity to tell them a bit about your table and products and try to engage them.
Just like anything else, trade shows can be hit and miss. But with these tips, you should be able to get more people to stop at your table and more visitors always means an increase in sales.
References
_Trade Show Tips - https://sbinfocanada.about.com/od/tradeshows/a/tradeshowdisplaytips.htm_
_Trade Show Booth Displays - https://top7business.com/?Top-7-Trade-Show-Booth-Display-Tips-for-Your-First-Show&id=611_
Photo Credit: https://www.flickr.com/photos/varresa/3376699599/