Free Examples of Auto Body Shop Floor Plans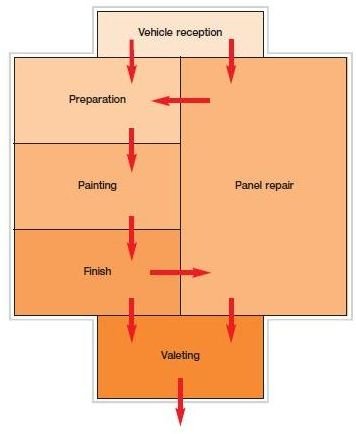 Break It Down: Prep & Paint
Spies Hecker, an International paint supplier that is tops in its field, offers solutions for collision shops including help with auto body shop floor plans. They have also partnered with DuPont in the United States to not only offer great paint solutions and equipment, but tools to help you make the most of your body shop. You can download their brochure, Successfully Developing a New Body Shop from their website. This brochure not only offers great examples of auto body shop floor plans, it can help you determine the size of the building you may need based on your collision repair business plan. One basic example from Spies Hecker, found in their free brochure, is shown in the screenshot to the left (click to enlarge).
The neat thing about the free brochure from Spies Hecker is that it offers more than one body shop floor plan example.
As an independent body shop owner, I have faced the challenge of designing a few floor plans for my auto body shop due to relocations from time to time. Every building I moved to did present a new challenge to create the most effective floor plan.
Screenshot courtesy of Spies Hecker.
Think Customers & Insurance Adjusters First
You simply must have an adequate reception area that is closed off from paint and body refinishing areas where fumes may be present—even a small reception area will work as long as it's free from fumes and a place your customers can visit, make appointments and pick up their vehicles.
Prudent body shop owners also know that many insurance adjusters telecommute from shop to shop to approve and write estimates. To gain a better relationship with your insurance adjusters, allow them to utilize a working space in your reception area (or even set aside an area)—they'll like this much better than working in their vehicle.
The Production Line
Your auto body shop floor plan should consider the following areas:
Breakdown or Panel Area - This is where the vehicle to be repaired has damaged parts taken off, and is always done first. It is also the area in most auto body shops where parts are replaced and mechanical work is completed. A welding area should be included in the breakdown area.
Prep Room – Prep rooms are where the car is prepared for the paint room. Sanding is a main element of this area to ensure a quality finish on the final paint job.
Paint – Your paint booth area should be contained, meaning no free-flow to other areas of the shop. Many shops are now using waterborne paint systems to lessen the exhaust of paint fumes.
Finish –The finish area is where the small details take place such as the application of final parts, decals, etc.
Wash Station – A wash area is necessary so that customers receive their vehicles in a washed, quality condition.
NOTE: Your breakdown area should be the largest part of your auto body shop floor plan and should be easily accessed via the prep and finish areas so proper parts replacement, welding, and mechanical work can be completed. Often a car may start and end in the breakdown area before entering the wash station.
Designing Your Own Floor Plan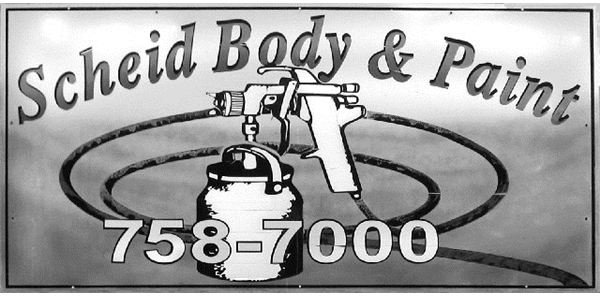 As a body shop owner, I've found there are a couple resources for designing your own floor plan. One is to ask your paint booth or alignment machine manufacturers or your paint supplier. They often have schematics based on various building sizes, and since they want your business, they are often willing to share these schematics at no charge. Ask your local reps about this option.
You can also download some free floor plan software such the one offered from Porter Cable. While this is a very basic tool, you can gain an idea on how you want your layout prior to the "move-in."
Microsoft Office online also provides free floor plan templates that may work for your needs.
Image Credit courtesy of Jean Scheid
Floor Plans & Business Plans
If you download the brochure from Spies Hecker, you'll find a section on amount of units (repairs) expected per week for shops from small to mid-size to large. These statistics can help you first determine the amount of square feet you may need as well as help you estimate sales and expenses.
In your collision business plan, consider including a final layout of your auto body shop floor plan along with a cash flow analysis based on how you expect to make your shop profitable. Investors, lenders and small business loans from the SBA often want detailed information in your business plan, including the floor plan layout. Find out tips on how to apply for an SBA loan plus the various types of loans SBA offers in my article, Types of SBA Loans.
The best auto body shop floor plans consider the actual "processes" of each repair, are streamlined for efficiency, and keep customer convenience in mind.
References
Spies Hecker International - https://www.spieshecker.com/portal/en?page=GU-1.2.1_Chapter&category=Info+Material
Spies Hecker USA - https://pc.dupont.com/dpc/en/US/html/visitor/b/sph/home.html