10 Uncommon Business Ideas Requiring Little or No Investment
The top ten uncommon business ideas that have great potential include: sale of uncommon items, exotic foods, or niche clothing, manufacturing wealth from waste, providing a rental service such as rug rentals, and offering uncommon services such as a fish tank cleaning service, goose frightening service, parking lot cleaning, errand services, and offering offbeat tours.
Image Credit: Creative Commons
The Californian salesman Gary Dahl marketed ordinary rocks as pet objects, and a million "Pet Rocks" for $3.95 a piece in 1975. Another German entrepreneur converted his creative skills of engraving toothpicks, to start an uncommon business selling engraved toothpick souvenirs. Identifying such unusual potential with common objects, or preparing handbooks on how to use them, ranks as one of the best uncommon business ideas.
Success of such unusual businesses depends on the skill in converting such objects as toys, gifts, mementos, and decorations, and selling it through local stores on a commission basis, and through online marketplaces.
Exotic Foods
Starting a food or snack supply business, is generally a high investment business and requires compliance with health standards. Preparing niche recipes at home and approaching retail outlets for sales is, however, a good unconventional business idea.
Examples of such niche foods can include exotic cakes and desserts not sold in the local shops, delicious foreign meals ranging from Indian "biriyani," to Thai "Khao Paad" or anything else.
A low cost business cannot afford a dedicated processing line or an elaborate supply chain, and as such, this business needs to focus on a low volume, high profit model. For this model to work, the ingredients need to be cheap, and the food tasty enough to be priced high, but so that customers still want it. Success depends on the skill to manipulate the recipe.
Niche Clothing
A clothing business is the most common of all business ideas, but some uncommon business ideas also do exist in this line. The key is to select unique niche products not available in the local area, and concentrate more on brick and mortar sales instead of online sales.
Sale and rentals for parties and dramas rank as one such uncommon business opportunity, as does sale and rental of some dresses and gowns that cater to some religious or cultural ceremonies, provided they remain in demand in the selected area. Such niche clothing initiatives work online, but success depends on a physical store, where patrons can physically inspect the clothing for suitability, and probably try it out before making the purchase or rent.
One way to overcome the high costs associated with a showroom space, is to start out as a home boutique, displaying your wares in the home. The unique nature of goods means that this business would be a low volume, high margin one.
Continue to page 2 for more uncommon business ideas.
Wealth From Waste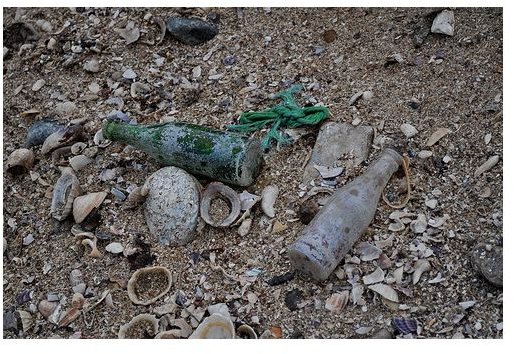 Collecting and recycling waste, especially e-waste, is still an uncommon business in many areas. Another uncommon business idea related to waste, is to make utility products from this waste. This includes the no investment handicraft option, such as making flower stands from discarded plastic bottles, pen stands from used cardboard, or investing in some basic machinery to press tetra-packs and other paper based food packaging materials into disposable cups and plates. A more sophisticated application is converting bookcases to coffins!
Success depends on developing the skills to manufacture such products, and devising expertise to decorate the product to make it look attractive to prospective buyers. Apart from local stores and craft fares, ebay, etsy and other online stores make for good markets.
Image Credit: flickr.com/Jason Bagley
Rug Rentals
Rental of items such as rugs, chairs, and other items rank as another uncommon business opportunity. Many offices, for instance, take rugs on a lease instead of buying them, to save the hassle of buying, replacing, or cleaning rugs. This however is an opportunity that requires some investment, to purchase the rugs before renting them out.
Errand Services
One of the best unusual home businesses is that of an errand service business, that provides a host of services such as paying utility bills, providing escort services, collecting or delivering items, and the like. A good business model is to concentrate on some unique service, such as:
Submitting resumes for job seekers across companies, saving jobseekers hassles of roaming around an unfamiliar city or painstakingly collecting email addresses of different companies.
Providing escort services for patients visiting hospitals, parties, or other places.
Picking up and dropping children from school.
Collecting and submitting returnable cans.
Goose Frightening Service
One of the most unusual successful businesses in recent times is "Goose Police." This business chases geese away from golf courses, lawns, and parks, using trained dogs that do not harm the geese. This unusual business earned almost two million dollars of gross revenue in 2000, and has even started franchising itself out! Just goes to show there is money everywhere provided one applies mind to it.
Continue to page 3 for more uncommon business ideas.
Fish Tank Cleaning Service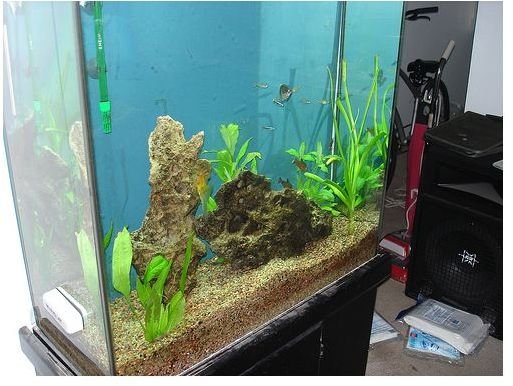 Another of the more uncommon business ideas that can match the potential of the goose frightening service, is a fish tank cleaning service. Just about every household has a fish tank, but very few adults have the time or expertise to clean the tanks, and kids can make a mess out of the chore. Many people would happily pay a small fee to get rid of this non-productive and time-consuming chore, to spend valuable weekends partaking in other creative pursuits. The key point for success in this business line is knowledge of fish and fish food, and experience in cleaning fish tanks!
Image Credit: flickr.com/Russell Yarwood
Parking Lot Cleaning Service
One uncommon business idea that requires little or no investment, but has the potential to reap rich dividends, is starting a parking lot car cleaning business. Success depends identifying car lots and persuading the owner to allow starting a car wash facility, either for a small fixed fee, or for a portion of the revenue from each car wash. The owner also benefits from more people using the parking lot to avail of the cleaning service, and car owners would gladly pay for someone to clean their car, saving them the hassle of spending their valuable weekend hours doing it themselves, or spending time approaching a more expensive professional car wash center.
Another dimension to this business is offering to clean the parking lot itself from the oil stains, grime and dirt that accumulate over time from the cars.
Offbeat Tour Company
Starting a tour company is a common businesses idea, but a tour company that specializes in offbeat destinations and uncommon adventures, or specializing in niche customers, ranks amongst the best uncommon business ideas.
Possible ideas in this category are:
Conducting a cross-country hiking tour for students, females, or other groups not targeted by regular tour groups.
Tie up with schools and institutions to organize city tours and excursions for school children, disabled groups, and others.
Arranging tours to offbeat locations, not covered by regular tour groups.
A standard tour company requires considerable investment. A low profile tour company can work with little investment, if the entrepreneur is willing to publicize the business by word of mouth, scout the locations in advance to make the necessary arrangements, and make the necessary payments by collecting advance payments from the interested tour parties.
Regardless of the uncommon business ideas chosen for implementation, the underlying requirement for success is a keen sense of observation ,to realize opportunity where others have missed out, the ability to market oneself by directly approaching people, and perseverance in the face of many initial rejections, before someone remains convinced and provides that initial break.