The 10 Best Cold Calling Books for Success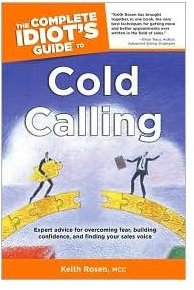 10 Books that Lead to Cold Calling Success
Some entrepreneurs dread cold calling. While other entrepreneurs are scared to call someone and talk about their services. These cold calling books provide tips to make it easier to reach out to potential clients and customers.
The Complete Idiot's Guide to Cold Calling by Keith Rosen
If you are looking for a guide to increasing sales, then this is a great book to read. Through real examples, case studies and action steps, entrepreneurs learn how to meet the right prospects and increase selling opportunities. There are tips on creating successful voice mail messages that will lead to more return calls. Rosen also provides solutions for dealing with cold calling objections including "I'm not interested" and "call me back later".
Cold Calling for Cowards - How to Turn the Fear of Rejection into Opportunities, Sales, and Money by Jerry Hocutt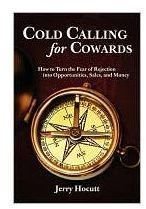 If you have a fear of cold calling, this book will teach you how to turn fear into opportunities. Entrepreneurs will learn about different handshakes and how body language can have an impact on making successful cold calls. The books provides details about referral secrets, the best question to ask on a first sales call and ways to increase customer retention.
I'd Rather Have a Root Canal Than do Cold Calling! by Shawn A. Greene

The title of this book says it all. Greene takes a look at the fear of objection that most professionals have about cold calling. This fear comes from many people disliking cold calls received at home from telemarketers . Entrepreneurs will learn how a good attitude and positive expectations can help increase successful cold calls.
Smart Calling: Eliminate the Fear, Failure, and Rejection from Cold Calling by Art Sobczak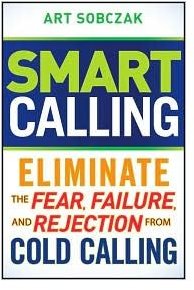 Sobczak provides real examples about cold calling including using the latest "social engineering" techniques, the importance of listening, and how to minimize resistance from potential clients. Entrepreneurs will learn proven methods for interacting with prospects and having conversations that lead to positive results.
Selling to Anyone Over the Phone by Renee P. Walkup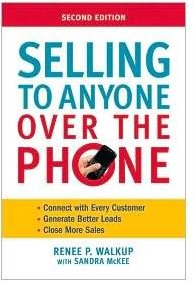 Whether you are new to selling over the phone or an expert, this book will provide you with strategies for increasing sales. Entrepreneurs will learn tips for phone selling including receiving callbacks, conducting webinars and conference calls and selling to customers from other cultures.
Cold Calling Techniques: That Really Work! by Stephan Schiffman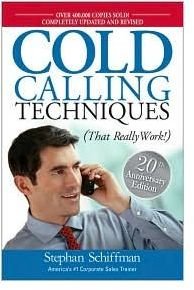 This book shows entrepreneurs how to increase sales and reach out to potential clients through email. There are tips about cold calling including techniques for making your pitch to potential clients. Entrepreneurs will learn how to turn basic prospects into meetings that lead to big sales.
Lessons from 100,000 Cold Calls by Stewart Rogers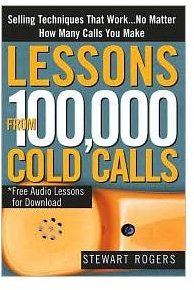 After making 100,000 cold calls, Rogers shares his tips and advice on making successful cold calls. He shares how to set realistic goals, build a database of sales prospects and sell your concept in sixty seconds.
Red-Hot Cold Call Selling: Prospecting Techniques That Really Pay Off by Paul S. Goldner

An important factor in cold calling is prospecting customers. This book provides tips on how entrepreneurs can increase their prospecting skills including becoming rejection-proof and the ten commandments of prospecting. There is also information about prospecting and cold-calling internationally.
42 Rules of Cold Calling Executives: A Practical Guide for Telesales, Telemarketing, Direct Marketing and Lead Generation by Mari Anne Vanella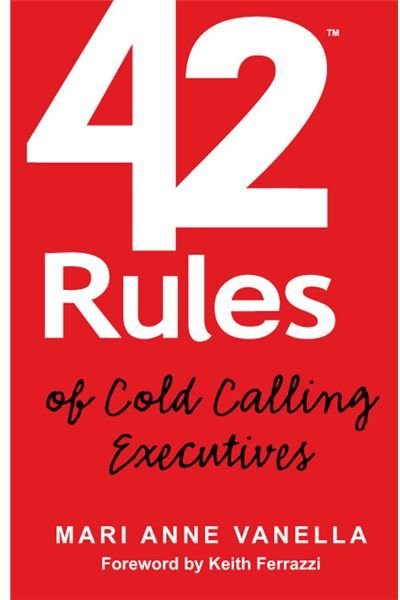 Through 42 rules, entrepreneurs will learn about the dynamics of a cold call and the objectives of cold calling that will result in long-term benefits. Real-life examples and proven techniques will help entrepreneurs learn how to get good results from cold calling clients and customers.
Selling to Big Companies by Jill Konrath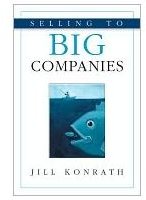 Konrath provides tips for reaching the corporate market. Entrepreneurs will learn how to leverage their network, position their company as an invaluable resource and differentiate their company from other sellers. Through the Account Entry Toolkit, entrepreneurs can apply methods in the book to their own business including defining their target market and prospecting targeted accounts.
These top ten cold calling books are great resources for taking your business to the next level.