Good Flea Market Business Ideas: 10 Tips That Work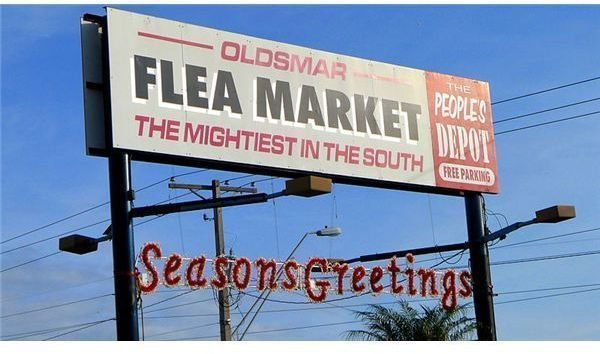 Anybody can start a flea market--but it's a little more difficult to start one with pizzazz and buzz. This article will give you 10 good flea market business ideas. Take these ideas, add your twist, and–with hard work and some good luck–start earning some fast profits.
1. Flea Market Dollar Store: This basically involves running a dollar store from your flea market space. Visit one or more of your local dollar
stores to get an idea of the types of merchandise they are selling. I did this a few years back and had great success. I dealt with a company called DollarDays (https://www.dollardays.com/). At that time, they had the best pricing and good quality merchandise.
2. Temporary Tattoo Shop: Two of the biggest drawbacks of permanent tattoos is that they are painful and permanent. Not so with temporary tattoos: There is no pain, and they can either be washed away or will fade away over time.
Another big plus is repeat customers. Not only will people buy multiple tattoos, there is a good chance that they will come back after the old tattoo wears away. These types of businesses are also known for their high referral rates.
Do a search on wholesale temporary tattoos. You will find hundreds of suppliers. Do enough research to learn about quality, pricing, and popular designs.
3. Free Giveaways: Create a huge, bright, attention-getting sign that declares your free "limited quantity" offer. Ok, let's say virtually free. In exchange, you want their name and email address.
Let them know that they may get other free offers sent to their email inbox. Plus, they get a freebie right on the spot. You will need to find some low-cost promotional items that cost anywhere from free to about 50 cents.
The sign should also state that only "X" number of freebies are available for each day of business. Anyone asking after the last freebie must return on the next business day to get the free offer.
4. Specialty Helium Balloons: First, you should contact your city or county clerk to see if there are any restrictions on helium tanks in public locations.
Use the following search phrases for sources; wholesale helium balloons and helium tank rental+YOUR_TOWN.
5. Scrapbook Supplies Seller: Scrapbooking is huge hobby. The hobby is all about preserving memories in unique and inventive ways. This is accomplished through the use of colorful clippings, photos, and other small mementos. A search for wholesale scrapbooking should help you find some good sources.
6. Custom Print T-Shirt Shop: Sell pre-printed and print-to-order t-shirts. You will need a heat transfer machine, a stock of t-shirts, and some design decals. Search for heat transfer machine and wholesale t-shirts for sourcing.
7. Custom Jewelry Seller: Women love stylish and well-designed jewelry. This is an ideal avenue if you are currently involved in jewelry making. Two hot tips: 1. Research popular styles and imitate them while incorporating your own unique flare. 2. Take custom jewelry orders. Have people describe the design they want, get a 50% deposit, and collect the remainder when you deliver the piece to them.
8. New and Used Personal Electronics: Cellphones, personal organizers, e-readers, iPods and similar items can be big sellers. Good used items that are priced right will often outsell new items. Search wholesale cell phones, wholesale electronics and similar search terms.
9. Consignment Sales: You can also sell high-end used items for others on a consignment basis. Read How to Start a Consignment Retail Store to learn more about this potentially profitable method of selling.
10. Pet Supplies Seller: People love their pets. Millions of people refer to pets (usually dogs and cats) as their children. If you can find some good sources for wholesale and/or closeout pet supplies, you can build a very profitable business. Search "wholesale pet supplies" and "closeout pet supplies".
You now have 10 good flea market business ideas. There is really no reason why you can't be successful with one or more of these ideas. Focus on your goals and apply some patience, persistence and creativity.
Image credit: Wikimedia Commons, Karen Horton