Learn About Desktop Sharing in this Helpful CrossLoop Review
What Is CrossLoop?
CrossLoop is a collaboration tool that allows users to share desktops across an Internet connection. CrossLoop can be used for problem solving by experienced technicians, to demonstrate a technique to students, or to solve a programming problem among team members. The creators of CrossLoop promise users that their system is easy to use and poses a quick solution for anyone who needs technical assistance. The hope of the creators of this program is that while an individual may use CrossLoop to access help from the office's technical guru, the technical guru may in turn use the program to gain help from one of the employees on learning skills valuable to increasing his or her skill-set. Whatever the end-use of the program winds up being, CrossLoop's desktop sharing applications can be enormously helpful in facilitating collaboration among team members.
Installation and Setup (4 out of 5)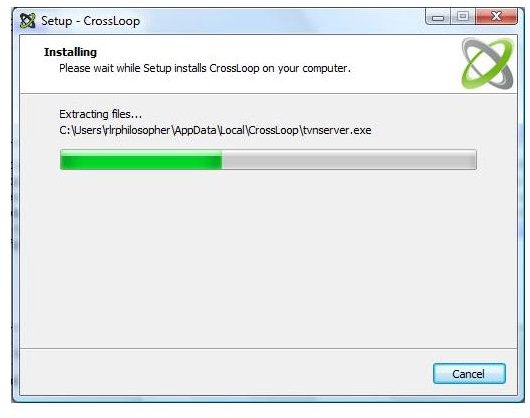 To install and set up CrossLoop on your computer, go to the CrossLoop website and click on "download" in the upper right-hand corner. After you click on this, it will take you to the download page on the website. In order to be able to download the program, you will need Windows XP or higher, 128 MB Ram, at least 2 MB on your hard drive, and an Internet connection through broadband technology.
The installation process is quite quick. Within a couple of minutes, the program was running on my PC. You will then be asked to enter in a registration information. Once you have registered, CrossLoop will assign you a code name and an access code. Once you've been given the access code, you can give it to the individual you will be sharing your desktop with.
Ease of Use (4 out of 5)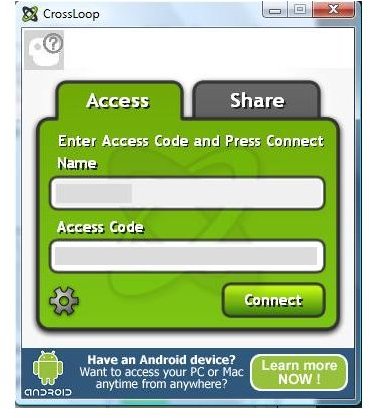 Once CrossLoop is up and running, it is easy for you to use it. If you are the helper, then select "Access" and enter in the access code that you have been given. You will then be able to see the shared desktop. Likewise, if you are the one sharing your desktop, then you will give out the access code to it. You should protect your access code with your life! You wouldn't want just anyone snooping around in your files!
Features (4 out of 5)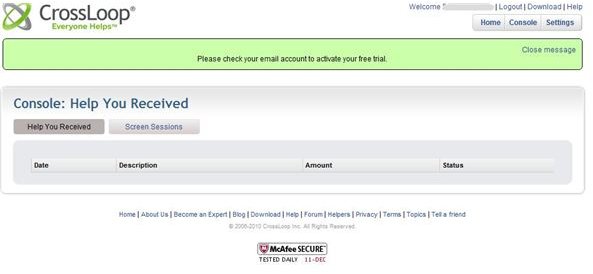 CrossLoop isn't just a program that allows you to help others (and allows you to be helped by others). CrossLoop also features a networking application that puts you into connection with professionals, and puts you in connection with those you could help. The system features billing for clients - where you can create a bill directly from the CrossLoop Professional dashboard. Customers can control for how long you will be able to access their computer with one click. If you need assistance, there is a search feature that will help you to find that assistance. Finally, you can also share files using CrossLoop.
Price to Value (4 out of 5)
When you sign up for CrossLoop, you are given 7 days of free access. Subscribing to CrossLoop using a Pro account will cost $9.95 a month. That price includes a listing in the CrossLoop Pro area. Once you've subscribed, then it's another $4.95 for remote access to up to 5 computers a month. This is a pretty good deal, especially if you work from home as a tech support agent.
User Support (3 out of 5)
As far as user support goes, you would expect a company that provides user support software to provide outstanding customer support. You're in luck, CrossLoop has a forum, documentation for both helpers and those needing help, a list of help topics, FAQ lists, and troubleshooting assistance.
Is CrossLoop for You?
Crossloop is for you if you're wanting to provide outsourced consulting services to others, if you need assistance with your computing woes, or if you want to make extra money on the weekend. The program is a great solution for those who wish to work on remote client computers.
Screenshots by author courtesy of CrossLoop.