This Treemo Review Will Let You Know if Treemo is Right for You
What is Treemo?
Treemo is an online media sharing website. The web app is dedicated to helping you upload, share, and find media. Treemo is best used on your mobile phone, but it can also be used through your computer by accessing the website. You can share videos, photos, and text using Treemo. This makes Treemo a great program for anyone running a mobile office because you can share any videos, text, or photographs with clients instantly. Treemo works both on the web in any browser, and on your mobile device such as an iPhone as an app. FInd out if this program is for you by reading on in this Treemo Review.
Installation and Setup (3 out of 5)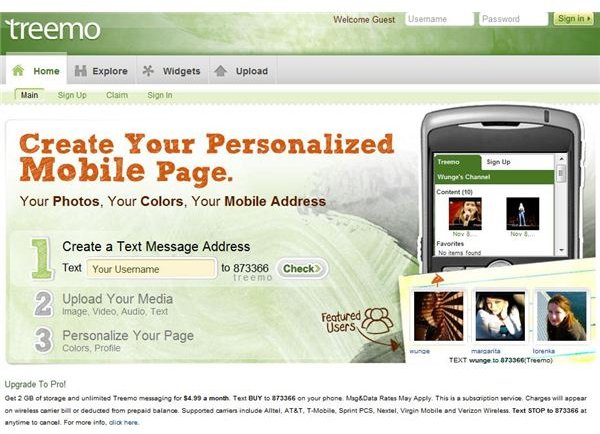 In order to set up Treemo, there are two steps. If you will be using Treemo on your mobile phone, you will need to create a user name and send a text to the Treemo address provided on their website. Then, you will be assigned a web address based upon your user name. Treemo will send you a confirmation email. You click on the link provided to you in the email and you're up and running. If you like, you can include an avatar photo so those you share with will be able to see who you are. Once you've finished editing the details of your profile, you can then import friends from your address books with whom you may share the media you upload.
Ease of Use (4 out of 5)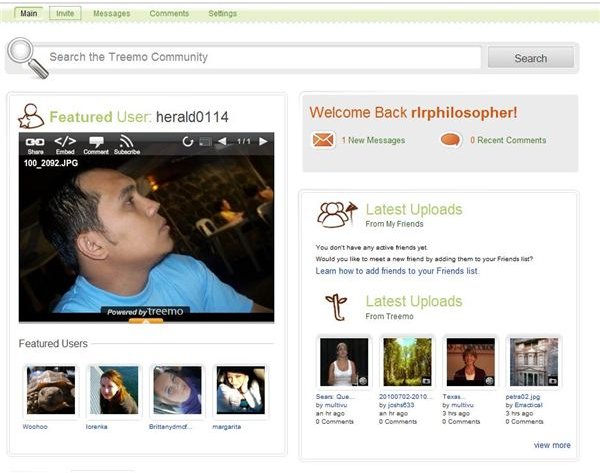 Treemo is relatively easy to use and to learn to use. Every step of using Treemo will be intuitive to someone who is used to social media interfaces. Whether you are importing your contacts or you are uploading content, you should find that the process is fairly seamless when it comes to ensuring that you can share the media you wish to send to others. If you're looking for something that has already been uploaded, Treemo is easy to search in the same way that Youtube is easy to search for media.
Features (4 out of 5)
Treemo has a few features that make it more appealing than other media sharing apps online. The Treemo dashboard has 7 tabs:
Home - the home screen shows the featured user, a welcome-back greeting that tells you how many messages and comments you've received, the latest uploads from your friends, the latest uploads on Treemo as a whole, and the ability to search the community on the "main tab." The home screen also has four other tabs. Under "Invite" you can add friends from your address books to Treemo, under "Messages" you can view any messages you received since the last time you had signed in, "comments" shows you comments made on any of your uploaded media, and "settings" allows for you to determine exactly how you want your Treemo profile to appear.

Explore - Under explore, you can view the content that has been uploaded by other users. This tab allows you to sort by images, video, audio, or text, and you can browse by most recent, highest rated, most commented upon, or top tags.

My Friends - This tab is just what it sounds like, you will find all the activities of your friends under here.

My Channel - Under this tab, you will be able to see your tags, stats, recent content, channel embedder, favorites, and sets. You can also add extra information to your profile here.

My Mobile - If you use Treemo with a mobile phone, you will be able to personalize the program, share your phone number, subscribe to text alerts, upload content, and find information.

Widgets - You can add your Treemo Channel to MySpace, Facebook, a web page, or a blog by embedding it. You can also use the media player on another website, and you can subscribe to a particular media stream.

Upload - Here is where you will upload your files to Treemo. You can upload via PC, mobile device, email, and uploading text. You can also set your privacy settings under this tab.
Price to Value (2 out of 5)
You may be wondering how much this program costs. Like many of the media tools that allow you to upload video and photos, you are given a certain amount of storage space just for being a member: 1GB of storage, 10 messages per month, and 3 album folders are all included with a basic membership, which is free. Now, if you need more storage space, you will need to text "BUY" to 873366 in order to purchase a package for $4.99 a month. This costs more than that of competing websites who typically charge a flat rate for one year.
User Support (4 out of 5)
As far as support goes, you have five options: Web support, mobile support, etiquette support, feedback, and direct contact through phone or email. Most your questions will be answered under either web support and mobile support. Should you be confused about what proper behavior is for Treemo, you may want to check out their Etiquette page. All support is offered in four languages: Chinese, Spanish, German, and Portuguese in addition to English.
Is Treemo for You?
Treemo can be a great tool if you can figure out a use for it. If you are working to promote yourself, you may want to look into this software. Because it is proprietary, if you are hoping to share family photos or videos, you may want to look to another tool. Treemo is excellent if you are either a light user, or if you will use the tool for business projects and can thus justify the app's cost.