PalTalk Messenger Review: Voice and Video to Make Your Chats More Personal
What is Paltalk?
Paltalk Messenger is a live, online chat community only available to Microsoft Windows users. Like other messaging services such as AOL Instant Messenger or Yahoo Instant Messenger, Paltalk Messenger connects people around the world across the Internet. However, what makes this service different from many of the others is that it offers both voice and video functionality.
How Many Users Can Talk?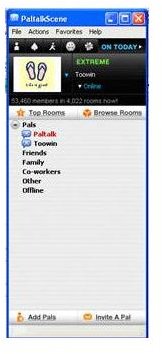 While other instant messaging services only allow users to communicate with one other person at any given moment in time, Paltalk Messenger users have the ability to chat with up to ten different Paltalk members. SuperIM is Paltalks' trademarked text chatting service. Similar to that of AIM or Yahoo Messenger, users can see who is logged onto the service, double-clicking on the nickname to interact. A list of Pals, called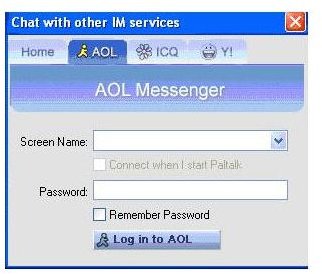 Buddies in other programs, is available for the user on the main screen. [See the on the left] Each user's profile includes a picture to help identify the individual, which is then included at the top of the screen in the filmstrip during chat session so that all of the participants can see with whom they are chatting.
Paltalk Messenger also makes it easy to communicate with an existing list of friends through a different instant messaging service. Through links on the main Paltalk screen, the user can select to chat with their friends through AOL, Yahoo, or ICM. [See image on the right].
Audio and Chatroom Features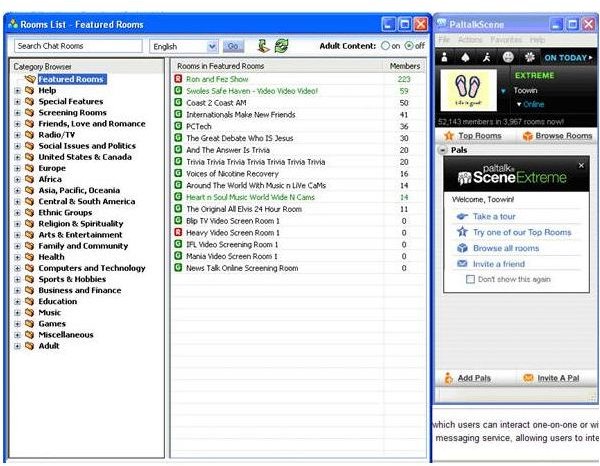 One of the features that makes Paltalk stand out from its competitors is the addition of audio.  Users can add audio to their chat session and really make their conversation chatting rather than texting. By clicking on the Add Audio button while in the SuperIM mode, a user can speak to others as though they were on the telephone rather than sitting at their computer.
Another interesting feature of Paltalk is that it includes chat rooms. Paltalk users also have the ability to visit any one of the nearly 4,000 rooms, categorized by topics such as current events, social issues, sports, religion, family and flirting. Users can browse the available rooms by selecting the topic that is of interest to them and then clicking the room to enter. [See image on the left] Once in the room, the user can join the conversation through either chat or by speaking using the Push to Talk button. [See image on the right]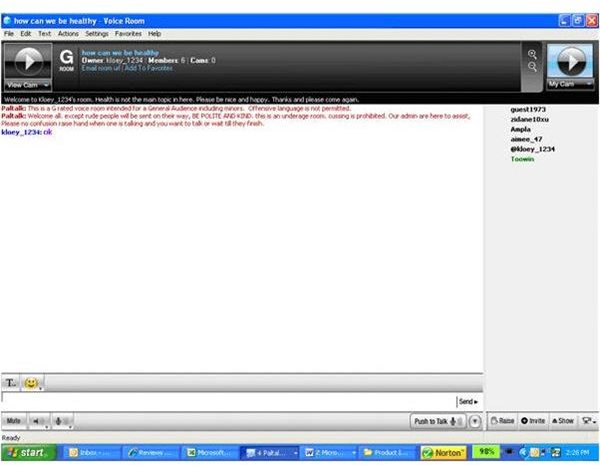 With Paltalk Messenger, users also have the ability to create, own, operate, and administrate their own chat room on the subject of their choice. The user responsible for creating the room has administrative rights, which means they can open, close, and bounce users out of the room for periods of time, ban users indefinetly, and control the microphone. To minimize the work, the user can also delegate administrative rights to another member.
Finally, the Screening Room is an interesting twist on video because it allows users to add video to their chat room or to the Paltalk Video Library. Videos uploaded to Paltalk can be controlled during viewing by the user using a series of controls available on the video.
Price to Value (4 out of 5)
What's Hot:
A basic subscription service with Paltalk Messenger is free. With a free subscription, users are limited to texting or chatting without video.
For a non-refundable fee of $14.95 per month, users can upgrade their subscription so that they have access to video functionality. Also, by electing an autorenewable subscription, a user can authorize Paltalk to renew their subscription automatically by billing a credit or debit card. While the monthly subscription fee is non-refundable for what has been billed, the user may cancel their recurring subscription at any time.
What's Not:
At nearly $180 per year, Paltalk may be considered expensive when compared to other IM programs such as AOL and Yahoo, which are free. 
Also, the recurring subscription could get away from the user if they neglect to cancel their card before the deadline for being automatically billed for another month of service.
Installation & Setup (5 out of 5)
What's Hot:
Installing Paltalk Messenger is very straightforward. After downloading an executable file from the Paltalk.com website, the user clicks on the executable file to install the program. If the user decides to upgrade to a fee-based subscription service, they can click on a link in the application to complete the upgrade. The application walks the user through the setup process using a series of questions and forms. Overall, Paltalk installation and setup is no more difficult than any other IM program.
What's Not:
The default settings cause Paltalk Messenger to automatically launch upon detecting an internet connection. This can be annoying if the user is using an alternate program. Once setup, the user must change the default setting if they do not want the auto-launch.
User Interface (3 out of 5)
What's Hot:
Paltalk Messenger's overall user interface resembles that of competitor instant messaging programs. The drop down menu structure is consistent with Microsoft Office or Windows programs. Icons and links provide the user with the ability to go directly to an area of the application without a lot of maneuvering. Users who appreciate a simple GUI will welcome Paltalk's front-end.
What's Not:
Overall, the user interface is simple and straightforward which, for some, may be considered a detraction. Given all of the other features in the tool, it appears as though the user interface was developed as a combination of competitor screens.   
Security & Privacy (3 out of 5)
What's Hot:
Users are identified in Paltalk Messenger by a nickname the user selects upon joining the service. This nickname is intended to keep the user's real identity and personal information private.
Paltalk provides users with the ability to limit their interaction with other members they don't want to associate with. For example, if a user finds another member in their own chat room offensive, they can ban them for a short period of time or altogether. 
Additionally, if a user views a video that they find to be offensive or as being in violation of copyright guidelines, the user can report the video to Paltalk authorities. Finally, most modern firewalls will prompt the user to allow Paltalk to connect to the internet.
What's Not:
As with all social networking and instant messaging programs, the privacy of the members is always at risk. 
Paltalk chatting allows the users to send files or screen captures to others in their conversation. Sending files in this manner has inherent risks that are present when sending any information over the Internet.
Performance (5 out of 5)
What's Hot:
The audio quality over the Internet is amazing. I was skeptical at how well I would be able to understand someone speaking to me through SuperIM, but the clarity is top notch and the speed is comparable to a regular spoken conversation. The video quality is also great. There is little to no delay in the online video transmission. 
What's Not:
The only delay in speech is that the user must click the Push to Talk button in order to begin speaking. If the button is not clicked, the user will not be heard.
Product Features (5 out of 5)
What's Hot:
Paltalk Messenger is loaded with neat features. Here are a few of those that really stand out:
Paltalk Today: Similar to AOL Instant Messenger, this popup window features information about what is happening on Paltalk that particular day. It provides a list of videos and chat sessions with a picture of speaker and a link for more details about the event.
Pal List: This is a list very similar to that buddy lists available in other IM programs. The list provides the user's nickname and their current status.
Filmstrip: A filmstrip across the top of the chat window indicates who is currently involved in a chat conversation. And, a green border around the picture indicates who is chatting or talking. This is especially helpful when more than two people are chatting.
Subscription Level Colored Nicknames: Nicknames are colored as black, blue, green, or purple based on the level of membership.
Audio Controls - Users can control the audio they hear using a mute toggle button rather than the volume on the computer. 
What's Not:
Although, Paltalk Today is an interesting feature, it's fairly limited in that it doesn't provide any insight into what is happening outside of Paltalk. The news feature provided with other IM programs offers users the ability to keep up with preferred news topics. Many users who expect this from other IM programs may have become dependent upon this functionality and, therefore, not willing to make the leap to learn another program.
Help & Support (3 out of 5)
What's Hot:
The help and support functionality of the system is pretty basic. FAQs provide answers to a lot of common questions regarding Paltalk functionality.  Both customer support and technical support are available after completing an online contact form. Password issues and email verification concerns can be resolved directly from the application's help menu.
What's Not:
Due to the user having to complete an online form and then wait for a support professional to contact them, technical support will cause a delay for the user. Paltalk's support form states that a representative will contact the user within 24 hours.
Suggested Features
Automatic reminder for subscription service rather than an automatic renewal.
File privacy functionality that ensures any files sent are secure.
Include important news topic updates in Paltalk Today.
Live phone support for help rather than via email.
Conclusion
Paltalk Messenger is a unique twist on the traditional instant messaging and social networking products that are in the marketplace today. Through the combination of chat, audio, and video, Paltalk Messenger provides the user with a number of options for communicating with other members around the world. 
From an IM perspective, the tool is comparable to other IM services.  However, the audio portion takes it to another level. With the level of clarity provided and the instantaneous response, the user might as well be in the same room with the person or people with whom they are chatting.
Because of the ability to set up chat rooms, entrepreneurs will find the application and service beneficial to their business. Through a chat room, an individual creating a new business has the ability to market their product/service for the minimal membership fee. They can also field questions from potential customers by chatting back and forth with them. Who knows, the entrepreneur may even come across some creative talent that will help them launch and grow their business.
Consumers concerned about the uncertainty of social networking sites will find Paltalk a comfortable alternative. Given that each chat room has a designated rating, users can select a room that meets their needs and will have an overall better idea of what they are getting into from the get go. And, with the chat room adminstrators able to control who speaks, who participates, and what is seen in a chat room, there is an additional level of protection for chat room participants.
For a more intimate instant messaging experience, try Paltalk Messenger where you can see and hear your IM pal.