OpenOffice Base Review - This Desktop Application is Part of a Free Open Source Office Suite but Not Quite as Good as Microsoft Access
Installation (4 out of 5)
Installation of Base as part of OpenOffice was simple and standard on Windows and Linux (Mac OS was not tested). Base database files utilize an .odb extension and are maintained with an HSQL database engine. HSQL is written in Java with a JDBC driver. It performs well for development and small client database applications, similar to Access. It is not an enterprise-level database server.
Screenshots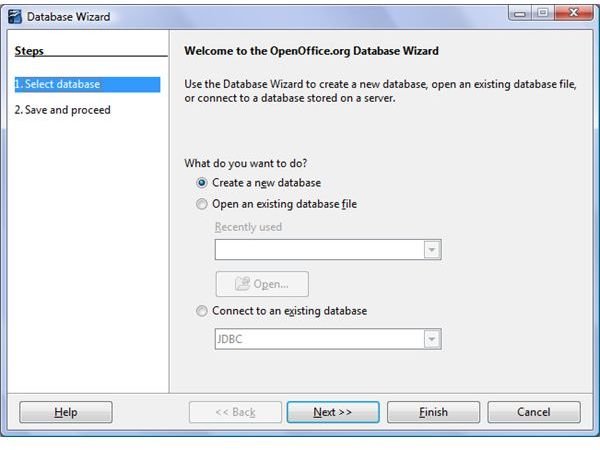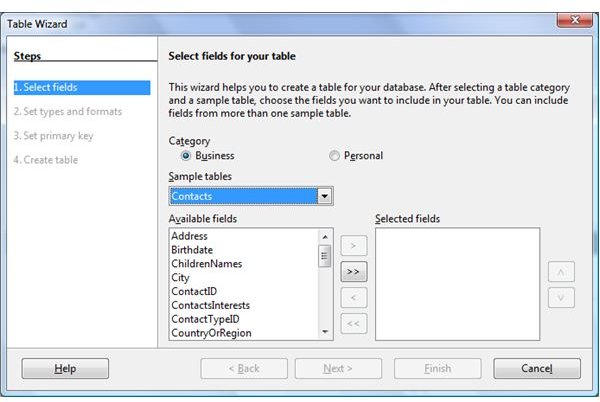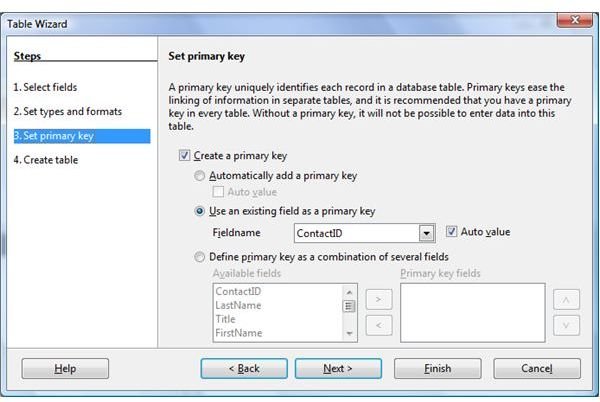 Operations and Performance (4 out of 5)
Base can connect to a variety of existing databases, including the following:
Microsoft Access,MySQL, Oracle JDBC,Adabas D, Spreadsheet, dBase, Text,JDBC, ODBC,ADO, Mozilla Address Book, Thunderbird Address Book, LDAP Address Book, Microsoft Outlook Address Book, Microsoft Windows Address Book, and_Microsoft Access 2007._
Spreadsheet, Text, and Address book data is read only access to Base. Base has good integration with the other applications in OpenOffice. For example, you can call a Base .odb file as the source for a mail merge (e-mail or postal address) using Writer, the OpenOffice Word Processing application. It makes good use of XML also.
The interface is very basic with buttons for Tables, Queries, Forms and Reports in a pane on the left. I would like to see a little more in the initial 'dashboard' presentation in Base. One area where Base is superior to Microsoft Access is its platform independence. Base, as part of OpenOffice, can be installed on Linux, Mac OS and Windows operating systems. If installed on Linux, however, Base cannot work with Access database files. Base makes good use of Wizards for creating components in all aspects of the program from Tables, Table Views, Queries, Forms, and Reports. Base enjoys solid supporting documentation from OpenOffice and a passionate peer community. Working through the creation of a Contacts database, I did not come across any pain points or areas where I could not figure out how to accomplish something that I am familiar with in Access. Finally, when opening a file using the File | Open command, the drop down list for file types is very granular with a long list of extensions to specifically search for.
Screenshots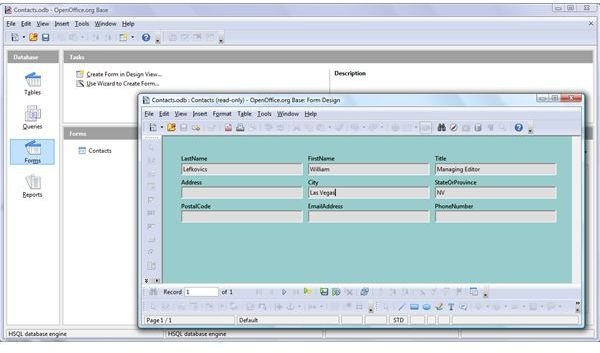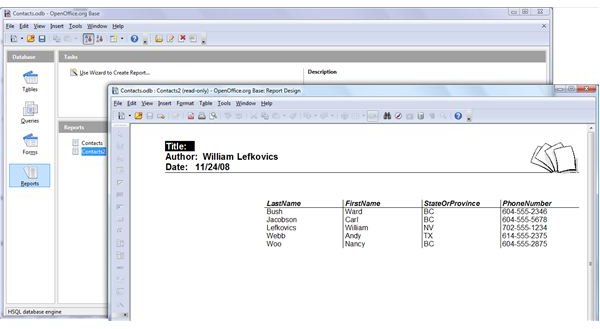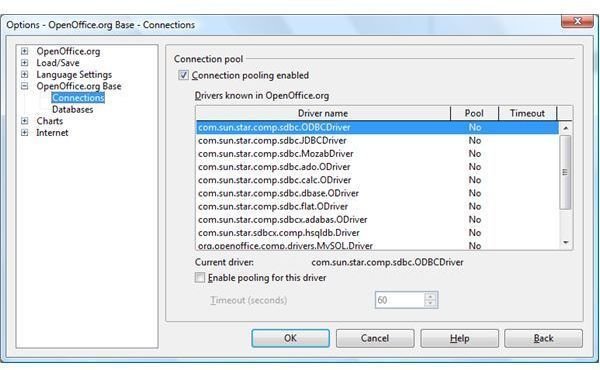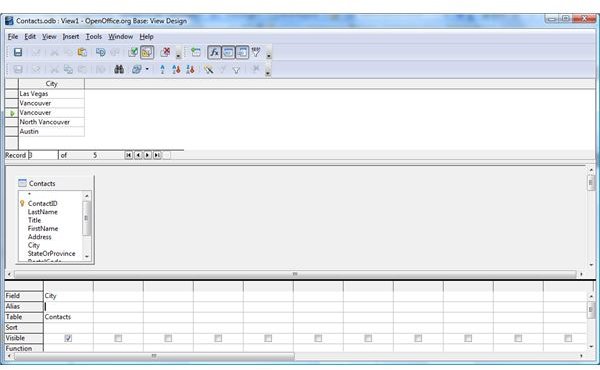 Extensibility (4 out of 5)
Base, like the other members of the OpenOffice family, has an Extension Manager. Partners and community members can create and contribute add-ons to optionally extend functionality for the application. Extensions vary from language dictionaries to collaboration solutions and are available on the OpenOffice.org site (https://extensions.services.openoffice.org/). Two extensions I worked with for Base are the Sun Report Builder and the O3Spaces Workplace. The Sun Report Builder greatly improves on the native report builder for Base and can be seen in Figure xx. When the Sun Report Builder extension is enabled, it assumes the role of default wizard for creating new reports. The O3Spaces Workplace is a collaboration tool vaguely competing with Microsoft SharePoint. The O3Spaces extension for Base allows integration between an O3Space Workplace and Base, analogous to Access and SharePoint. You can publish content to the Workplace from Base and access Workplace content with Base.
Screenshots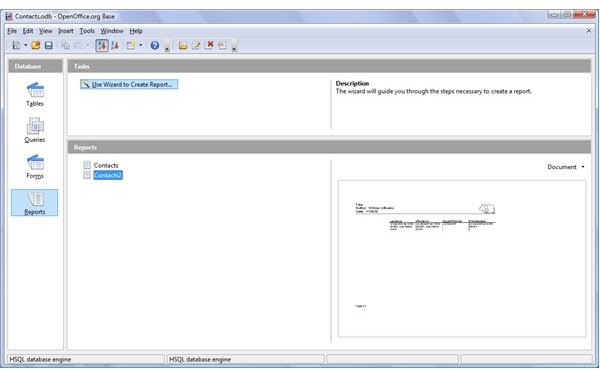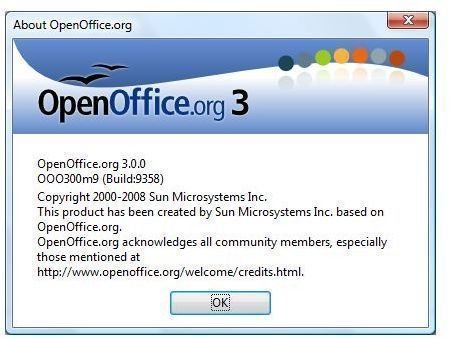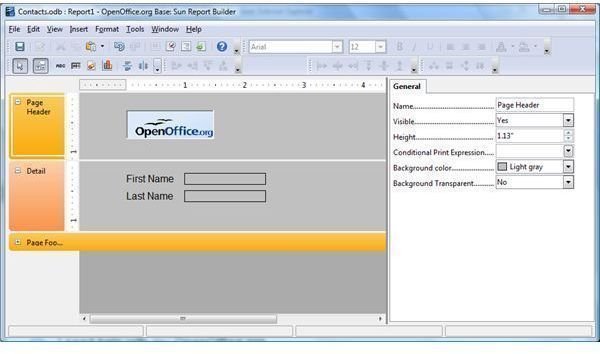 Summary
Overall, Base is a quality solution for small applications and database development. Potential users need to assess whether it is a good fit for their unique requirements. Overall, Access is more of a Swiss Army Knife than Base. Price may be a contributing factor in deciding on Base as OpenOffice is currently and still free of charge.