Review of Becky Internet Mail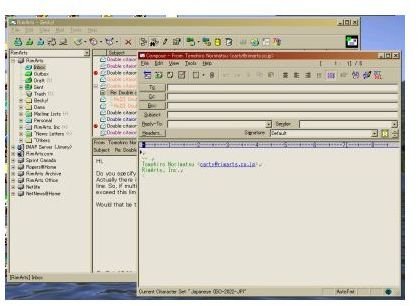 Becky! Internet Mail is chalk-full of features and options. Every feature is just as powerful as the next but very easily looked over by users. One of those features is the mailing list manager, which allows the management of multiple mailing lists. Sending out schooled emails with the reminder functionality is another powerful feature that users tend to overlook.
With any email program, users want one that has flexible filters, templates, labels and flags to organize and manage their emails; which are all things that Becky delivers. Clutter is an email user's worst enemy and Becky! has solid solutions to combat it.
Features
· Can effectively manage multiple POP and IMAP email accounts
· Saved folders can be sent to smart folders
· Added security with sending and receiving HTMP-formatted messages
· Ability to send yourself scheduled reminder emails
· Security and privacy kept intact with OpenPGP and S/MIME security
· Messages accurately saved to USB memory stick with Unicode support
Pros
· Powerful features such as mailing list manager, smart folders, filters and templates makes prioritizing and managing emails much more efficiently
· OpenPGP and S/MIME plug-ins for more security with messages secures users' inboxes and protects their privacy
· Reminder function comes in handy with scheduled messages that users can send to themselves
Cons
· Spam filtering not available because Becky! doesn't include one nor allows integration of outside spam filters
· Searching feature isn't as fast and reliable as it should be.
· Even if phishing alerts are present, they aren't smart enough to catch all types of suspicious URLs
Verdict (3 out of 5)
Becky! Internet Mail is average; the interface isn't very attractive but it delivers very powerful features. Although it does offer many great features for productivity and efficiently, the security functionality of the program puts the users' inbox and computer at risk for people looking to steal information or harm the system. When the makers fix the security problems with Becky! Internet Mail, it will prove to be quite the email client worth of a 4 or 5 star rating.