Review of IncrediMail Xe 5.85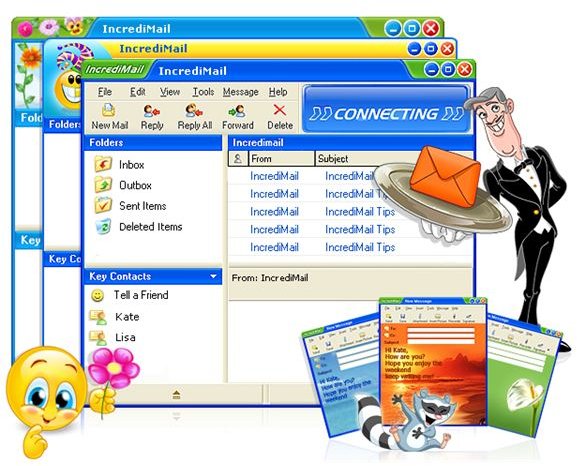 IncrediMail Xe 5.85 email client is a free program that gives enjoyment to sending and receiving emails. Sometimes the daunting task of constant emailing can be mundane and boring. The makers of IncrediMail were looking to change that as they incorporated animations to announce and open emails.
IncrediMail has some useful features, such as support for POP, Hotmail, AOL and IMAP email accounts. It comes complete with a useful address book to manage contacts and filters to sort mail. The search feature is quite effective.
IncrediMail does have its pitfalls. The support of IMAP is limited; only allowing users to download mail instead of accessing it on the server. The security isn't the most effective one out there; it is not efficient against an overwhelming amount of junk emails. IncrediMail does offer a subscription service, JunkFilter Plus, to help in this situation.
Features
· Full support for international languages as well as POP, IMAP (Limited) and Hotmail Plus email accounts.
· Lots of bells and whistles including stationeries, 3D effects, new mail notifiers, emoticons, animations and sounds that brings an extra element of fun to email messages.
· Organizational tools such as filters, flags and search functions.
· IncrediMail JunkFilter Plus subscription plan automatically filters spam
· Remote image blocking and the ability to bounce email
· IncrediMail identifies and collects anonymous usage data to find popular content.
· Support for Windows 9x/ME/2000/3/XP/Vista
Pros
· Overall, IncrediMail is an easy to use program that is friendly and fun
· Large collection of multimedia content and stationery available
· Protection for privacy and spam with two simple options
Cons
· Very limited support for IMAP
· No Support for secure and encrypted email messaging
· The subscription spam filter must be bought to deal with lots of mail
Summary (3 out of 5)
IncrediMail has lots of trinkets to make emails fun and exciting. What it is lacking on is any features for someone who sends out a lot of emails and it doesn't offer any solutions to help productivity. For this reason, I would recommend it for the casual email user who only needs it to communicate with family/friends and to keep track of trivial and entertaining things like their iTunes subscriptions. However, for the business user, it is not recommended. The silly, yet fun, additions can be distracting and annoying at times. Plus, having an animation announce email has never been attributed to productivity.
I am giving IncrediMail an average score for personal use only because certain features cancel out the absence of others. Depending on who is using the program and what they are using it for, this email client can be your best friend or worst enemy.