HyperOffice Review: Is the Program the Online Business Collaboration Software Your Team Needs?
What is HyperOffice?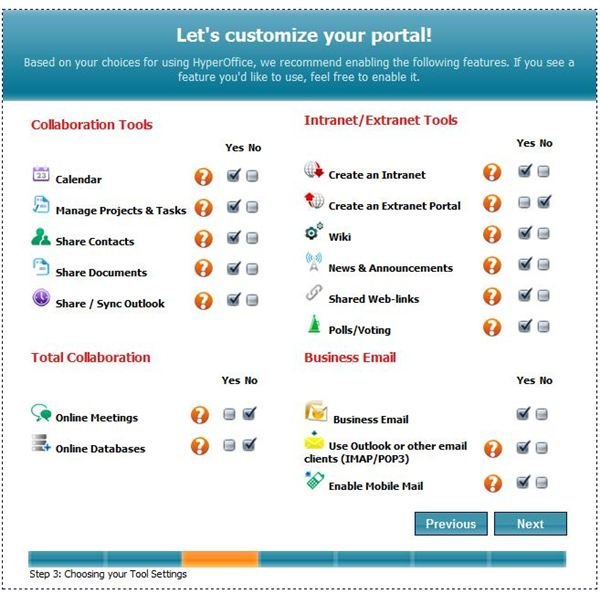 HyperOffice is software that allows users to collaborate with one another, track projects, keep e-mail in one place, and more. The program was created to be an all-in-one productivity tool that combined the things users love about utilities and applications such as Outlook, Google Docs, and Project in one program. The great thing about HyperOffice is that while it serves as an all-in one tool, you can still use Outlook, Google Docs or any other tools on your computer and access your information from any other computer. This is a great feature as it simplifies the collaboration process. If you've been looking for an all-in-one collaboration facilitator delivered on-demand through the Internet, this could be the program for you. Find out more in by reading this HyperOffice review.
Installation and Setup (5 out of 5)
It is very simple to setup HyperOffice. Simply sign up for the program, enter your preferences, and your desktop is set up for you. The installation of the program is simple because there is no software to download or install on your machine, instead, you simply use the program remotely as it is delivered through a subscription program. Like most similar software, HyperOffice offers a 30-day free trial where you have the opportunity to evaluate the software and determine whether or not it fits your needs before you purchase a subscription.
Ease of Use (4 out of 5)
If you can use a word processor, you can use HyperOffice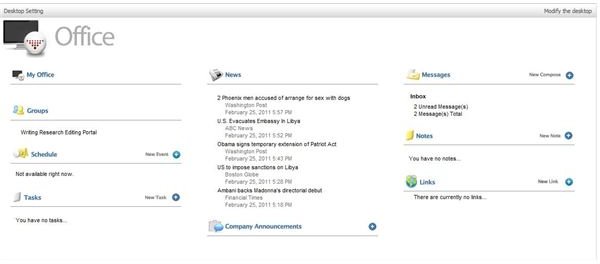 . Going into the program, I believed that because the program offered so many different collaborative options that it would be overly complicated, but I was wrong. When you start up the program you are taken to the dashboard (pictured to the right) where you can get a glance of all your activities and activities of your collaborators at a glance.
On the left-hand side of the dashboard, you are able to navigate through both personal and group folders. In addition to your personal dashboard, there is a group homepage for each group you are a member of. This makes it very simple for you to easily determine what needs to be done before diving in to work.
The only suggestion I would have has to do with a problem I have in general when using web-based applications: you must be very careful when using the backspace key - instead of deleting the last letter, you could wind up exiting out of the program by accident.
Features (5 out of 5)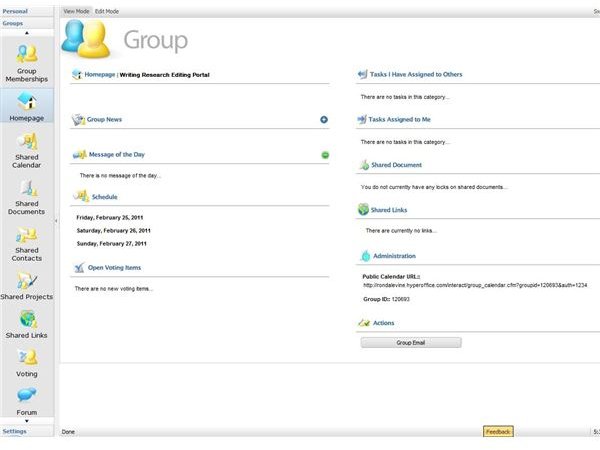 HyperOffice has many great features for collaboration. You can choose to share any item in your control with the group. With HyperOffice, you get all of the following in one program:
Business E-mail
Contact Management
Calendar
Document Management
Intranet and Extranet
Project Management
That's not all, though. Do you need to access your information from your phone? If so, you'll find it easy to do through the synchronization capabilities. Did you forget to check your task list in Outlook before you left home? No worries, you can access your Outlook no matter where you are.
When you store documents online, then your collaborators have the ability to freely access the document in order to work on that document regardless of where their locations are. HyperOffice combines everything you love about your favorite PIM with the things you enjoy about collaboration software, and then, as an added bonus, project management software allows you to have full control over the productivity in your company.
Price to Value (2 out of 5)
Yes, you get a lot of value out of this program, so from that perspective, the program is great. However, the program is quite expensive. With subscriptions to the program starting at $44.90 a month for 5 users and up to 1.25 GB of storage, frankly I'm a little disappointed. Yes the program is choc-full of features, yes the program is outstanding when it comes to doing it all, but start-up businesses, small businesses, and consultants who may otherwise benefit from the program are priced out of being able to afford it.
User Support (5 out of 5)
As with the included features, there is no shortage of user support features included in this program. Not only are there in-program videos that take users step by step through using the program, but there are also white papers, webinars, articles, FAQs, e-mail and phone support and various training modules. If the free options aren't enough, you'll find numerous paid options for support to help you to use HyperOffice to its fullest potential.
Is HyperOffice for You?
HyperOffice is for you if you're part of a large company that has a high volume and need collaboration software. The outcome of this HyperOffice review is that the program is for you if your uses for it will offset the price for subscribing. It can be an outstanding program - if you're willing to pay the subscription price.
Reference:
Hyperoffice https://www.hyperoffice.com
Screenshots courtesy of Ronda Levine.