Unified Communications Growth: Will the Current Trends Continue?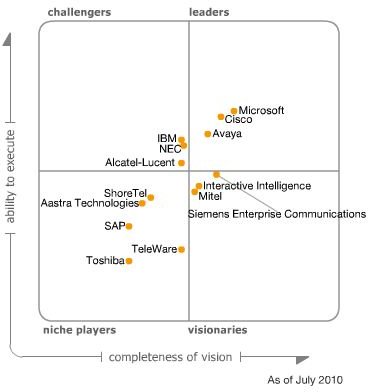 How did Unified Communications Come About?
Unified communications came about with the development of new communications technologies. While the telephone and fax machine have been around for many years, it was the growth of the Internet that afforded many companies with new ways of introducing technologies for voice or data transmission. This was so even if the technologies were not connected to the Internet.
Mobile phones were developed in the late 1980s, but it was not until new chip technologies were invented that made the phones smaller and more powerful did a revolution take place. Next there was the change in software programming. With the advent of programming suites like the .NET framework and Visual Studio that made programming more consistent, the applications for these new devices were easier to create and manage.
Finally, the dot com experience, now called the dot com bubble, created a tremendous growth in new technologies. Rightly or wrongly, many companies wanted to get into the act. Because of the rush to create something new, one of the by-products was unified communications.
Technology Unifies Different Stand-Alone Communication Programs
Here is a list of some of the basic stand-alone communications technologies: e-mail, video conferencing, telephony, VoIP, Wireless, the Internet. Now here are some stand-alone software communications programs: Twitter, FaceBook, mobile-texting, voice-mail, online chat. In these examples, you would have separate programs managed by different technologies. They perform different functions, and different hardware technologies control them.
The task for many users is to control these programs and technologies from one location. From a business perspective, this may be even harder to do as some businesses have locations in different cities, different countries, or different continents. For that reason, unified communications technologies have sprung up to deal with the diverse programs and hardware technologies. In this way, the separate communication technologies will be easier to use and manage by having a set of unified communications programs.
Companies that Offer Unified Communications Technologies
Some of the largest computer software and hardware companies are also the most efficient in delivering a full set of communications technologies. According to Gartner Group, to qualify as a top company in unified communications companies need to compete in three of six categories: telephone and voice; messaging; conferencing; IM and presence; device clients; and communications applications.
Furthermore, three companies–Microsoft, Cisco, and Avaya–fall into the "Leader" category. In the "Challengers" group are IBM, NEC, and Alcatel-Lucent. Then in the Visionary group setting, Interactive Intelligence, Mitel, and Siemens Enterprise Communications have qualified as members. Finally, in the "Niche" category, ShoreTel, Aastra Technologies, SAP, TeleWare, and Toshiba make the jump for 2010.
Image: GartnerGroup[2010]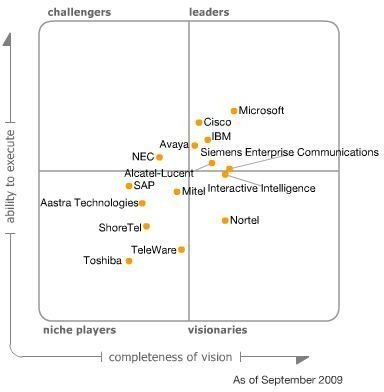 Image: Misunified[2009]
There was a drop from 15 to 14 companies that made the chart from 2009 to 2010. The standards of the Gartner Group are demanding, so even high profile companies didn't make the grade. That is not to say that smaller companies that are starting out won't be represented there in the next few years.
See: Top Unified Communications Products
Projections
In the future, more companies will enter the unified communications business market. However, there are challenges; for one, the big player is Microsoft with its Exchange Server and Communications Server that can provide one organized suite of tools for the entire business enterprise. That being said other companies have the opportunity to enter the market by offering a different suite of tools using different servers than the ones Microsoft offers. For example, there are a variety of email servers available that can manage messaging and texting, and they offer to bring various social networking tools into their environment.
Summary
The growth of the unified communications industry is as much a by-product of the successful growth in individual hardware and software technologies as it is by design. Many different technologies have been part of the growth, especially when there were many different kinds of communications technologies developing. Several companies have developed UC suites that bring many different technologies together to help users and business communicate more efficiently.