Free Teamspeak and Ventrilo Server Hosting Options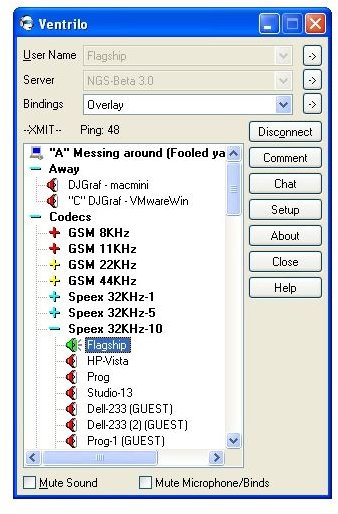 Self-Hosting
Both TeamSpeak.com and Ventrilo.com offer free licenses and instructions on how to set up your own servers for non-commercial uses only, allowing you to host your own server completely free of charge. The quality, up-time, and amount of connections your server can handle largely depends on your computer's processor and your Internet connection's speed and strength. Self-hosted non-commercial Ventrilo servers can only support 8 connections at a time while non-commercial TeamSpeak servers can support anywhere from 1 virtual server with 32 connections or 5 virtual servers with 512 connections.
FreeVentriloServer.com
FreeVentriloServer.com is run by BargainVoice.com and offers thirteen 5-slot servers and five 10-slot servers. Users are allowed to claim a server without registering or submitting any personal information. Servers become available after the 8 hour time limit expires or the server goes unused for a certain amount of time.
Each server is on a first come, first serve basis so it is best to check back frequently for available servers. Once you have claimed a server you are granted immediate access to using the server as well as full administrative rights such as: creating new channels, banning/kicking users from the server, and granting others access to administrator/moderator privileges.
FreeTeamspeakServers.com
FreeTeamspeakServers.com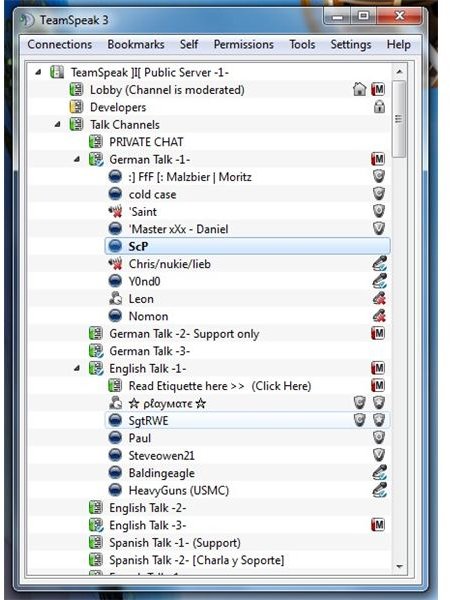 is a website run by the BargainVoice.com who also host FreeVentriloServer.com. Just like FreeVentriloServer.com, there are thirteen 5-slot servers and five 10-slot servers. However, unlike its counter-part, the servers at FreeTeamspeakServers.com are generally more available for use.
Each server is hosted for free so long as you are able to reserve a server. Once reserved the server remains in your control for 8 hours or until it goes unused for a certain amount of time. The person who has claimed the server assumes full administrative rights over the server allowing them to create channels, change settings, and kick/ban users from the server until the server expires.
BluePlanetHosting.us
BluePlanetHosting.us hosts two public-use Ventrilo servers – the primary server allowing 40 connections and the secondary allowing 5. When these servers are full, the website also boasts a 1000-slot TeamSpeak 2 server that is also free for use by the public. While you may not receive administrative powers, you are allowed to create your own channels which can be password protected for privacy. BluePlanetHosting.us servers are permanent with limited down time.
Promotional Free Hosting
Websites like InstantVentrilo.com, which require you to pay for hosting, will frequently offer promotional deals. These promotions will sometimes include free TeamSpeak and Ventrilo server hosting in order to celebrate the launch of new multi-player games and bring in new customers.
Promotional deals can run anywhere from only several days to several weeks. Check sever hosting websites on a regular basis or sign up for a newsletter in order to get the latest news on free hosting. These websites will also consistently feature free trial offers anywhere from 3 to 15 days of service before committing to a purchase but will often require payment information before the free trial offer can be utilized.