3 Great Examples of Freeware Brainstorming Software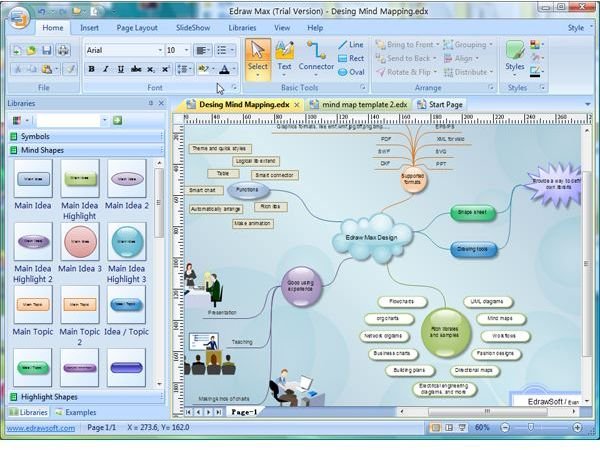 Overview
The concept of brainstorming has many venues. Some see it as an important launching point for the beginning of a community effort to solve a common problem. But others do not feel so confident in this approach, because of domination or slacking by members.
While the theoretical model may be subject to review, here we present some practical approaches to the process. Below are examples of three freeware brainstorming software programs that can facilitate sessions. They are useful in producing mind-mapping images and showing the relationship that occurs between the ideas.
For more information on brainstorming see: New Types of Brainstorming
EDraw Mind Map
With EDraw, mind mapping, which is another name for brainstorming, involves writing down a central idea and following up with new and related ideas, which spin out from the center. With Mind Map, you can focus on those key ideas that you lock down in your own words, and then look for offshoots and connections between those ideas. You will use this process as you map knowledge in a manner that will help you process, understand, and remember the new information.
:
Source: EDraw
Info Rapid Knowledge Map
InfoRapid KnowledgeMap is a free software mind-mapping tool and knowledge-management system that brainstorming session leaders find useful. It can be used to draw organizational charts, decision trees, knowledge maps, and work breakdown structures. It can take down ideas during a brainstorming session, or generate detailed structure diagrams from XML files.
Another function that is useful is that Knowledge maps can be published in different areas, on the Web or your intranet. It can be added to Excel, Word, and PowerPoint documents. They can be printed in almost any size you choose.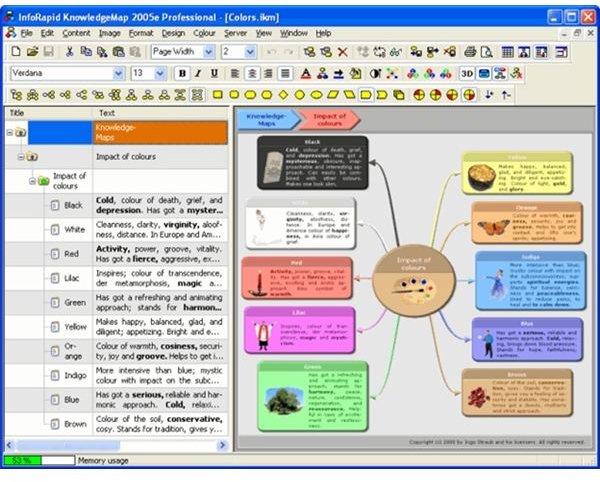 Source: InfoRapid
TreeSheets Software
TreeSheets is a replacement for spreadsheets, outliners, mind mappers, text editors, PIMs and small databases.
It is also suitable for any kind of data organization, such as calendars, project management, organizing ideas, brainstorming, planning, todo lists, requirements gathering, or presentation of information. It is like an outliner, but with multiple dimensions. It has features like a text editor, but with structure.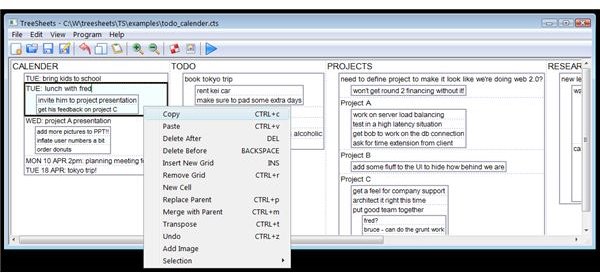 In some ways, it is like a spreadsheet; however, it is more suitable for complex data manipulation because it is hierarchical. It also has the look and feel of a mind mapper, but more compact and organized.
Image: TreeSheets
Summary
Brainstorming software is available to make better use of the ideas produced during the discovery sessions. The software looks at different aspects of the brainstorming process and creates different ways to produce results that are meaningful and timely. These examples of freeware can help facilitate brainstorming sessions and they can produce graphs, spreadsheets, images, flowcharts, small databases, and text documents. They are easy to learn; some even have tutorials. Downloading them is fast, and they have a small footprint.
To learn about brainstorming rules see: Laying Ground Rules for Brainstorming Sessions