Guide to Recording Podcast on Skype Using Pamela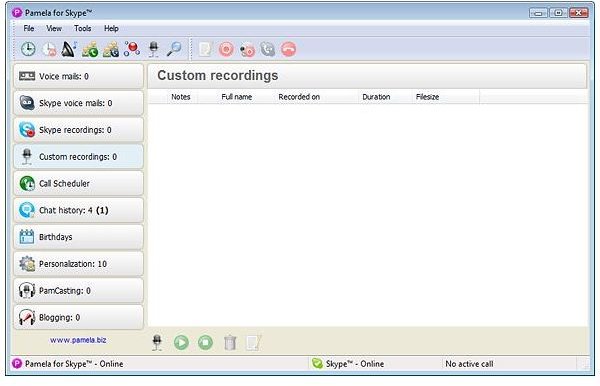 Skype Your Podcast!
Podcasts are a great way to both express yourself and your opinions and if you run a website, provide an additional medium for your content.
Often, podcasts are done individually, unless you are able to host a group of people around a PC or laptop, or have a means to work online collaboratively.
Using Skype, you can record podcasts on your own computer or laptop, making a group conversation possible and far more interesting for your listeners.
While Skype doesn't include recording features, several third party applications do. We're going to look at recording a podcast on Skype in conjunction with Pamela.
Getting Started
Before proceeding, you will need both a copy of Skype and a copy of Pamela. Skype is of course available from www.skype.com – Pamela meanwhile can be downloaded from www.pamela.biz. Although not free, a 30 day trial is available. Licensed versions start from €14,95.
If you don't have this already, you will also need a suitable microphone. Analogue mics don't give as great a result as USB mics, so try and get the best mic and headset combo available. This will prevent your co-podcaster from being picked up on your PC speakers.
Also, take advantage of services like dslspeed.com or similar, to check the speed of your connection – each person in the phonecall needs 100kbps for the best results. Similarly, close out of all other applications, especially iTunes and any other regularly self-connecting utilities. Adobe and HP updaters are also prone to cause problems with Skype, so exit from these also. It's a good idea to check your firewall - the article on Configuring Skype for Firewalls should help you out here.
You should also exit your browser.
Recording a Podcast on Skype
Once downloaded and installed, you will need to sign in to Skype. After you have done this, run Pamela, and then call the person with whom you plan to record the call. Once you're both talking, this is the moment to click the "record" button in Pamela.
What happens next is that the two audio streams in Skype – one from your mic, the second from the other person's Skype (or telephone) – are recorded into an MP3 or WAV file, which you can then edit later.
One thing that can happen when recording a podcast in this way is that it is easy to lose focus, knowing that you can edit things later. However this simply means more work later, so it is good practice to stick to a certain subject, or establish some sort of order of discussion to follow.
Other Solutions
While Pamela is a great way of recording Skype conversations on Windows PCs, Mac users might prefer to use AudioHijack Pro or Call Recorder.
Similarly, there are other options for PC, with CallGraph, Call Burner and Total Recorder Pro all used to great effect by podcasters worldwide!
Your best option is to try them all, and work with the one that suits your needs.
Screenshot taken by Christian Cawley.