A List of the Top 10 Document Sharing Websites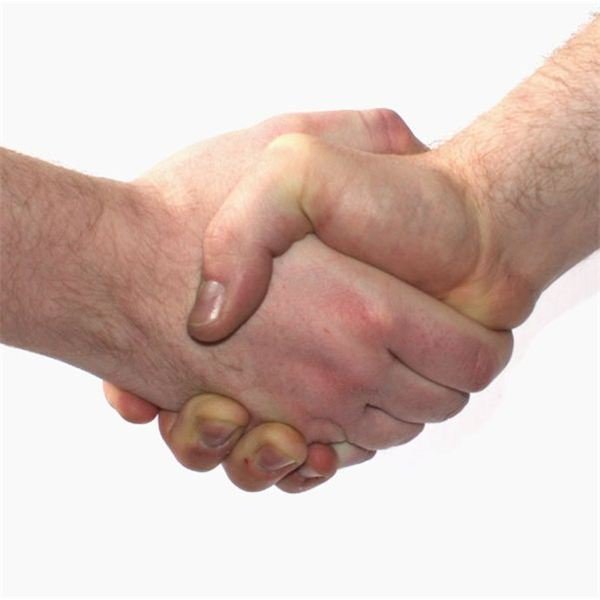 Easier Way to Share Files
Document sharing is a very important part of the modern corporate as well as social networking world. Before long, email was regarded as a standard option, but recently its importance has been reduced due to document sharing websites that offer a number of advantages not available with email.
By using a file collaboration website, a person can be saved from the danger of accidents like deleting necessary files, and overwriting. Moreover, most websites allow customization of individual profiles and privacy settings. Most of these file sharing websites are free. However, some charge a nominal fee, which is affordable considering the advantages that are offered.
Image Credit: Handshake / https://commons.wikimedia.org/wiki/File:Handshake_(Workshop_Cologne_%2706).jpeg
Top 10 List of Document Sharing Websites

There are hundreds of websites available on the World Wide Web for the purpose of document sharing and collaboration. Below, you'll find a top 10 list of the most popular document sharing websites:
Scribed - Scribed is one of the top document sharing sites, where almost 50,000 documents are uploaded daily. The target audience is mainly individuals or small business owners. Most of the documents shared are in pdf file formats. However, other formats including doc, ppt, pps, xls, ps, odt, odp, sxw, sxi, jpg, png, gif, tiff, txt, and rtf are also available. The site allows the user to set details as to who can view the files. Moreover, it allows members to follow their favorite members. This allows the following member to keep track of all uploads and fellow member activity. Scribed can also be embedded in your personal web page.
DocStoc - Unlike Scribed, DocStoc is more professional and frequently visited by people involved in finance, education, career and legal domains. The website is host to over 12,000 professional searchable documents. The website supports doc, pdf, xls, ppt, and txt formats.
SlideShare - As the name implies, SlideShare is meant for sharing PowerPoint presentations. PowerPoint presentations are grouped according to various categories. A user can upload and share or download files and set guidelines on whether files are public or privately owned based on user requirements.
GoogleDocs - Unlike other document sharing sites, Google Docs has many business templates available on their site that may be used by different business personalities to make a presentation, write a document, or make a spreadsheet. There are over 100 different templates that are available for download. The website supports office file types such as doc, xls, and ppt along with pdf and OpenDocument formats.
Microsoft Office Online - Similar to Google Docs, Microsoft Office Online also has a list of re-usable templates that are categorized. The user can upload their self-created templates for public use.
Zoho Share - Zoho Share is one of the few document sharing websites where many types of documents can be uploaded. Popular document types that are uploaded on Zoho Share include spreadsheets, .xls and .doc files along with Zoho's own file types. The user can not only view the shared documents, but also leave a comment about the file.
Issuu - The uniqueness of this document sharing website lies in the fact that it allows users to share documents that are usually found in print format, for example those found in catalogs or magazines. Each of these documents are differentiated according to their category and are fully searchable.
Edocr - Edocr was founded in 2007. This document site is meant for publishers who wish to share parts of their publications prior to release. The community directory allows networking and circulating of your documents among other users. The website limits document re-usability as it does not allow content to be modified.
Bookgoo - This website is directed toward teachers and students worldwide. Users are allowed to upload and highlight their documents with other users in doc, pdf, xls, and ppt formats.
Expresser - Expresser was created in 2006 to allow users to share photo files, video files, music files, and media presentations among its members.
Image Credit: Share Logo https://creativecommons.org/about/press/