Five Examples of Telecommunication Collaboration Tools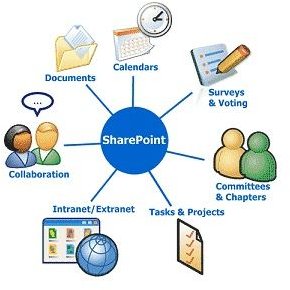 Overview
Collaborative software is a concept that overlaps with computer-supported cooperative work (CSCW) because it shows how collaborative activities can be supported by computer systems.
For example, software for text chat, wiki, email, calendaring, and bookmarking belong to this category. It has even been suggested that Metcalfe's law, which states that as more people use something the more valuable it becomes, applies to collaborative software. See the following to read about the Advantages and Disadvantages of Collaboration in the Workplace.
Here we will look at five examples of telecommunication collaborative tools.
SharePoint - Local and Web Based Collaboration
Microsoft SharePoint 2010 is a collaborative platform that functions in various guises. Users can set up websites to share information with others, or manage documents from inception to completion, and publish reports for better decision making. To see more on its possibilities see The Potential of SharePoint.
SharePoint can function as a front end to display information while collecting the information via SQL server, or C# backend operations. It works with the Microsoft .net framework to tie together many different programs and function as a seamless whole.
For More on SharePoint see: Showcasing SharePoint 2007 - Top Sites SharePoint 2007.
Source: Microsoft SharePoint 2010
Image Credit: Expertise
HyperOffice - Online Collaboration
HyperOffice is an online collaborative tool. You have neither software to install nor servers to maintain. All you have to do is sign up and start your collaboration efforts. Like other examples of telecommunication collaboration tools, it lets your employees, business partners, and clients share and collaborate on information from anywhere in the world.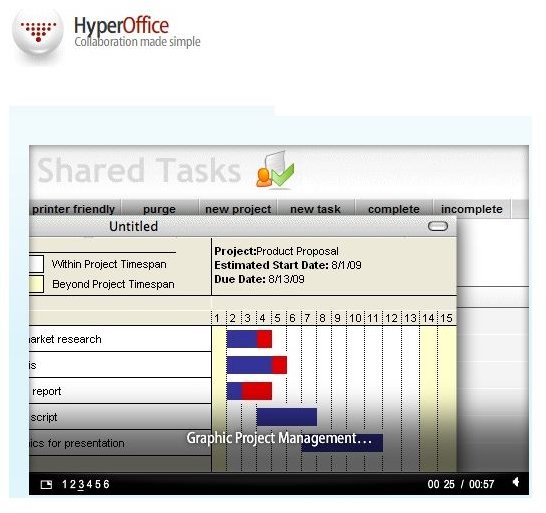 Integrated Suite – A set of tools to create a virtual collaboration space.
Document Collaboration – Users can store documents online to allow collaboration with remote teams. You can also manage with commenting, version control, and access permissions.
Shared Projects – You can assign responsibilities and create projects, and track them.
Shared Contacts – Set up a Global Address Book with contact list to share.
Publish Intranets and Extranets – Publish branded and customized intranets, extranets and customer portals. Create websites.
If this has the sound and feel of SharePoint, they are similar. Like SharePoint, HyperOffice is a browser-based program, but it is much easier to work with.
Source and Image Credit: HyperOffice
GroupWise - Local Collaboration
GroupWise is a collaborative and messaging software platform from Novell. It supports personal information management, email, instant messaging, calendaring, and document management. The platform consists of the client software, which is available for Mac OS X, Windows, and Linux. It has a server-based program supported on NetWare, Windows Server, and Linux. The most current generation of the platform is GroupWise 8.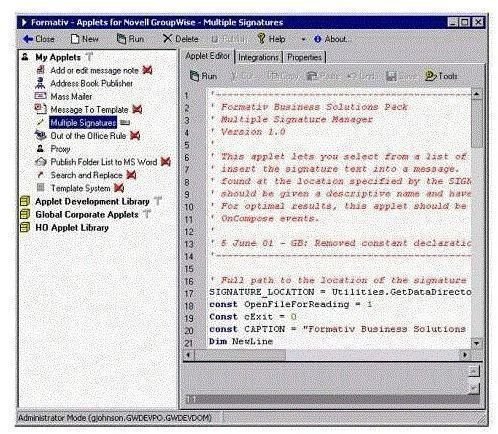 Source: GroupWise
Image Credit: Novell Applets
Jive - Social Network Collaboration
The social networks have changed the business enterprise; it is a social enterprise. This is becoming a business mandate. To that end, Jive Social Business Software produces collaboration software that frees people from their ordinary approach to work and instead they can collaborate naturally.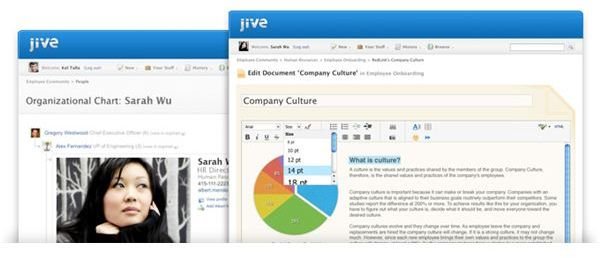 Although many of the features here are similar to the others already mentioned, its focus is on the social networking aspects of collaboration. Social networking sites like twitter, FaceBook, and YouTube connect users. Jive connects workers to jobs, projects, and enterprises.
Source and Image Credit: Jive
GetThere - Face-to-Face Collaboration
While collaboration can be done over the Internet, there are times when meetings must be held face to face. In those instances, GetThere provides a solution.
GetThere combines meeting, travel, and networking solutions to satisfy an organization's collaboration needs. It offers an online reservation platform that allows users to book rail and ground, air, and hotel reservations in a single visit.
Meeting planning capabilities are included for a straightforward booking experience. There is also a well developed internal networking resource allowing employees to engage each other to share ideas and foster discussions.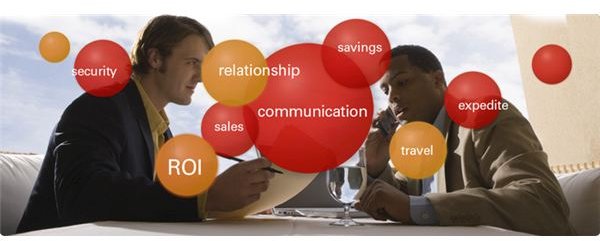 Source and Image Credit: GetThere
Summary
There are a variety of telecommunication collaborative tools. SharePoint and HyperOffice are tools for document and project management with a web portal. GroupWise and Jive allow social business collaboration to take place to manage a project or those involved in it. Finally, GetThere is a collaborative software example that is used to create face-to-face meetings.