Top 10 Web Screen Sharing Tools - Options for Desktop Sharing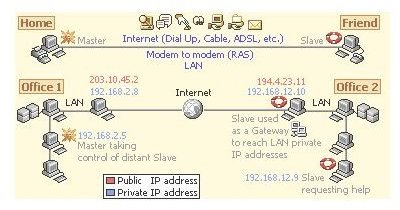 Real VNC
This program comes from the original developers of the Virtual Network Computing (VNC) desktop sharing technology. So, it contains an in-browser Java based viewer and it can be used across different platforms. It comes in three editions: free, personal, and enterprise. The latter two require the purchase of a license.
This diagram shows that there are two possible scenarios, one on a home network accessing a remote computer. The second is a business network connecting to other computers. (Click any image for a larger view.)
This remote control software allows you to view and fully interact with one computer desktop which acts as a server with another computer using the "VNC viewer" anywhere on the Internet.

Source: RealVNC
Crossloop
Crossloop has a freeware component, but there is a Home and Pro edition with licensing fees. In the free edition you are able to have limited features like one click sharing, 128 bit encryption, and no special router or firewall configuration. Some of the features of the Home edition are file transfer, remote reboot and reconnect, and one click connect. The unattended access to computers ranges from the unlimited number for the Pro version to 1 on the free version.
The Pro edition costs $9.95 a month, the Home is $4.95, and the free speaks for itself.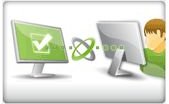 Source: Crossloop
ShowMyPC
ShowMyPC provides meeting services and remote support to all users. The services provided include the free option and premium option with screen sharing, remote PC access, and desktop sharing. The tools are community alternatives to WebEx and GotoMyPC, among others. ShowMyPC offers a wide range of products and services. These include:
You can have Remote Support, have Online Meetings, or show my PC or view remote PCs.
You can host presentations, classrooms, training, or show and demo products to web based viewers.
You can access home or office PCs online. You can track lost or stolen PCs.
You can access clients PCs and manage servers when no one is on the other side.
You can install your own local, private hosted server and self hosted screen sharing for faster response time.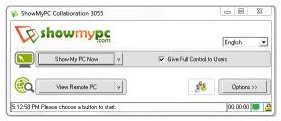 Source: ShowMyPc
Like the other web screen sharing programs, this comes with your basic remote access and control features. It is a shareware program where you can use the program for 30 days before having to purchase the license or its use will expire. Other noteworthy features include:
You have full access to the remote computer from anywhere in the world.
You have file exchange, and drag & drop support.
You can monitor up to 256 computers simultaneously.
Multiple operations are performed in real time.
Remote desktop control with a keyboard and mouse is possible.
Source: HiddenAdministrator
WinRemotePC
This program is not as sophisticated as the previous ones under review here. But for short end products that allow a remote connection, this will do the trick.
WinRemotePC has two parts, a server and client. The server program resides on the machine that shares its screen, and the client or viewer accesses and interacts with the server. It displays the screen of the remote computer and transmits the keyboard and mouse operation from the local computer to the remote transfering data over a network.
Source: WinRemotePC
Continue on to the next page for more web screen sharing options.
Remote-Anything
As the name says, this tool can remotely connect to anything, anywhere. It can run on Linux, Windows or Mac. There is zero configuration, which means that there is an 80KB file, and when you double click on it, it is installed, configured, and ready to go. You can transfer files quickly, and the voice and chat features let you work in real time.
.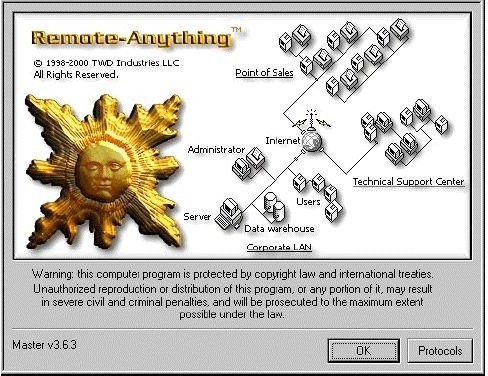 Source: Remote-Anything
Team Viewer
TeamViewer lets you connect to a PC or server anywhere in the world within a few seconds. You can remote control another PC just like it was right in front of you.
It also lets you work as a team with sales talks and presentations. TeamViewer brings your desktop to other people over the Internet, even through firewalls, or it can bring you theirs. This is collaboration.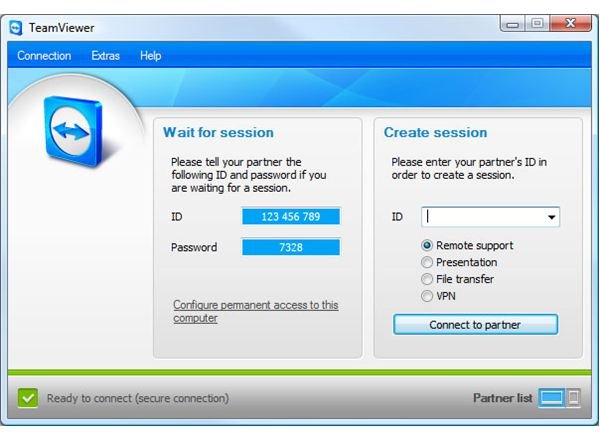 Source: TeamViewer
Access Remote PC
There are four services available with Access Remote PC. The Internet subscription service, the LAN software license, the Helpdesk subscription, and Helpdesk Proxy Server. The different services will support different venues from large Internet related businesses, to small home operations. This program has many of the features already discussed, but here are some specific additional ones:
It is small, only 1 MB in size.
It does not install video drivers or other video programs.
It allows fast screenshot updates.
There is a fast response time on low-latency networks even with slow dial up connections.
You have a secure file transfer feature that lets you access files on the remote computer and perform transfers between the remote and local computers in any direction.
You have multiple monitor support, which allows you to view the screen of any monitor attached to the remote host.
You can have remote cursor shape support. This provides better screen feedback by letting you see the shape of the cursor on the remote host.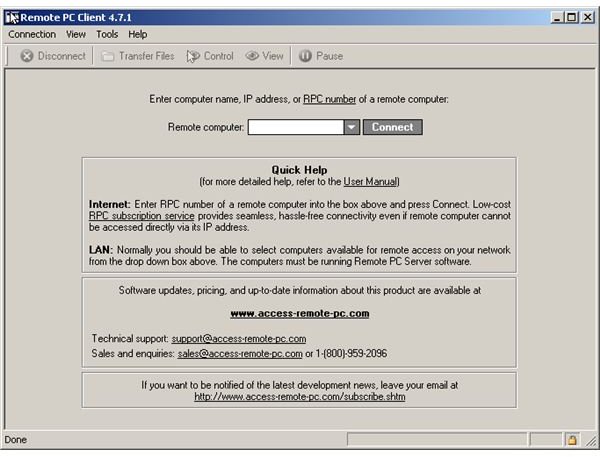 Source: Access Remote PC
I'm InTouch
There are five products in this collective environment: I'm InTouch - Help Desk Support. I'm InTouch - Remote Access. I'm InTouch Server Edition - Remote Access Software, I'm InTouch SecurePC,, and I'm InTouch SecureKEY.

This is a comprehensive solution for home or business operations that looks at different aspects of the remote access solution and breaks it down per operation. That is why there are five different programs.

Source: I'm InTouch
Spytech SpyAgent
This tool is for parents who want to know what their children are doing on the computer. You can monitor their e-mail, the websites they visit, and who they are chatting with.
Some of the behaviors recorded are:
You can see all the keystrokes they have typed.
You can list all their website visits.
It records all online searches performed.
You can see what programs and apps they use.
You can also monitor their social networking.
Source: Spytech SpyAgent
Summary
Web screen sharing tools will allow multiple viewers to see whatever you show on your computer screen in real-time. They will even have the opportunity to take control of your mouse and keyboard. Screen sharing tools work by allowing the presenter or originator to create and operate a remote session. The session is then associated to a specific URL. A password may be optionally required for entrance and participation.