How to Record Calls with Skype: 5 Call Recording Options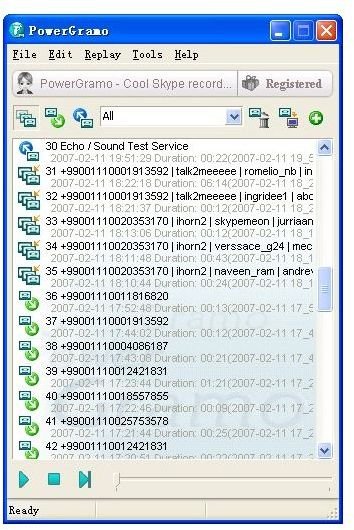 I've got that on Record
Skype is often used to speak not only with friends and family but also business people and journalists. Because Skype to Skype calls are free to any other Skype user anywhere in the world, Skype is the perfect tool for speaking to business contacts or interviewing interesting people without having to spend a fortune on long distance charges.
If you use Skype for these purposes, however, you may want to record calls on Skype. This allows you to go back to a conversation to transcribe information or simply refresh your memory.
Skype does not have any built-in capability to record calls. However, there are multiple third party programs that allow you to record calls and save them as files on your computer to be listened to at a later date. In this guide I'll cover some of my favorite Skype call recording programs.
Powergramo
One of the easiest and lightest programs which can be used to record Skype calls, Powergramo offers a great interface and solid integration with Skype. Once installed it can be set to automatically record calls which are made or which are received. The calls are recorded into a proprietary format but can be converted into MP3 or WMA files. Powergramo is free to use on Skype to Skype calls and has no time limit on recording time. To record calls to or from landlines and cell phones you must purchase a Powergramo Standard Edition license, which costs $24.95.
MP3 Skype Recorder
A basic but absolutely free Skype recording program, MP3 Skype Recorder can automatically record and save Skype conversations in MP3 format. It will record both Skype to Skype conversations and SkypeOut conversations and there are no limits on the length of call which can be recorded. It doesn't include any of the more advanced audio adjustment and editing features some for-pay Skype recorders include.
Hot Recorder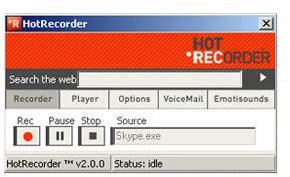 Capable of automatically recording calls of any length from any source, Hot Recorder is a program which is meant to be used not only with Skype but also with other VOIP services such as Google Voice. Conversations can be saved to MP3, WAV and OGG files or left in the proprietary ELP format. Hot Recorder has a trial version, but it only will record calls for two minutes. The full version costs $14.95.
PrettyMay Call Recorder for Skype
PrettyMay is a Skype-only call recorder. It is capable of automatically recording calls in either MP3 or WAV format. It also includes some added features like the ability to use the program to add a personalize voicemail or to send a personalized away message to contacts who attempt to call or contact you while you are away. The basic version is free, but doesn't enable all features and limits recording time to 30 minutes. The full version is $29.95.
Ecamm Call Recorder
If you're a Mac user, none of the programs above will work for you. They're all PC-only. Ecamm is a Mac-specific Skype recording program which allows the recording of not only audio but also video conversations. Calls are recorded to the Quicktime format but can be converted to MP3 or MP4. Ecamm offers a fully functional 7-day trial. The full version costs $19.95.