Learn How to Use the Skype Video Feature to Make Video Calls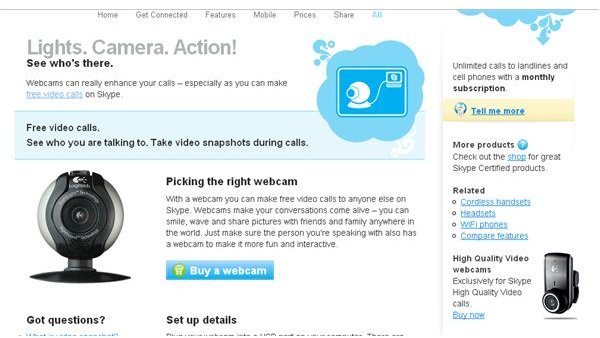 What You Need
To start using the Video Calls capability on Skype, all you need is a web cam, and the latest version of Skype (currently 4.2). The other party will need a web cam as well, if you want to be able to see them. If you have not already done so, install your web cam on your system. If you need assistance with this task, consult your manufacturer's packaging. You should be able to simply insert the disc that came with your camera into your computer, run it and install the drivers, and then connect the camera to your computer's USB ports and be up and running. Installing a web cam is one of the easiest things to do on a computer. To test your camera before using Skype, open the software you installed that came with your camera and you should be able to see yourself so you can make sure the lighting and volume are correct–as most web cams also come with a microphone.
Testing Your Web Cam
Once you have your web cam installed, open Skype and it will automatically help you test your web cam in order to ensure it is functioning correctly. If you need a web cam, you can purchase one from Skype or a variety of local retailers. Web cams range in price from $20-$100 or more, depending on resolution and various other factors. Web cams are available from the Skype store directly ranging from $40-$80 but they can be found a bit cheaper on Amazon. Most of them are Logitech brand cameras, so if you want to purchase your camera from another vendor, getting a Logitech camera will ensure it works with Skype. The web cams at the Skype store are all high quality video cameras to ensure your video calls will be clear.
Remember though, your camera must be completely installed, connected, and powered on before Skype will be able to help you test it. If you are having issues, check your camera connections and camera manual before contacting Skype for more help.
How to Make a Skype Video Call
To start a video call, you must first make sure that the video feature is enabled. Click 'Tools' on Skype's menu bar and select 'Options.' The Video settings are found in the General section. Then all you need to do is select the person you want to start a video call with. You can do this by right-clicking over the Skype contact and selecting 'Start video' option to begin your video call. That's all there is to it!
You can use video calls to conduct business, stay in touch with family and friends all over the country, or just show your friend a new haircut! Whatever you are planning on using it for, video calls with Skype are just one more reason why the program is great to have.
Resources