Choosing VoIP for your business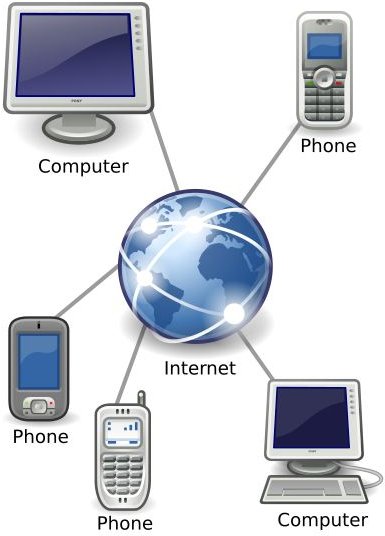 What is VOIP?
VoIP (Voice Over Internet Protocol) has been lingering around now for quite some time. Vonage started the consumer-targeted craze
several years ago and, arguably, was instrumental in breaking the taboo that had previously haunted its acceptance. However, business phone usage is much more complex than those 2.4Ghz devices you have laying around the house. Can VoIP possibly scale to serve the demands of the professional world? After all, most companies have at least one nightmare story of switching phone system providers.
The real savings offered by VoIP are the intangibles. Feature sets, virtual offices and administrative procedures offer far more flexibility than anything the traditional PBX world can offer. Below are some things to ponder when investigating a VoIP solution for your business.
Let's Look at the Pros
Moving your voice communications to a VoIP platform definitely has many advantages. Some can provide costs savings, but by far the major advantages are realized in intangible ways.
1. No Long Distance. Every call you make within the US is completely toll free. You can talk to whomever you want, for as long as you want. So, internet phone is cool, isn't it?
2. Features. Find me or follow me, call routing, call parking, conference calling, mobile numbers, do not disturb, data integration to the display, unified messaging, soft-phone and many others are usually all included and are far more numerous than any PBX system can offer. You just need an internet connection to make free internet calls and a computer or a laptop as well.
3. Administration. Adds, moves, and changes can be handled by a single internal person, from a single location regardless of the size of your organization. Billing statements are greatly simplified as well.
4. Flexibility. Dynamic changes in your organization's structure, whether growing, downsizing or relocating, can all be addressed with little effort and at no additional cost. Internet phone is as simple as searching on Google.
5. Data Circuits. Voice circuits, usually ISDN, are widely available and known to be stable. However, their recurring cost is quite high. Data circuits, too, are also quite stable though recurring costs are lower than those of a full ISDN line.
6. Hosting. Many VoIP solutions offer hosting. In this scenario, you simply pay a regular monthly fee based on users, phones, bandwidth, etc. The provider manages and maintains all of the equipment at a single location. Your phones and computers connect via any internet connection.
And Consider the Cons…
VoIP is not perfect and it certainly has some disadvantages; some of them are mentioned below.
1. Upfront Costs. Depending upon the configuration, start-up costs can include the VoIP system itself, new phones, potential wiring upgrades, back-office equipment requiring QoS (Quality of Service) modules and training.
2. Call Quality. Though there are thousands of successful implementations, VoIP is not without its technological issues. These can come from many sources and can be difficult to track down and resolve. Call drops, noise and varying volume levels are well known issues. Call quality in some cases can be troublesome, internet phone is free but it is not trouble free.
3. 911 Service. Because of the flexibility and mobility of a VoIP solution, a typical NYC area code (like 212) can be assigned to a phone in California. This can cause problems with local 911 services. Though mostly resolved, 911 services should be updated as to the physical location of the caller.
4. International Long Distance. Calling internationally will still carry a toll fee which must be negotiated at the time of acquiring the service.Otherwise while at one side you will be enjoying free local calls. you might end up paying half your salary as ISD bills.
VoIP: A Viable Solution
The cost comparison from a dollars standpoint is mostly a wash. The intangible benefits of a VoIP solution can far out-weigh those of a traditional PBX depending upon the structure and growth positions of an organization. Where a traditional PBX always seems to require the mysterious "phone guy" to perform administrative tasks or support, a VoIP solution can be administered by almost anyone and does not require a specialized IT person. Unified messaging alone can save employees time by having all email, voice mail and faxes located in a single inbox.
In summary, VoIP is here to stay and is a viable, stable telecommunications platform for businesses. Treat a VoIP system implementation like any other technology project. By researching the market, reading VoIP reviews, identifying the right equipment, platform and vendor, the most difficult part of the project will be done.
References
VOIP, Features and Benefits, Microsoft
VOIP and Telephony, NASCIO
Image credit
VOIP Illustration, Wikipedia
This post is part of the series: VoIP: How can my business benefit
VoIP can be quite beneficial to a business, if implemented correctly. Finding vendors, justifying costs, identifying metrics and deciding whether to own or lease are all subjects that must be addressed. This series addresses these concerns along with others when you are reviewing this technology.