Office 365 for Collaboration: How Does it Compare?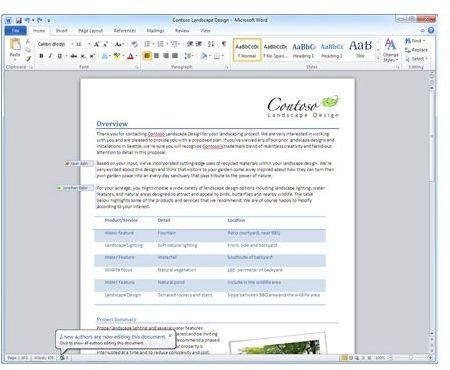 When Microsoft first announced its foray into the cloud-computing world there was a lot of speculation about how it would be different from other, more established, online suites like Zoho and Google Docs. Since the release on June 28, 2011, the system has received good, but not spectacular, reviews from CNet and PCMag. Although this is the first version of Office 365, it is actually the third attempt that Microsoft has made to enter the cloud computing market (the first two being Web Based Office and Business Productivity Suite). Did they get it right? Well, not exactly, but Office 365 is a major overhaul of the Business Productivity Suite that offers a more centralized Office experience.
What Can Office 365 Do?
Office 365, as a collaboration tool, is more than adequate. It offers all of the graphic user interfaces that users are used to, without overcomplicating them or adding too many new features. Anyone who has spent a good deal of time with the Microsoft Office Suite will be able to use the online versions without additional coaching. Applications like Word and Excel maintain their ribbon GUI features as well as offering tabs for tracking user changes, maintaining groups, and creating real time interactions. Outlook is completely integrated so that files will look the same on upload as they do on download.
At the end-user level, Microsoft Office 365 allows several users to work on a project simultaneously with real time changes being visible. The changes are also coded so that each user can tell which other user is making changes. The chat feature allows collaborators to speak with each other while working on a project (and if video conferencing is supported, allow real time video calls during editing sessions).
Point-by-Point Comparison with Zoho and Google Docs
Although the focus of this article is collaboration, there are other variables that will help determine which of the cloud computing services is right for you and your company. Ease of use doesn't account for everything.
As with all potential purchases, price plays a major factor in the final choice. Google Apps for Business costs $5 per month or $50 per user per year (if you have fewer than 10 users it can be used free). Office 365 has several different plans ranging from $6 per month to $27 per month (with no discount for full year purchases). Zoho is a compartmentalized plan that has a cost of $3 or $5 per user per month dependant on the user needs, but email service is not provided. The separate cost for this is $2.50 to $3.50 per month. There are various other add-ons for Zoho and there are limited versions of the Docs and email service that are offered free. There is no clear winner in this aspect, although Google Apps is the most cost effective for small business.
The actual collaborative features of these three cloud-computing systems all allow real-time editing of documents but there are some very important differences. Google Apps lets a user share files with any other Google account, even those that are not included in your own Google Apps group. It also has several third party add-on applications and supports several file formats. Office 365 offers real time collaboration, but you have to install Lync first where Google Apps requires no downloads. To run Lync you have to install the Microsoft Online Services Sign-In Services client (so if you're keeping count, that's two downloads). If you want someone outside of your group to view your documents you can have them access it through SharePoint, for a fee of course. Zoho acts much like Google Docs, requiring no downloads and only needing a Zoho, Google, Facebook or Yahoo account to login.
If you want to collaborate, it is important to know what types of files can be worked on in the cloud. Google Apps works with Google docs to import most documents formatted in basic form. It can also work with Office 97 to 2003, Office 2007 and 2010, Open Office txt. and rtf. and can export in all of these formats except Office 2007 and 2010 (these can be exported as PDF files). Office 365 is quite limited in this department. It currently only supports the newer versions of Word, Excel, and several other Office programs. Even txt. files can only be read but not edited in the online browser. It seems that this product was meant to be integrated with the newest version of Office and used to compliment the Office Suite. Zoho Docs can handle everything that Google Docs can and can export in PDF and LaTex formats.
If you use a mobile device (iPhone, Android 2.2+ or Windows Phone 7), Google Apps is the only option that allows editing, and only with the help of third party applications like QuickOffice. Office 365 limits most document options to view only and Zoho does the same.
Screenshots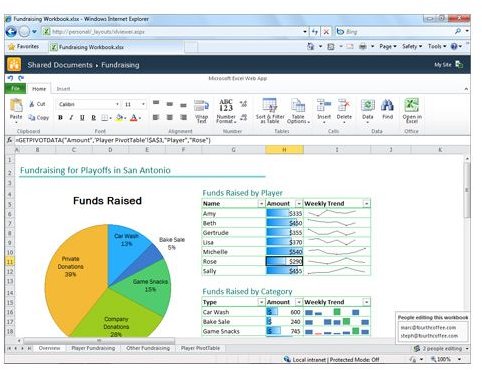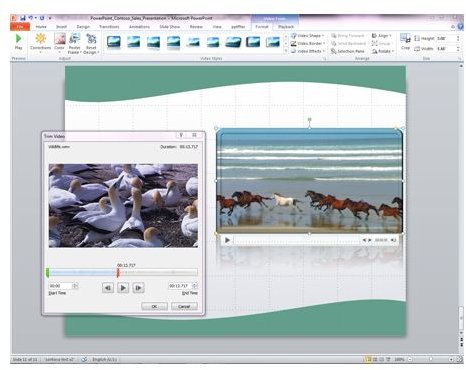 Conclusion and Recommendation
I am not convinced that the products that Microsoft offers make them the most viable option for small business solutions. The pricing looks good on the surface, but it is a price per user model so the $6 price tag is seemingly small until you look at using it for 25 employees. Is it worth $150 a month to bypass emailing documents? This solution only makes sense if you have very few employees or if all of your employees are field workers that spend little or no time in an actual office (and even then, Google Docs and Zoho are a far more economical solution). Google Docs, although not closely integrated with Office products, is the better choice for a company that is already using an Exchange or SharePoint system. Zoho is also a good format (especially if you don't care for the Google Machine), that can offer significant advantages in cost, but those will be eaten up by the need to train personnel to use it. Again, the simplicity of the Google Apps puts it ahead.
For larger businesses, using Office 365 for collaboration is the more viable option. With the $24 a month per user service that offers access to a fully functional office suite, instead of the pared down read and edit only version available in the lower priced versions, this suite can be used to foster collaborations between departments in the same building or for large businesses working out of multiple offices. Instead of having to purchase multiple licenses for the full Microsoft Office Suite, at an initial cost of $401,500.00 for 500 licenses, a company could spend a mere $12,000 a month for access to the same programs. This investment makes sense if the company is planning to use the service for less than 33 months or if the Office Suite is updated to a new version within the same 33-month period. Keep in mind that this is only for access to the Office suite, if all of the other advantages of Office 365 are calculated the monthly cost will come out further ahead as 365 eliminates the need for maintaining Exchange and SharePoint servers and it offers the new Lync server 2010.
References
"Online Software Hosted in the Cloud - Office 365 - Microsoft." Web. 15 July 2011. https://www.microsoft.com/en-us/office365/online-software.aspx#fbid=KZjI2NHl_qB
A Complete Set Of Tools For Your Business. Web. 15 July 2011. https://www.zoho.com/
"Google Apps for Business | Official Website." Google. Web. 15 July 2011. https://www.google.com/apps/intl/en/business/index.html
ScreenShots from Microsoft 365 under the authority of fair use. https://www.microsoft.com/en-us/office365/office-professional-plus.aspx#fbid=KZjI2NHl_qB