Simple Outline for Planning a Conference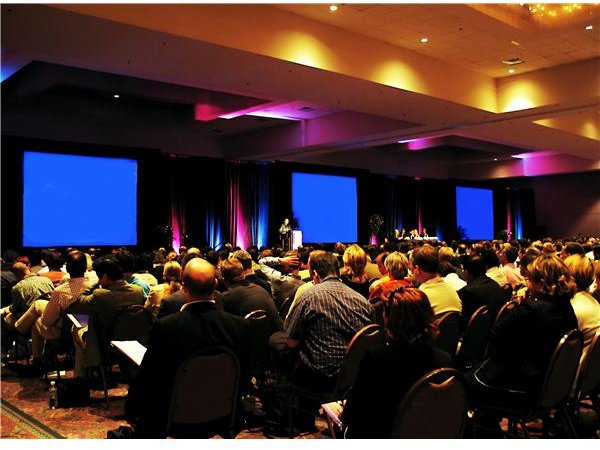 When employees are tasked with attending a business conference, there is a mix of dread, excitement, apprehension, or anxiety. Depending on the conference itself, there are can be many unknown elements - such as the people that will be met or activites that will be done, but for those who plan the conference itself, the prospect of putting everything together without a hitch can be daunting.
Where should someone even begin to start when it comes to planning a conference? Is there anyway the process doesn't need to be as scary as you think it should be?
Tips on Planning a Conference
You're sitting at your work desk one morning and your boss comes to you and states that you are to plan the annual conference.
Conferences can be great places to get to know your fellow co-workers or other departments and it's a great place to network, especially if you have never seen those in attendance before.
When planning a conference, there are three important things that you should keep in mind - planning, budgeting, and booking.
First Stage Questions to Ask
Planning a conference means getting all the information possible before the conference. This should take place immediately after discovering about the conference, giving you enough time for any last minute details that might come up. In this stage, the preliminary points of the conference should be researched -
What will the conference be about? What is the purpose?
Who will be attending?
When will the conference be held?
Where will the conference be held?
Will there be activities?
Will there be a speaker?
These questions should be answered before planning continues, as it will affect the last two points of budgeting and booking. In determining what the purpose behind the conference will be, it may help with the activities or the speaker involved. For instance, if this is a company conference, in which employees will introduce themselves and get to know each other, it would be helpful to get the president of the company as the special guest speaker or activities destined for groups will work well in getting members to work together.
You will need to know who will be attending - will this be a conference for the entire company or just that of senior management? This will dictate where the conference should be held - if a large enough group, a bigger conference room will be needed. You also need to know if there will need to be food or living arrangements; these answers can be gathered when you learn the time and attendance for the conference.
Show Me the Money
When the first questions have been answered, you can move on to the budgeting stage. This includes all monetary expensives that could be incurred with the plans of the conference -
How much money can be spent?
Who will pay for expensives?
Will there need to be food and refreshments?
Will there need to be travel arrangements?
What will the costs be for conference location?
The answers above in the planning stage can answer some of the questions you will have in this stage. If the conference will last only for a few hours or a day, perhaps you won't need to book a conference room; however, if the conference is to be several days, you will need to calculate hotel rooms, food, refreshments, etc. WIth telecommuting becoming a very popular form of working, you will also need to figure that in expenses.
Will there be employees who will need to be flown in to attend the conference? If so, where will they be coming from? What about employees who may live outside of your company's country? Will employees be reimbursed for their travel?
Having answered all the questions from the planning stage and then the budgeting stage, you can proceed to the final stage - booking.
Book It, Danno
Booking essentially means getting the confirmation of the conference and proceeding with getting everything together. This will include reserving the conference room/hotel for the conference, as well as having everything set up before people begin to arrive. This is where everything ties in together - in this stage, when you make the final plans, you will need to have everything in hand.
Know the number of people who will be attending
Know the special needs for occupants
Have a set schedule on events to take place
Aware of any special event that could cause delays
In this stage, you should be sure that you have all the information that you requested and need in order to do this final task. This stage can also include confirmations of attendance, flights, hotel and conference reservations, etc. It's important that right before the conference, you double check to make sure that things are still a go; this can ensure that if something happens, you'll have ample time to swtich venues.
Love It When a Plan Comes Together
In planning for a conference, the number one key is that of communication - communication with the person who has given you the planning task, communication with the employees or departments that are going to attend, and of course, communication with the companies that you want involved.
Your boss or supervisor will notify you of who the conference will be for, as well as a probable time in which it will occur. In fact, you may just get all the information that you need for planning and only be tasked with performing the budgets and then booking of the location and/or food. There might be a lot of research on your part - which hotel or location offers what you need at a reasonable price or which would be better food wise - so if possible, make sure to ask how much time you have to make all arrangements.
References
Conference Planning by Marriot Hotels, https://www.marriott.com/meetings/meeting-planning-services.mi
Image by clarita from Morgue File