Coming Up With Slogans for Teamwork Goals: Tips & Suggestions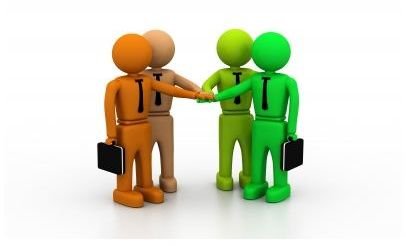 Where is This Team Going?
More and more businesses are utilizing teams and groups in order to work on projects, especially in this age where technology can be used to bring group members together when they aren't in the same office or even the same state. But just because you get a group of great guys and gals, doesn't mean that they will work well together and even if they do work well, their eyes may not be on the prize at the end of a project assignment.
So how does a project manager get a project team in the spirit of the work, thus keeping their spirits up? How about a slogan? Using slogans for teamwork goals can bring not only a bit of fun to group members, but might help keep their focus on the task at hand.
Why Use a Slogan?
Your team members are there to work and, therefore, keep their concentration on the work they are doing. So why use a slogan? An
important aspect of keeping group members focused, and on task, is to make sure that they aren't feeling as though the project doesn't matter; if team members feel as though they have a set agenda, set rules, and some variety in their tasks, they are more likely to not only work diligently on said project, but maybe even work harder on it.
Most importantly, a team slogan can help members realize that they are, in fact, a team; as a team, they will need to work together and help each other to make sure that the project is going forward and will make the specified deadline. A camaraderie and team spirit can help members to encourage each other or communicate more effectly with each other.
Coming Up with a Slogan
How you come up with a team slogan is up to you, but it should be something that all team members agree to. You certainly don't want to have member resent their slogan, which can then do the opposite of the above proposal. The best way is to have a team meeting in which the group decide to come up with slogans for their group or project. Slogan ideas can based on a number of things, like -
The current project - basing a slogan on the current project is a good idea to keep the project in mind. Look at the details of the project for inspiration; if the project involves winning something, such as a contest as part of the company's promotion, the slogan could be, "We're In It to Win It" or "We're Ready to Rumble".
The company - as with a project, basing a team's slogan on the company could help as well. If you work for a technology company, the slogan could be "bringing technology from creative minds" or a consulting business could be, "Knowledge is Power".
Television/Movies - if you have a group that enjoys TV and movies, you can turn familiar phrases into your slogan. For instance, if your team members are all Star Wars fans, your slogan might be, "We Are the Rebellion; We Are the New Hope" or "The Force is Definitely with Us".
Up & Running
Having slogans for teamwork goals can be a boost to team spirit and production. Your team is a united front and their teamwork is what will help get the project done. Even if the slogan has nothing to do with the project or company, just having a saying that conveys their unity and approach to the finish line can help members bolster themselves and each other, which can make for a very effective group dynamic.
References
Teamwork Slogans from Think Slogans, https://www.thinkslogans.com/slogans/sports-slogans/teamwork-slogans/
Team Mottos from Team Building Bonaza, https://www.team-building-bonanza.com/team-mottos.html
Image by Renjith Krishnan via Free Digital Photos