Forward Your Gmail Account to Your Thunderbird Email Client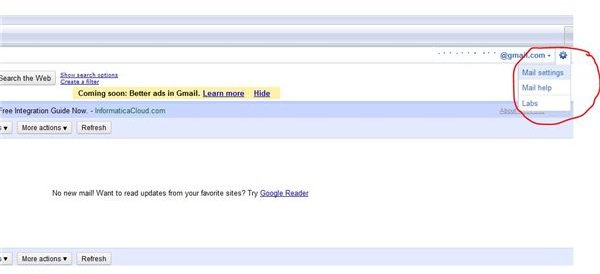 Benefits of Using Gmail With Thunderbird
When you use Thunderbird to manage your Gmail account, you have the option of viewing multiple accounts in one secure location as well as various views, folders and search options to help manage your messages. In addition, you get the extra protection of Thunderbird's powerful filters. Plus, you can keep a copy of each message in your Gmail inbox for those times when you want to check your email from another location.
Prepare Your Gmail Account
Forwarding your Gmail account to Thunderbird is completed by first changing your Gmail settings and then setting up the account to be received in Thunderbird. Log into your Gmail account. Click the Options button in the upper right corner of the window, just to the right of your email address. Select Mail Settings to open the Settings window. Click on the Forwarding and POP/IMAP tab on the settings toolbar. Select Enable pop for all mail in the POP Download section. Choose an option in the When messages are accessed with POP drop down list, such as Keep Gmail's copy in the inbox. Click on the Save Changes button at the bottom of the window.
Now that you have configured Gmail, you can move on to configuring Thunderbird.
Set Up Thunderbird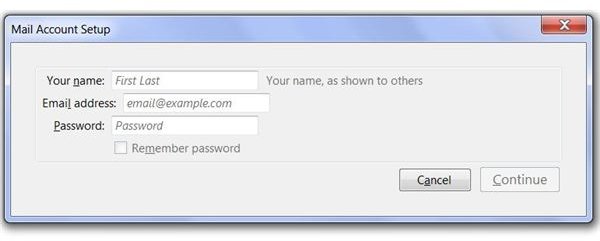 Open Mozilla Thunderbird. If you have never set up an account Thunderbird, the Mail Account Setup Wizard will appear. If it does, enter your name as you want to appear to people who receive your email messages in Your Name box, enter your Gmail email address including [email protected] extension into the Email Address box and type your Gmail password into the Password box. Click Continue.
Thunderbird will attempt to configure your account automatically. If it is successful, click the Create Account button. You can begin to access your Gmail account from within Thunderbird immediately.
If the automatic configuration is unsuccessful, or the Mail Account Setup Wizard does not appear, you can take additional steps to configure Thunderbird automatically.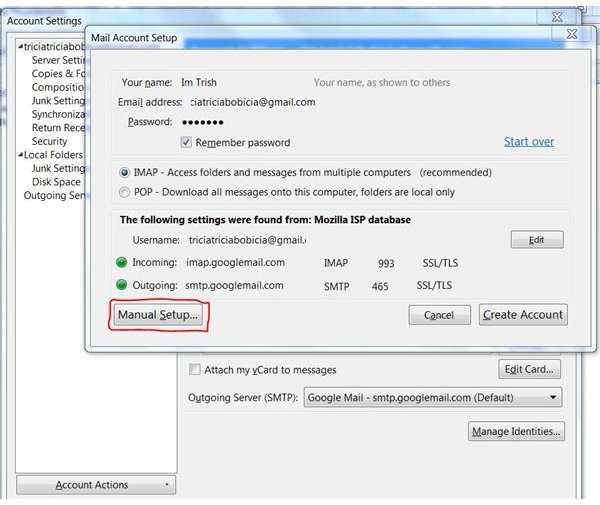 Open Mozilla Thunderbird. Go to the Tools menu and select Account Settings to open the Account Settings dialog box. Click on the Account Actions button at the bottom left side of the dialog box. Choose Add Mail Account. This opens the Mail Account Setup Wizard. You can follow the same steps as listed above.
If the automatic setup is unsuccessful, click on the Manual Setup button. Enter imap.gmail.com into the Incoming box. Select IMAP, 993 and SSL/TLS. In the Outgoing section, enter smtp.googlemail.com, 465 and SSL/TLS.
Click the Re-test Configuration button. The wizard will notify you that the configuration was successful. Click on the Create Account button to begin receiving, sending and managing your Gmail messages in Thunderbird.
References and Resources
Screenshots provided by the writer.
Mozillazine: Using Gmail with Thunderbird and Mozilla Suite https://kb.mozillazine.org/Using_Gmail_with_Thunderbird_and_Mozilla_Suite
Gmail Help: Supported POP Client List https://mail.google.com/support/bin/answer.py?answer=12103