How Much Money Do Athletic Trainers Make: A Detailed Look at Salary, Career and Education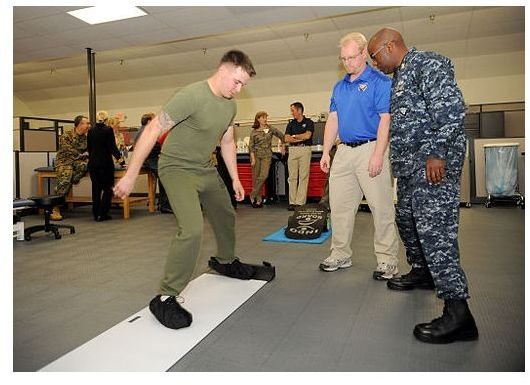 How much money do athletic trainers make? This is a question most who are seeking a career in this field will ask. Athletic trainers work with athletes to examine, treat, and prevent their injuries. They work with the doctors of the team to administer physical therapy to athletes that are recovering from athletic injuries and to help athletes avoid further injury and build their strength. They may also keep records of the athletes they work with, order supplies and equipment, and recommend special exercises and diets.
Learning about the education requirements, career options, salary and career outlook is important because it will help those interested in this field determine if a career as an athletic trainer is right for them.
Image Credit: Wikimedia Commons
Education Requirements
Those seeking a career in this field will need to earn at least a bachelor's degree. Throughout the degree, students will take courses in human anatomy, nutrition, biomechanics, physiology, and other science and health related courses. Many programs will also require students to complete clinical coursework in addition to their classroom study.
Most athletic trainers will have a master's degree or doctorate degree. Those seeking employment in college settings, and most other settings, will need an advanced degree. Those wanting to advance in the athletic training field will need to pursue and complete graduate study. To acquire and retain certification under the Board of Certification, athletic trainers must complete the intense exam, as well as all continuing education. Almost all states in the United States require athletic trainers to be certified.
Career Options
Athletic trainers work with athletes. They may be employed by colleges and universities, as well as by high schools, the United States military, industrial employees, performing artists, and hospitals and other health care facilities. They may also find employment with the MLB, NFL, PGA, NBA, NHL, MSL, and other professional sports. Those in this field often work long hours, up to average 12 hours a day, seven days a week. They need to be present at practices and games, during the season, and during the off-season.
Salary and Career Outlook
Athletic trainers can find employment all throughout the United States, with about five percent working in spectator sports. Employment opportunities in athletic training are expected to grow much faster than average. It is estimated that employment opportunities will increase by 37 percent by 2018. This is for all occupations within this field and is due to reducing health care costs through preventing injuries.
So, how much money do athletic trainers make? On average, athletic trainers earn between $32,070 and $49,250 per year. Those lowest average annual earnings were about $23,450. The top 10 percent earned an average salary of about $60,960 per year.
Resources
US Bureau of Labor Statistics. (2010). Athletic Trainers. Retrieved on December 10, 2010 from the US Bureau of Labor Statistics: https://www.bls.gov/oco/ocos294.htm
Mayo Clinic. (2010). Athletic Training Career Overview. Retrieved on December 10, 2010 from Mayo Clinic: https://www.mayo.edu/mshs/at-career.html