What is the Future of the Paralegal Career Field?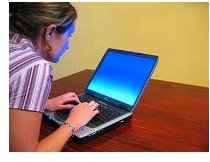 The best word to describe the future of the paralegal career field is "bright." There doesn't seem to be any shortage of legal matters that attorneys must handle, and those attorneys need the help of competent legal assistants. What's even more exciting is the prospect of paralegals working in a non-traditional manner, by providing support virtually. If you're considering a career in the paralegal field, you can choose the traditional path of working in a law office. You now also have a viable option for working from home.
Image Credit: https://www.sxc.hu/photo/145972
Job Growth Projection
Jobs for paralegals are expected to grow 28 percent between 2008 and 2018. A 28 percent growth is faster than the average growth of all other fields. That's despite the worldwide economic downturn that has resulted in job losses across many industries. In fact, as the economy worsens, the future of the paralegal career field looks better, because they cut costs. Lawyers and corporations can hire them to take care of the jobs that junior lawyers are paid to do, for a much lower salary.
Virtual Paralegal
Another way that law firms and solo practitioners can cut costs is by hiring virtual paralegals. These are paralegals who work as independent contractors or freelancers from home for multiple clients. For example, one paralegal can work for several real estate lawyers at once, for a certain number of hours for each one per week. The law firms save money because they don't have to take on a full-time employee. The paralegal can choose what work she wants to do and who she wants to support. It's a win-win solution for both sides, and you can expect to see more virtual paralegals in the future of the paralegal career field.
Paralegal Specialty
Some areas of the paralegal profession are expected to provide more employment opportunities than others. There are some specialties that are in higher demand than others. These are:
Health care
Real estate
Insurance
Bankruptcy
International law
You can position yourself as the best job candidate possible by focusing on one or two specialties. Until you can get your foot in the door, you may have to work in any area of law that you can to gain experience or clients, if you're self-employed.
Salary of Paralegals
The salary range of full-time paralegals is $33,464 to $52,953 in the United States. Many paralegals earn bonuses, and some are paid a profit sharing amount. The salary is expected to increase as law firms and corporations begin to use paralegals more often than even in-house attorneys.
You have to decide whether the type of work that paralegals do and the pressure that they sometimes face is right for you as you consider the future of the paralegal career field. If your passion and skills match, then it's a solid path that you should include on your list of career options.
References:
Bureau of Labor Statistics: Occupational Outlook Handbook 2010-2011
https://www.bls.gov/oco/ocos114.htm#top
Payscale.com: Salary Snapshot of Paralegals