What Are the Projected Job Prospects of a Pediatrician?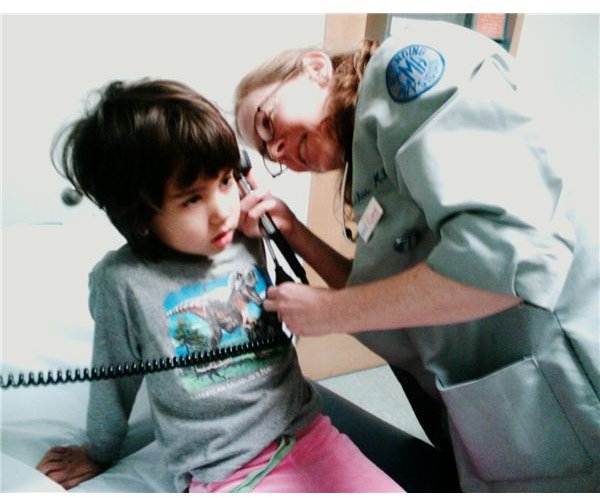 Job Profile
Pediatricians are medical doctors who examine, diagnose, and treat diseases, illness, infections, and injuries in infants, adolescents, children, and young adults. They also monitor their patients' growth and development from infancy to young adulthood, and take steps such as providing immunizations and vaccinations to prevent the onset of diseases in their patients. Some pediatricians specialize in pediatric surgery, pediatric oncology, specific autoimmune diseases, and other conditions while most pediatricians limit themselves to general treatment.
Image Credit: flickr.com/edenpictures
Qualifications and Skills
Pediatricians are doctors with the same qualifications as general physicians. Like all physicians, they need to undergo an undergraduate college degree followed by a four-year Doctor of Medicine (M.D.) or Doctor of Osteopathy (D.O.) degree, and a minimum of three years residency training. In addition, pediatricians require a license and board certification from the American Board of Pediatrics (ABP) to practice.
Pediatricians who communicate effectively with children, remain skilled at eliciting the cooperation of children, and have a knack of diagnosing problems fast stand in a good stead in making rapid career advancement.
Job Outlook
The Bureau of Labor Standards estimate that as on May 2008, 29,460 pediatricians work in the United States, which is about 7.5 percent of all physicians.
Pediatricians enjoy mean hourly wages of $77.60 and mean annual wages of $161,410. Those in the bottom ten percentile earn hourly wage of $40.79 and an annual wage of $84,840.
An overwhelming majority of pediatricians work independently in their clinics, or in outpatient care centers. Others work in general medical and surgical hospitals. The most popular alternative career options include teaching in colleges, universities, and professional schools.
The top paymasters are hospitals and outpatient care centers of the local government. Independent practice provides about the mean wages. As a rule of thumb, the greater the experience, the better the chances you have of landing a high paying and top medical job in a hospital. A pediatrician with one to two years of experience may earn about $135,000, whereas those with many years of experience can aspire for salaries of $270,000 and above.
The Bureau of Labor Standards estimates the job prospects for physicians will grow at a rate of about 22 percent, which is more than the average for all jobs. The projected job prospects for pediatricians are on similar lines, but the specific demand varies based on the geographical region and local conditions. For instance, a retirement community would hardly have any pediatrician job prospects, whereas most urban centers have a good pediatrician job prospects.
Trends
Recent trends indicate that the pediatric workforce is undergoing some fundamental changes that affect the projected job prospects for a pediatrician. Some of these changes include:
Most pediatricians coming out of medical school now seeks pediatrics career in a hospital or a clinic rather than take up private practice.
The number of pediatricians has grown relative to the size of child population, and the number of pediatricians per child will increase by an estimated 50 percent over the next two decades.
The number of female pediatricians has increased to the extent that there are more females than males in pediatrics.
Many international medical graduates now take up pediatric specialization.
A marked regional variation in pediatrician supply remains. Regions with low supply witness more demand.
Such changes would also have important effects on the professional lives of pediatricians and the overall quality of health care.
References
"Pediatrician: Career Summary, Job Outlook, and Educational Requirements." https://degreedirectory.org/articles/Pediatrician_Career_Summary_Job_Outlook_and_Educational_Requirements.html. Retrieved 2 December 2010
Goodman, David, C. "The Pediatrician Workforce: Current Status and Future Prospects." Pediatrics. 116(1) July 2005. (doi:10.1542/peds.2005-0874). Retrieved from https://pediatrics.aappublications.org/cgi/content/full/116/1/e156 on 02 December 2010.
Bureau of Labor Statistics. "Occupational Outlook Handbook 2010-11." Retrieved from https://www.bls.gov/oes/current/oes291065.htm on 02 December 2010.